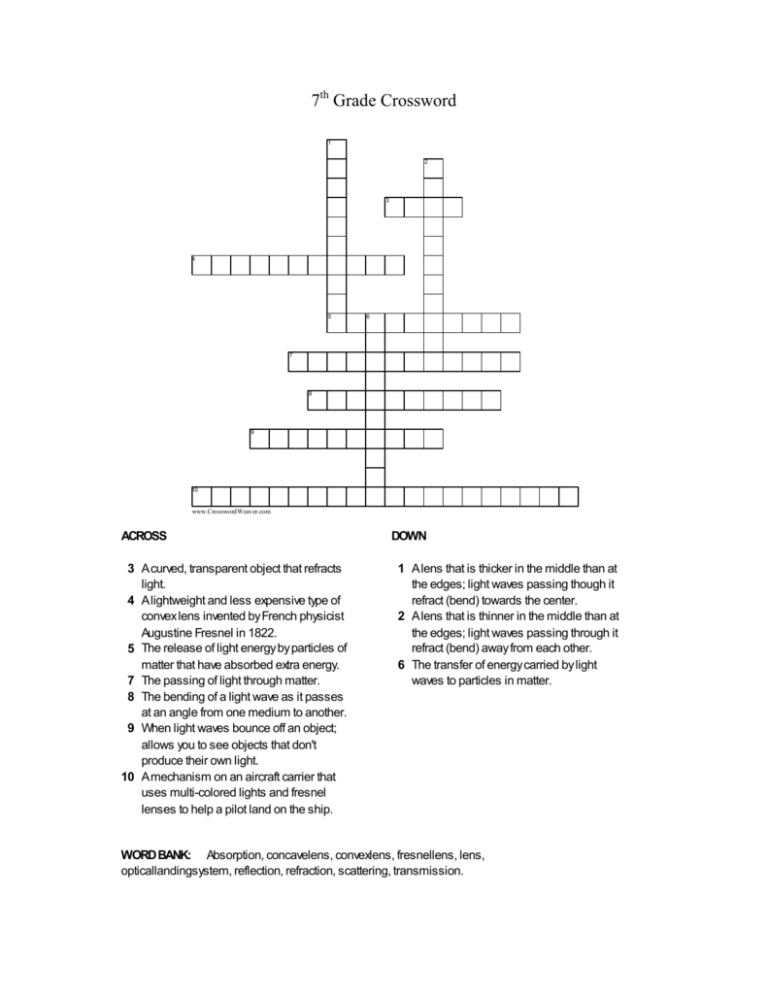 7th Grade Crossword
1
2
3
4
5
6
7
8
9
10
www.CrosswordWeaver.com
ACROSS
3 A curved, transparent object that refracts
light.
4 A lightweight and less expensive type of
convex lens invented by French physicist
Augustine Fresnel in 1822.
5 The release of light energy by particles of
matter that have absorbed extra energy.
7 The passing of light through matter.
8 The bending of a light wave as it passes
at an angle from one medium to another.
9 When light waves bounce off an object;
allows you to see objects that don't
produce their own light.
10 A mechanism on an aircraft carrier that
uses multi-colored lights and fresnel
lenses to help a pilot land on the ship.
DOWN
1 A lens that is thicker in the middle than at
the edges; light waves passing though it
refract (bend) towards the center.
2 A lens that is thinner in the middle than at
the edges; light waves passing through it
refract (bend) away from each other.
6 The transfer of energy carried by light
waves to particles in matter.
WORD BANK: Absorption, concavelens, convexlens, fresnellens, lens,
opticallandingsystem, reflection, refraction, scattering, transmission.