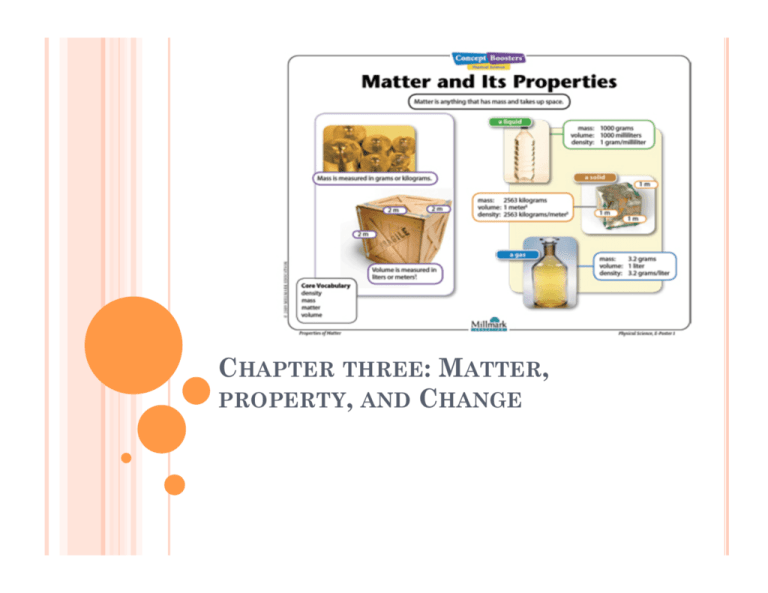 CHAPTER THREE: MATTER,
PROPERTY, AND CHANGE
CLASSIFICATION OF MATTER
!  A
sample of matter can be a gas, a liquid, or a
solid. These three forms of matter are called the
states of matter.
STATES OF MATTER
!  How
do you change a solid into a liquid?
!  Melting
!  How
do you change a gas into a liquid?
!  Condensing
(Condensation)
PURE SUBSTANCES
!  A
pure substance (usually referred to simply as
a substance) is matter that has distinct
properties and a composition that doesn't vary
from sample to sample.
!  A pure substance can be an element, compound,
or a mixture.
ELEMENTS
! All
substances are either
elements or compounds.
Elements cannot be
decomposed into simpler
substances. On the molecular
level, each element is composed
of only one kind of atom.
COMPOUNDS AND MIXTURES
!  Compounds
are substances composed of two or
more elements, so they contain two or more kinds
of atoms.
!  Mixtures are combinations of two or more
substances in which each substance retains its
own chemical identity.
WHAT IS MATTER?
! Everything
that has mass
and volume is called
matter.
WHAT KIND OF CHANGES DOES MATTER
UNDERGO?
! All
matter, regardless of
state, undergoes physical
and chemical changes.
These changes can be
microscopic or macroscopic.
PROPERTIES OF MATTER
WHAT IS A PHYSICAL CHANGE?
!  A
physical change occurs when the substance
changes state but does not change its chemical
composition.
!  For example: water freezing into ice, cutting a
piece of wood into smaller pieces, etc. The form
or appearance has changed, but the properties of
that substance are the same (i.e. it has the same
melting point, boiling point, chemical
composition, etc.)
CHARACTERISTICS OF PHYSICAL CHANGES
!  Melting
point
!  Boiling point
!  Vapor pressure
!  Color
!  State of matter
!  Density
!  Electrical
conductivity
!  Solubility
!  Adsorption
!  Hardness
to a surface
WHAT IS A CHEMICAL CHANGE?
!  A
chemical change occurs when a substance
changes into something new. This occurs due to
heating, chemical reaction, etc.
! 
! 
You can tell a chemical change has occurred if
the density, melting point or freezing point of the
original substance changes.
Many common signs of a chemical change can be
seen (bubbles forming, mass changed, etc).
CHARACTERISTICS OF CHEMICAL CHANGES
!  Reaction
with
acids
!  Reaction with
bases (alkalis)
!  Reaction with
oxygen
(combustion)
!  Ability to act as
oxidizing agent
!  Ability
to act as reducing
agent
!  Reaction with other elements
!  Decomposition into simpler
substances
!  Corrosion
OBSERVATIONS OF A CHEMICAL CHANGE
!  Formation
of gas (bubbles)
!  Color change
!  Exchange of heat energy (endothermic/
exothermic reactions)
!  Production of light
!  Precipitate forms
EXTENSIVE AND INTENSIVE PROPERTIES
Extensive Property
• Extensive properties such as mass and
volume do depend on the quantity of
the sample.
Intensive Property
• Intensive properties such as density,
color, and boiling point do not depend
on the size of the sample of matter and
can be used to identify substances.
PHYSICAL PROPERTIES VS. CHEMICAL
PROPERTIES
!  Physical
properties are those that we can
determine without changing the identity of the
substance we are studying (i.e. intensive
property)
!  Chemical
properties describe the way a
substance can change or react to form other
substances. These properties, then, must be
determined using a process that changes the
identity of the substance of interest(i.e.
extensive properties).
HOW DO YOU KNOW WHAT PROPERTY?
!  The
physical properties of sodium metal can
be observed or measured. It is a soft, lustrous,
silver-colored metal with a relatively low melting
point and low density.
!  Hardness, color, melting point and density are all
physical properties.
!  In other words, we have to define chemical
properties of a substance by the chemical
changes it undergoes.