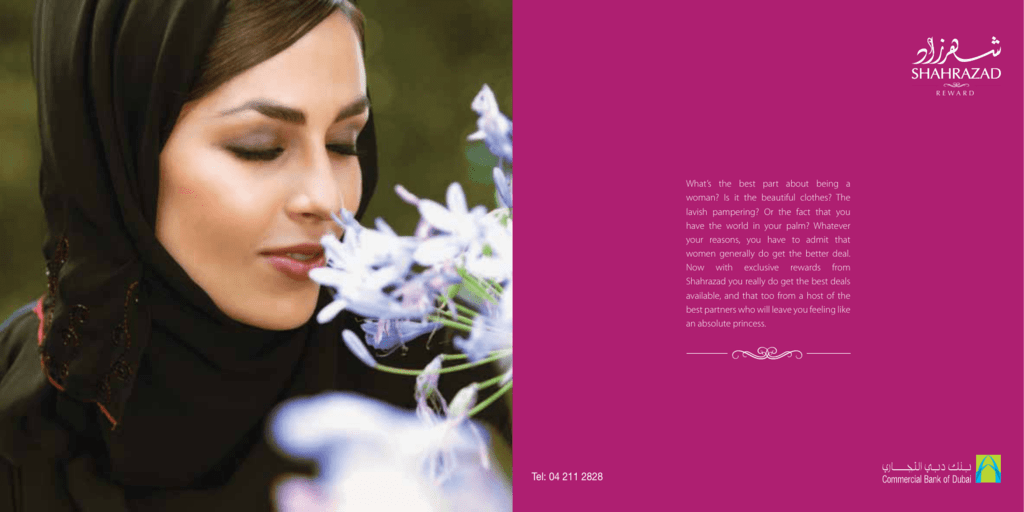 REWARD
What's the best part about being a
woman? Is it the beautiful clothes? The
lavish pampering? Or the fact that you
have the world in your palm? Whatever
your reasons, you have to admit that
women generally do get the better deal.
Now with exclusive rewards from
Shahrazad you really do get the best deals
available, and that too from a host of the
best partners who will leave you feeling like
an absolute princess.
Tel: 04 211 2828
Address : Abu Dhabi, UAE
Number : 971 2 508 0555
Offer
: 25% discount on food and beverage,
20% discount on spa treatments
at the Body and Soul Recreation Club
Getaway
Set in landscaped gardens along a stretch of white sandy
beach, this palatial hotel is located on the Al Raha
corniche. The property offers 254 rooms and suites
including the brand new wing furnished with the
ultimate in luxury. There are also 24 exclusive villas which
have a choice of 2, 3 or 4 bedrooms. The hotel boast state
of the art facilities, including the Body & Soul Spa &
Recreation Club complete with temperature controlled
outdoor and indoor pools, steam rooms, saunas and
Jacuzzi's as well as a high tech gymnasium. If variety is
the spice of life, dining choices abound from
International dishes to exquisite twist of Mediterranean.
Address : Abu Dhabi, UAE
Number : 971 2 508 0555
Offer : 25% discount on food and beverage
Perfect for lunch or a gathering of friends, service is
swift, food is delicious and covers a full selection of
pastas, authentic specialty pizzas and a whole host
of salads. The venue is non-liquored, and focuses
on a large selection of fresh fruit cocktails, as well as
Italian made soft drinks, and of course an Italian
cappuccino after your meal is a must.
Confectionary
Address : Abu Dhabi, UAE
Number : 971 2 6668909
Offer : 15% discount at Api Cae Gourmet
Biella Caffe Pizzeria Ristorante
Launched in early 2012 and set in the heart of Abu
Dhabi's bustling Khalidiya district, APi CAE gourmet is
revolutionizing our preconceived notions of Italian food.
Driven by a commitment to quality organic food our
collection of chefs, artisan food producers and forward
thinkers share with you their passion for fine food. APi
CAE uses the finest ingredients sourced exclusively from
small family owned suppliers in rural Italy. Our daily
menu is created to suit your tastes and we ensure the
highest quality standards and freshest ingredients.
Address : Fujairah, Al Aqah
Number : 09 2449 994
Offer : 10% on Best available Room rate,
10% on F&B, Spa offer
Confectionary
Address : Wafi Mall, 1st Floor, Dubai
Number : 04 3244 252
Offer : 10% discount on total bill
The charm of Elements is its local flavour and hospitality
with an international taste. Whether you want an elegant
dining experience or casual cafe setting Elements is there
for you. Our sushi has been rated as some of the best in
town along with our risotto and fish dishes. And our
chocolate fondant dessert is well worth writing home
about.
Miramar Al Aqah Beach Resort
Iberotel Miramar Al Aqah Beach Resort Fujairah, a 5-star
hotel tastefully designed in a low-rise Moroccan style
architecture. The luxury Resort has well appointed
rooms, a great range of recreational facilities and an
excellent selection of delicious dining options including
international and traditional Middle Eastern specialties.
Address : Al Wasl Road, Jumeirah, Dubai.
Number : 04 3428 220, Sharjah: 06 5227 594
Offer : 20% discount on all the collections
Rouge Couture is the Creation of two successful business
women. Sara Al Madani & best friend Apple Wang worked
together to create "A Fusion of Arabian and Chinese
design, which brings a unique trend and style tailored
with Class and Elegance."
Together they built a bridge between tradition and
fashion which resulted in a brand engineered to bring out
the woman in you.
Fashion
Rouge started in 2007 as a small Abaya tailor in Ajman and
after a hard struggle to be part of the fashion industry,
Sara and Apple revealed a talent that they had, which is to
create abayas with a special method of couture cutting
using the fanciest fabrics in the Market. Then Rouge
Couture Was born.
Address : Al Wasl Road, Villa Rouge, Jumeirah Dubai
Number : 050 9116 226
Offer : 10% discount on selected items
Fashion
Address : Dubai Ladies Club, Jumeirah Dubai
Number : 04 447 1699
Offer : 15% discount on outfit items
Glamour 911
Feminine, Elegant, Chic… with a touch of Modern.
Glamour911 fashion boutique started with a bold
fashion idea as "the glamour rescue help line!"
With an obsessive eye for details and color sense,
Glamour911's collections flatter the women who wear
them. Season after season, our collection indulges
customers with perfect prints and elegant styles.
Slouchy'z collections of Abayas & Shailas are specifically
designed to suit a variety of occasions. An extravagant
line for weddings and parties, a casual yet elite line for
evening walks in the mall, and a line for the trend-setters
who like to show their individuality. It is a unique house
of Art, that redefines the traditional Abaya into a
fashionable, stylish and unique garment.
Every piece of the collection illustrates the passion for
exclusivity: the mixture of colors, the flow of the textile,
the adequacy and delicacy of the cuts, all of which
gathered, provoke passion and understanding of what
the women needs.
Address : Villa 16, Umm Al Shiet Road, Jumeirah-3 Dubai.
Number : 04 3952 427
Offer : 15% discount on all the collections
Established in 2008 by Emirati sisters Reem and Hind
Beljafla, DAS had a vision to update the traditional abaya,
making it a stylish garment reflecting the latest trends. As
the first abaya brand to be stocked at Harrods in London,
DAS has successfully bridged the gap between Middle
Eastern and Western fashion and has an illustrious client
Address : Mall of the Emirates, Dubai Mall
Number : 04 3413 114, 04 3253666
Offer : 15% discount on Abeer Al Suwaidi Collection
Fashion
Das Collection
USH is the UAE's first and the region's largest destination
store for Middle Eastern fashion. It is also the first multiplebrand abaya store in the country. The boutique
showcases the work of approximately 40 designers - both
established names and emerging talent - with offerings
ranging from abayas and kaftans, to evening gowns and
casual wear, handbags and exclusive accessories.
list of many nationalities. Showing at London Fashion
Week since September 2011, and featuring in the global
television commercial by Emirates Airlines, DAS has
increased the positive profile of the abaya on the world
stage and continues to innovate in fashion design.
Address : Mall of the Emirates, Level 2,
The Dubai Mall, Gold Souk GS184
Number : 04 3413114, 04 3253666
Offer : 25% discount on total bill
Al Bait Al Bahraini was established in Bahrain 1979,
it is a fashion house which is into the business of
designing and manufacturing of Jalabiya,
Wedding Gowns, slippers and other accessories
and their showcasing and dispensing in its own
outlets. The Jalabiya's created by Al Bait Al
Bahraini are known for their unique designs,
careful attention to the finest details and unique
selection of fabrics and colors.
Fashion
Address : Shop No.:14, The Village Mall,
Jumeirah Beach Road, Jumeirah 1, Dubai
Number : 04 34 99 222
Offer : 20% discount on all abayas
Abayas and shaila retailer
Address : Sunset Mall, Jumeirah Khalideya, Abu Dhabi
Number : 04 3806 650, 02 6318 353
Offer : 15% discount on the total bill amount of AED 1000 and above
In 1999 SWEETY was born, a retail paradise where we transform the black canvas
of the Arab Local garment Abayas and Sheilas, into unique works of art.
Headquartered in Dubai, our popularity continues to surpass the realm of glamour
with a new age of elegance. The Abaya's are fresh with innovations while
maintaining the highest quality and attention to detail. Machine-embroidery,
hand beading, and Swarovski crystals ensure the finest garments for our precious
clients, with the most impeccable standards.
Fashion
Address : International City , Cluster France, Bldg P, Shop 25
Number : 052 9299200 04 3686733
Offer : 15% on outfit items Bride's Packages: 25%
on Mohamed Al Muhairy Design Bride's
Packages 3 Free Abaya
Bridal Services
For every bride-to-be, the King of Abaya Fashion presents a gift
1. 3 abayas of her choice, tailored for free.
2. 25% discount on any collection designed by Muhammad
Al Muhairy.
Your Wish is Our Command
Our Purpose: For every bride to be pleased and radiant
Sweety Disigner Abayas & Sheilas
Fashion Bus
An exclusive service offered just for you: a bus
arriving at your door wherever you live in the UAE to
unveil the latest designs of abayas, and Moroccan
and Kuwaiti kaftans by various designers. You can
now enjoy shopping at home while browsing
through a variety of the best designs just. Our
assistants will accommodate the display and
measurement services, and meet your orders with
elegance befitting the high-end fashion houses. The
bus visits one emirate every day; there are no fees
for reservations, and no minimum number of orders,
so you have the freedom to take a look and enjoy
this unrivalled experience.
Our Aim: to accommodate you with precision,
sincerity, care, and timeliness
Number : Abu Dhabi, Mushrif Mall
Ajman, Ajman City Centre
Al Ain, Al Ain Mall
Dubai, Dubai Mall
Sharjah, Safeer Mall
Ras Al Khaimah, Bin Daher Centre
02 6737911
06 7434848
03 7434848
04 4515173
06 5313174
07 2280111
Offer : 10% discount
Valid at all Splash stores
Fashion
Splash is Middle East's largest fashion retailer with an eye
for the latest global trends and reflecting an everyday
attitude. Showcasing popular collections for men,
women and teens, Splash offers a uni-brand concept
across its stores providing a comfortable and easy
shopping environment along with a gamut of
international brands under its portfolio like ELLE, Being
Human, Lee Cooper and Bossini among others. The
brand offers a discerning sense of style with a keen eye
on value for its customers.
Address : Al Wahda Mall, Dubai Mall,
Al Ain Mall ,Marina Mall
Number : 02 6742 893, 04 3253 229,
03 7849 515, 04 3997 189
Offer : 15% flat discount on purchase of
AED 200 & above
ICONIC represents a unique spirit, making it different to
any other fashion store in the market. It is a destination
where fashion, innovation and lifestyle collide and
caters to men, women and kids. A brand that
represents Fashion Different. Regardless of gender, age
or personality, ICONIC offers fashion apparel, footwear,
accessories, beauty, gifts all under one roof ensuring
there is always something for everyone. Part of the
Landmark Group, ICONIC is for the young at heart who
is stylish, trendy and out-going.
Fashion
Address : Jumeirah
Number : 04 344 6660
Offer : 10% discount on a minimum
spend of AED 1000
Fashion
Like a jewel in the desert, Al-Wajaha Gents Tailoring
stands out amongst the enterprises that illuminate
Jumeirah Beach Road in Dubai. As its name suggests,
the boutique specialises in bespoke men's clothing. The
service is fit for a King, as a glimpse through the shop
window reveals: customers are seated on chairs that
resemble thrones. At the entrance, a uniformed
doorman awaits your arrival on a red carpet, while
another holds open the door to the establishment.
Appointments are not necessary and everyone is
welcome. Ladies are served refreshing rose or saffron
tea while their companion can choose from a range of
high quality material.
Tel: +9714 344 6660 Jumeirah Beach Road, Dubai,
between Mercato Shopping Mall & Jumeirah Mosque
Address : Oud Metha, Dubai
Number : 04 3359 533
Offer : 30% discount on our body massage,
scrub, slimming, face, IPL
Karisma Ladies Centre
Perfumes & Salon
Address : The Dubai Mall, Ground Floor
Number : 04 4487016
Offer : Super woow 3-step teeth cleaning plus,
3D teeth whitening plus & teeth
whitening pen for AED 1500 instead of
AED 2600. Save 43%
Boost your confidence, self esteem and beauty when
you visit Lookswoow state of the art Dental Clinic and
Teeth Whitening Spa. It has been designed with one
objective in mind which is to make our customers feel
comfortable. All of our staff is fully licensed and
specialize in cosmetic dentistry. All the material we use
is the best the dental industry has to offer and we
perform all dental procedures from simple to complex.
Karisma Ladies Centre is a one stop shop comprising of
a huge variety of treatments and services under one
roof. An experienced team of skilled beauty therapists
and consultants that will guide you and work diligently
so that you may enjoy body , face, slimming programs,
hair styling, make up and nail care.
Be charismatic... visit Karisma!
Number : Jumeirah: 04 3949088, Kempinski: 04 3236011
Abu Dhabi: 02 4473616,
Arabian Center: 04 2362913
Offer : 15% Discount on total bill if below 500 AED,
20% if above AED
Welcome to Maison de Joelle - an exclusive beauty
house offering a unique beauty experience. The
sophistication of Maison de Joelle is mirrored by the
owner, Joelle Mardinian, a talented Make-Up Artist and
beauty expert who gained her qualifications in the UK.
Maison de Joelle is in its own right a celebrity salon and
a leading beauty house in the Middle East. Today, the
salon is featured weekly on MBC1 in a reality TV
makeover show called ''Joelle''.
Perfumes & Salon
Address : Sheikh Zayed Road Al Barsha Kempinski Hotel,
Mall of the Emirates
Number : 04 3410000
Offer : 25% discount on total bill
Welcome to a journey of self realization…
Perfumes & Salon
A whole new dimension of Spa opens up as we learn to
touch and communicate with you in a manner that honors
your uniqueness and body type. The spa-experience then
becomes a context where your true nature can blossom
and unfold. Inevitably, this is what each one of us seeks.
Our wide range of luxurious face and body treatments are
tailor made through a diagnosis to further customize
product selection and treatment for your body nature.
Ayurveda takes the lead of the Spa therapies, and other
alternative therapies and beauty treatments
compliment this time tested life science for optimizing
the results.
We offer something more than just a good treatment…
We present a journey of self discovery…
Address : Mirdif City Center, Ground Floor, Dubai
Al Barsha Mall, Dubai, JBR, Rimal, Dubai
JBR, Amwal, Dubai, Dubai Silicon Oasis
Number : 04 2845 923, 04 4355 780
Offer
: 20% discount on all services.
Offer valid only from Sunday to Wednesday
'Touch of the orient'
The touch of the orient, for women of substance
We are 'feel good' specialists
We understand your needs before you speak.
Perfumes & Salon
Lily Pond is a haven of tranquility for women who are
looking for a unique, relaxing & refreshing urban retreat.
With a wide array of services to choose from, we
encourage the indulgence of our client with head to
toe relaxation services ensuring total satisfaction.
Lily Pond brings together the ancient Balinese healing
massage techniques, traditional therapies and an
infusion of new elements to provide the most unique
and pampering treatments a woman can experience.
Our philosophy is one of continued personal growth
and education, continuously ensuring our services and
beauty techniques are always current with today's
trends and procedures.
Perfection is a habit in our spas. Our dedicated staff is
professionally equipped to serve the wellness needs of
our clients and are designed to surpass their
expectations of customer service standards.
Address : Al Barsha Mall, Dubai Al Sofouh, Arjaan
Rotana, Dubai Marina Mall, Abu Dhabi
Number : 04 4370 868, 02 6818 837
Offer
: 20% discount on all services.
Offer valid only from Sunday to Wednesday
Perfumes & Salon
'Indulgence crafted to perfection'
Man / Age Luxury Men's Spa has strived to revolutionize
the indulgence of the Modern Man. Breaking the myth
of the grooming concept being feminine, we have
triggered the path for men who believe that shaping
personality is through both internal and external focus
of self.
Each passionately crafted service is a well-being ritual
executed to perfection in simplistic Italian ambience.
Whilst we host personalized and private settings, we
also have the Men's Party lounge that promises the best
buddy time.
Our passion for customer service stems from our
passion for people. The warmth in our environment is
expressed through our dedicated staff.
Number : Abu Dhabi, Marina Mall
Ajman, Ajman City Center
Al Ain, Al Ain Mall
Dubai, Deira City Centre
Sharjah, Sahara Center
Ras Al Khaimah, Al Hamra Mall
Offer
02 681 1155
06 7439356
03 751 9717
04 295 6767
06 531 8806
07 243 4734
: 20% discount on all merchandise
Valid at all Arabian Oud stores within UAE, excluding
Dubai Duty Free & Paris Gallery.
*T&C; does not include the Oud in whole sale.
Perfumes & Salon
Arabian Oud, established in the year 1982, is the largest
fragrance retailer in the world, specializing in incense,
oriental perfumes and oil perfumes.
Being the Scent of Luxury, Arabian Oud is a prominent
and trusted name with over 25 years of expertise in the
production of authentic scents.
In August 2000 Arabian Oud launched the opening of its
first UK-based flagship store. Worth millions of sterling, the
venture was unveiled on Oxford Street, London.
Taking over an entire building, Our London store has been
an instant success allowing the East to meet the West with
shoppers celebrating oriental values with the
sophistication of the west.
The store comprises two levels dedicated to retail
business. The lower level gallery is reserved for VIP clients,
a popular destination for esteemed shoppers, while the
ground level offers a selection of the oriental perfumes
popular range.
In just three subsequent years central London was
introduced to a further store in July 2005, situated on
Edgware Road.
Paris, the international hub of beauty and perfumes,
witnessed the opening of Arabian Oud in 2004 built on
an investment of millions of Euros.
In 2011, Arabian Oud opened a new flagship store in
Europe, located in Westfield Stratford City, London
The company has more than 25 UK-based employees
committed to providing a professional service.
The company manages a retail chain of 620 stores
worldwide selling over 400 luxurious and unique
fragrances. The UK-based stores benefit from the
exquisite creation of ten fragrances exclusive to the
London region.
Arabian Oud has more than 3,700 employees serving
customers across over 50 cities and 33 countries
worldwide, with a dedication to quality and perfection
in the art of perfumery.
Number : Abu Dhabi, Marina Mall
Dubai, Mirdif City Centre
Dubai, Dubai Mall
Al Ain, Al Ain Mall
Ras Al Khaimah, Al Hamra Mall
02 681 1138
04 284 0659
04 434 0180
03 766 6777
07 243 4080
Offer : 15% discount on the total bill
Valid at all YAS Perfumes stores within UAE.
Perfumes & Salon
Yas The Royal Name of Perfumes is an Emirati company
that was established by the Chairman Abdulla Al
Qaisieh. In order to bring the brand closer to the
customer so that they are spread the effort of going far
to get their preferred perfumes, Yas established an
extensive network of outlets across the region. Founded
in Abu Dhabi in the year 1999, Yas perfumes today has
more than 35 outlets in United Arab Emirates and GCC
Countries.
YAS Perfumes is characterized by the manufacturing of
outstanding high quality products, and offers a huge
selection of Arabic and French mixture perfumes,
Dukhoons, Agar Wood, Dehn Oud, Mukhallatat, Oud Oil
& Blends, Fabric Perfumes, Creams, Mabkharas, Perfume
Bottles & Gift Items.
We are at YAS Perfumes looking to become the most
distinguished perfume house in the Middle East
through excellence in perfume creation, exclusive
product line and high customer value.
The company's strategy of steady growth based on
developing in house expertise and close cooperation
with the leading perfume houses in Europe such as
Firmenich, Iberchem, Mane, Charabot etc. The success
of this approach resulted in creating a strong corporate
image and achieving recognition from our valued
customers. The name of YAS Perfumes is identified with
royalty and prestige.
Health Medical Center
Address : Villa number 4, Jumeirah Road, Dubai
Number : 04 3497880
Offer
: 20% discount to card members
at our clinic Dermalase
Dermalase Clinic is an exclusive beauty enhancement
clinic that offers a wide range of minimally invasive
aesthetic procedures including skincare, laser
treatments, Botox and fillers, clinical dermatology as well
as plastic surgery.
Dermalase's multicultural, multilingual staff are
committed to the highest ethical standards and offers
top-quality service in a highly-personalised, luxurious
and easy-to-access location in Jumeirah, Dubai.
Address : Shop No.:28, The Village Mall, Jumeirah Beach Road,
Jumeirah 1, Dubai
Number : 04 34 42 066
Offer
: 10% discount on laser
Laser Services for women
Optician
Number : Dubai, Mirdiff City Centre
Dubai, The Dubai Mall
Dubai, Mall of the Emirates
Sharjah, Sharjah Mega Mall
Ajman, Ajman City Centre
Abu Dhabi, Marina Mall
Al Ain, Al Ain Mall
Fujairah, Fujairah City Centre
04 2840103
04 4341282
04 3414090
06 5743132
06 7431634
02 6580901
03 7849195
09 2236222
: 30% discount on frames
& sunglasses
Valid at all Optivision stores within UAE
Offer
A belief that good eyesight helps a person appreciate
beauty, and chic eyewear enhances aura. It was a vision
for perfection and good looks that led to the
establishment of Dubai Optical in 1978. Thirty years later
the pioneering group has set a benchmark in the optical
business in the UAE.
Kid Shop
Address : The Dubai Mall
Number : 04 339 9640
Offer
: 20% discount on total bill
Prima Gold opened its own Pink Panther Stores in Dubai,
Dubai Mall summer of 2009. As the exclusive licensee
agent of MGM for Pink Panther – Middle East & MENA
market the first of their kind, because of its geographic
popularity and success PrimaGold expands their
business interest in the region.
Furniture
Address : Uptown Mirdif, Dubai, Al Ghurair City, Dubai,
Behind Sharjah Mega Mall, Sharjah
Marina Mall, Basement Level, Abu Dhabi
Number : 04 2888071, 04 2226166, 06 5754900, 02 4916855
Offer
: 20% discount
2XL is a world where elegant design combines
effortlessly with the comfort & support to bring a home
furniture concept that is attractive, inspirational &
practical.
At 2XL, we understand that our customer requires
furniture that not only fits the physical dimensions of
the room, but a complete furniture solution that
conveys a message about their lifestyle.
We offer variety and style, comfort and convenience,
inspiration and value that sets new standards in home
furniture. Our range is stylish, versatile and affordable,
but most importantly adds a touch of personality &
uniqueness.
Address : Town Centre, Jumeirah, Beach Road, Jumeirah 1, Dubai
Number : 04 385 6353
Offer : 10% discount on all full priced lingerie,
swimwear and nightwear
TKD Lingerie is a boutique dedicated to the joys of
beautiful lingerie, swimwear and nightwear which offers
an extensive range that caters for sizes 28 – 48 D-KK cups.
Featured brands include Panache, Fantasie, Freya, Cake
(maternity) Masquerade and Miss Mandalay with fun,
colourful collections for everyday, special occasion,
maternity, sports and swim that have been carefully
selected to make every woman feel special, all at
mid-range prices.
tape measure in sight), ensuring not only that you are
wearing the right size underwear, but also the best bra
shape to enhance and flatter your figure. At this year's
Salon de la Lingerie International in Paris, Managing
Director Kate Kikano received another seal of
endorsement for the team with the Panache "Learn the Fit"
Certificate, following successful completion of their
in-house course. Visit TKD Lingerie and you will feel
transformed from within.
In addition, TKD Lingerie's fully trained staff provide a
complimentary specialist bra fitting service (without a
Fashion
Address : Jumairah Centre,
Shop 26A 1st floor on Jumairah Road.
Number : 04 385 4044
Offer : 10% Discount on the entire item Basic or Fashion
Luxurious lingerie from Italy
TKD Lingerie
Number : Bur Dubai +971 4 3528711
Diera +971 4 2626206
Sharjah +971 6 5569702
Abu Dhabi +971 2 6818522
Offer : 20% discount on all services
Perfumes & Salon
Established in the year 1968, Karkafi group has been
evolving ever since in an attempt to meet your
expectations. Wide varieties of natural and synthetic hair
are at your service in our showrooms located all over the
Arab world. Our extensions, wigs, and wiglets can help
you get longer, thicker, and more manageable hair.
Women who desire to be beautiful almost always start
with their hair. All you need is to visit us at one of our
branches. We care for your hair.
Address : Qamardeen Hotel
Burj Khalifa Boulevard
Shop no. R1&R2 The Old Town
Burj Khalifa
Number : 04 4472727
Offer : 15% discount on all services
Amro Ladies Salon is the leading ladies hairdresser in the UAE.
Having won multiple global recognition awards, we have
become synonymous with quality and fashion trend setting.
Amro Ladies Salon is the preferred hairdressers for some of the
industry's leading celebrities both Arab and Western. With more
than 30 years of hands-on experience and a long line of
traditional hairdressers, our quality and standards are of the
highest nature and are evident on every masterpiece that we
create.
Address : International City,
Cluster Russia, Bldg W7, Shop10
Number : 04 4308246
Offer : 25% Discount for Al Dana and 15%
for Personal and Personal Plus
Deep Blue Sea Diving centre offers a range of courses and
diving sessions suitable for everyone from beginners to
instructors.
also offered for individual divers as well as large groups. All
dives and trips are photographed by professional
photographers.
Trips offered include diving trips in popular diving spots
across Abu Dhabi, Dubai, Sharjah, RAK, Fujeirah, Khor
Fakkan, Dibba and Oman. Quarterly trips to the Far East are
also scheduled for divers. Fishing and snorkeling trips are
Introductory diving classes are offered at Jumeirah Open
Beach for 2 hour sessions. We provide all the necessary
diving equipment.
Activities
Address : Jumairah 1 Al Safa Road, Villa 11, Dubai
Number : 04 344 4456
Offer : 20% discount on all services
Honey Rose Beauty and Spa
We bring you Honey Rose Beauty and Spa, a once in a
lifetime experience that happens every time you walk
through our doors.
Perfumes & Salon
Address : Sharjah, Al Majjarah
Number : 06-5657700
Offer : 15% discount
Address : Al Manzel Hotel, Old Town
Number : 04 4222 523
Offer
: 20% discount on the total bill
(including shisha)
Address : Bur Dubai,Al Seef Rd, Bastakiah Historical Area
Number : 04 3537772, 04 3534804
Offer
: Complementary appetizer or desert
when main course is purchase
Bastakiah Café Old Town is located at the heart of
Dubai and surround by the Burj Khalifa. The menu
offers variety–choice of set menu to satisfy all tests. The
menu includes Intercontinental Food, Middle Eastern
Favorites, Snacks, Soft Drinks and Shisha. Come and
enjoy one unforgettable night with us.
Bastakiah Nights Restaurant occupies a former
courtyard house and has been uniquely decorated. The
menu offers variety–choice of set menu to satisfy all tests.
The Menu includes intercontinental food, Middle Eastern
Favorites and Family Menus. Come and enjoy one
unforgettable night with us.
Confectionary
Address : Town Center, Dubai Media City, Emirates Hills
Number : 04 3670435
Offer : 10% discount on Yoga and
Pilates Group Classes only
Zen Yoga is a specialized Yoga and Pilates studio, offering
various types of Yoga and Pilates classes. Its teachers are
all highly certified with relevant training certificates,
ensuring you have the best and most professional Yoga
and Pilates experience with no injuries, and with
maximum benefits to your body and health!
Perfumes & Salon
Zen Yoga boasts 3 studios across Dubai, including up to
date, state of the art equipment for both Yoga and
Pilates.
Workshops and Teacher Training courses are regularly
held at Zen Yoga, by renowned local and international
teachers.
Zen Yoga provides its students with a diverse range of
Yoga classes to choose from including Hatha, Ashtanga,
Vinyasa, Power Yoga and more. It also offers both Pilates
Reformer as well as Pilates Mat classes, catered to
students' preferences.
Zen Yoga also dedicates a significant portion of classes to
ladies only (for the full schedule, please visit the Schedule
section). Furthermore, 10% of all profits go to charities –
which vary yearly - around the world to support those in
need.
Zen Yoga welcomes students of all ages and
nationalities, and is home to the widest range of classes
suitable for all levels, taught by the most professional
teachers, so if you've never experienced a yoga and/or
Pilates class in Dubai, or you've tried it once and didn't
like it, here's your opportunity to give it a go (or a second
go) to see what Yoga and Pilates really are about.
Namaste, and see you soon!