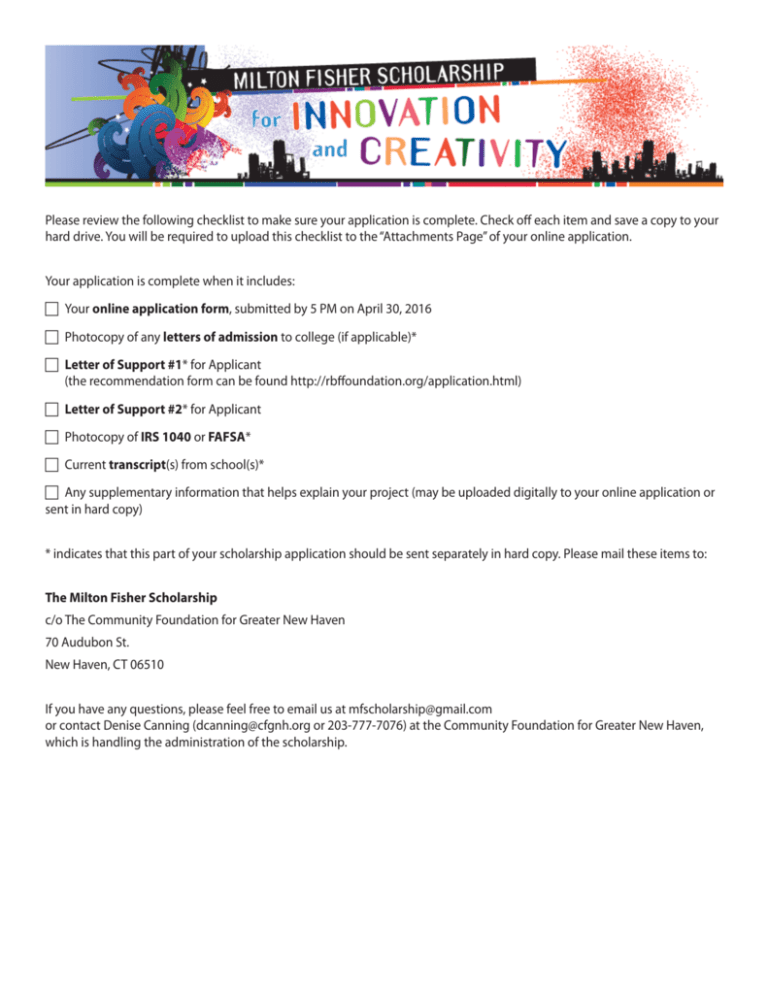 Please review the following checklist to make sure your application is complete. Check off each item and save a copy to your
hard drive. You will be required to upload this checklist to the "Attachments Page" of your online application.
Your application is complete when it includes:
 Your online application form, submitted by 5 PM on April 30, 2016
 Photocopy of any letters of admission to college (if applicable)*
 Letter of Support #1* for Applicant
(the recommendation form can be found http://rbffoundation.org/application.html)
 Letter of Support #2* for Applicant
 Photocopy of IRS 1040 or FAFSA*
 Current transcript(s) from school(s)*
 Any supplementary information that helps explain your project (may be uploaded digitally to your online application or
sent in hard copy)
* indicates that this part of your scholarship application should be sent separately in hard copy. Please mail these items to:
The Milton Fisher Scholarship
c/o The Community Foundation for Greater New Haven
70 Audubon St.
New Haven, CT 06510
If you have any questions, please feel free to email us at mfscholarship@gmail.com
or contact Denise Canning (dcanning@cfgnh.org or 203-777-7076) at the Community Foundation for Greater New Haven,
which is handling the administration of the scholarship.