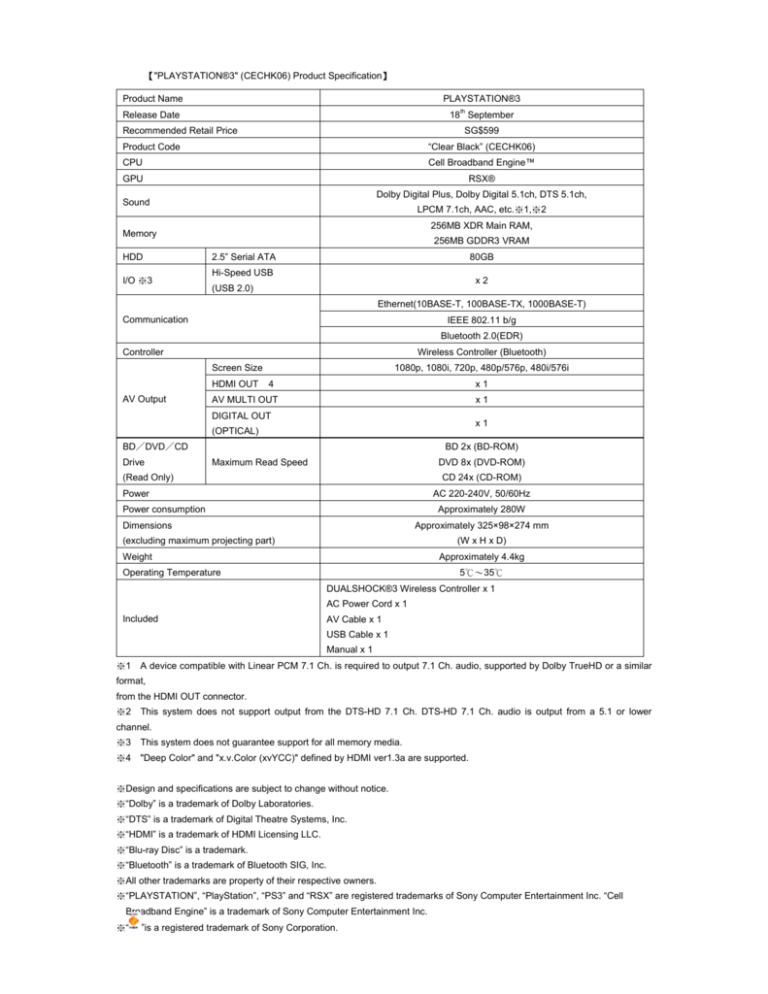 【"PLAYSTATION®3" (CECHK06) Product Specification】
Product Name
PLAYSTATION®3
Release Date
18 September
th
Recommended Retail Price
SG$599
Product Code
"Clear Black" (CECHK06)
CPU
Cell Broadband Engine™
GPU
RSX®
Dolby Digital Plus, Dolby Digital 5.1ch, DTS 5.1ch,
Sound
LPCM 7.1ch, AAC, etc.※1,※2
256MB XDR Main RAM,
Memory
HDD
I/O ※3
256MB GDDR3 VRAM
2.5" Serial ATA
80GB
Hi-Speed USB
x2
(USB 2.0)
Ethernet(10BASE-T, 100BASE-TX, 1000BASE-T)
Communication
IEEE 802.11 b/g
Bluetooth 2.0(EDR)
Controller
Wireless Controller (Bluetooth)
Screen Size
HDMI OUT
AV Output
1080p, 1080i, 720p, 480p/576p, 480i/576i
4
x1
AV MULTI OUT
x1
DIGITAL OUT
x1
(OPTICAL)
BD/DVD/CD
Drive
BD 2x (BD-ROM)
Maximum Read Speed
DVD 8x (DVD-ROM)
(Read Only)
CD 24x (CD-ROM)
Power
AC 220-240V, 50/60Hz
Power consumption
Approximately 280W
Dimensions
Approximately 325×98×274 mm
(excluding maximum projecting part)
(W x H x D)
Weight
Approximately 4.4kg
Operating Temperature
5℃~35℃
DUALSHOCK®3 Wireless Controller x 1
AC Power Cord x 1
Included
AV Cable x 1
USB Cable x 1
Manual x 1
※1
A device compatible with Linear PCM 7.1 Ch. is required to output 7.1 Ch. audio, supported by Dolby TrueHD or a similar
format,
from the HDMI OUT connector.
※2
This system does not support output from the DTS-HD 7.1 Ch. DTS-HD 7.1 Ch. audio is output from a 5.1 or lower
channel.
※3
This system does not guarantee support for all memory media.
※4
"Deep Color" and "x.v.Color (xvYCC)" defined by HDMI ver1.3a are supported.
※Design and specifications are subject to change without notice.
※"Dolby" is a trademark of Dolby Laboratories.
※"DTS" is a trademark of Digital Theatre Systems, Inc.
※"HDMI" is a trademark of HDMI Licensing LLC.
※"Blu-ray Disc" is a trademark.
※"Bluetooth" is a trademark of Bluetooth SIG, Inc.
※All other trademarks are property of their respective owners.
※"PLAYSTATION", "PlayStation", "PS3" and "RSX" are registered trademarks of Sony Computer Entertainment Inc. "Cell
Broadband Engine" is a trademark of Sony Computer Entertainment Inc.
※"
"is a registered trademark of Sony Corporation.