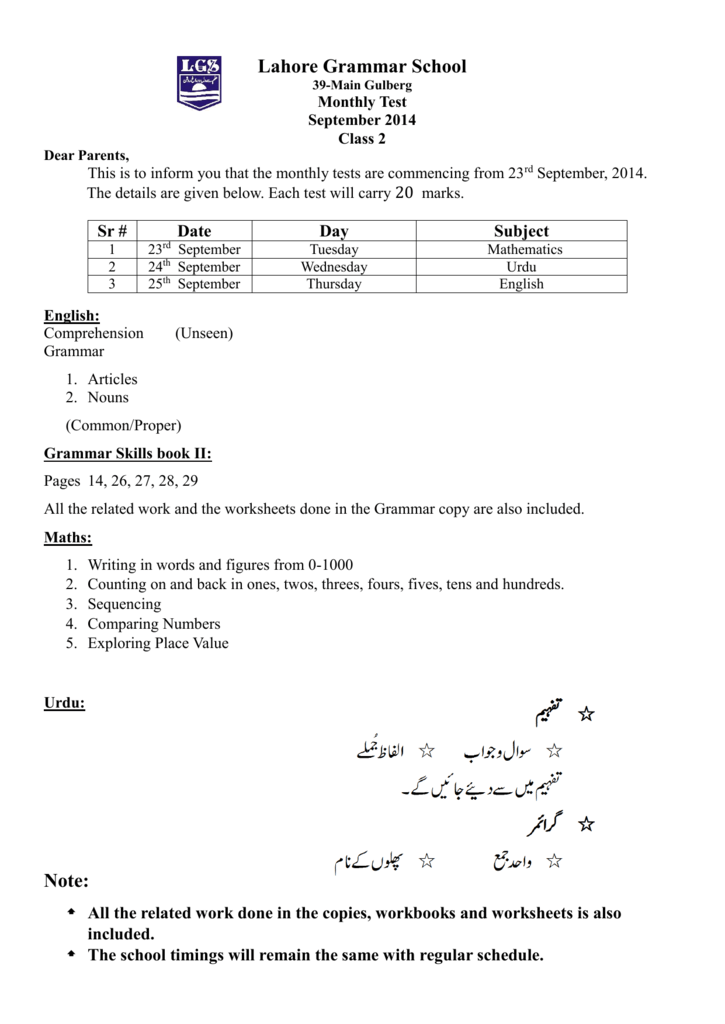 Lahore Grammar School
39-Main Gulberg
Monthly Test
September 2014
Class 2
Dear Parents,
This is to inform you that the monthly tests are commencing from 23rd September, 2014.
The details are given below. Each test will carry 20 marks.
Sr #
1
2
3
English:
Comprehension
Grammar
Date
Day
Subject
23 September
24th September
25th September
Tuesday
Wednesday
Thursday
Mathematics
Urdu
English
rd
(Unseen)
1. Articles
2. Nouns
(Common/Proper)
Grammar Skills book II:
Pages 14, 26, 27, 28, 29
All the related work and the worksheets done in the Grammar copy are also included.
Maths:
1.
2.
3.
4.
5.
Writing in words and figures from 0-1000
Counting on and back in ones, twos, threes, fours, fives, tens and hundreds.
Sequencing
Comparing Numbers
Exploring Place Value
Urdu:
Note:
 All the related work done in the copies, workbooks and worksheets is also
included.
 The school timings will remain the same with regular schedule.