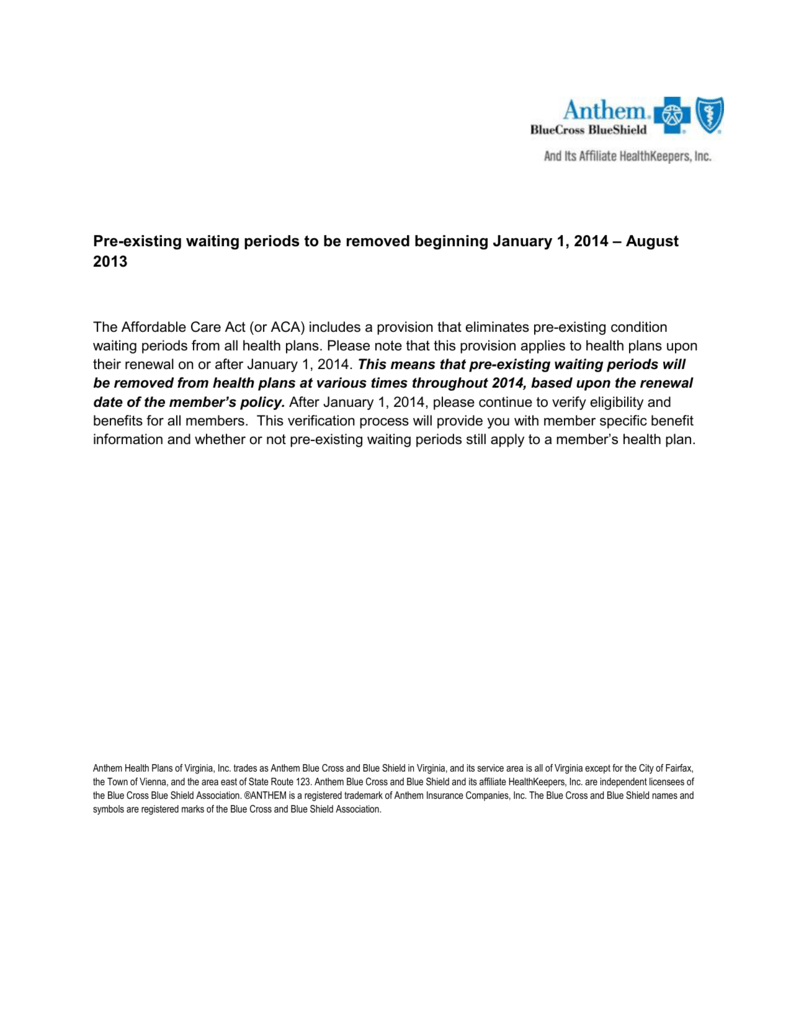 Pre-existing waiting periods to be removed beginning January 1, 2014 – August
2013
The Affordable Care Act (or ACA) includes a provision that eliminates pre-existing condition
waiting periods from all health plans. Please note that this provision applies to health plans upon
their renewal on or after January 1, 2014. This means that pre-existing waiting periods will
be removed from health plans at various times throughout 2014, based upon the renewal
date of the member's policy. After January 1, 2014, please continue to verify eligibility and
benefits for all members. This verification process will provide you with member specific benefit
information and whether or not pre-existing waiting periods still apply to a member's health plan.
Anthem Health Plans of Virginia, Inc. trades as Anthem Blue Cross and Blue Shield in Virginia, and its service area is all of Virginia except for the City of Fairfax,
the Town of Vienna, and the area east of State Route 123. Anthem Blue Cross and Blue Shield and its affiliate HealthKeepers, Inc. are independent licensees of
the Blue Cross Blue Shield Association. ®ANTHEM is a registered trademark of Anthem Insurance Companies, Inc. The Blue Cross and Blue Shield names and
symbols are registered marks of the Blue Cross and Blue Shield Association.