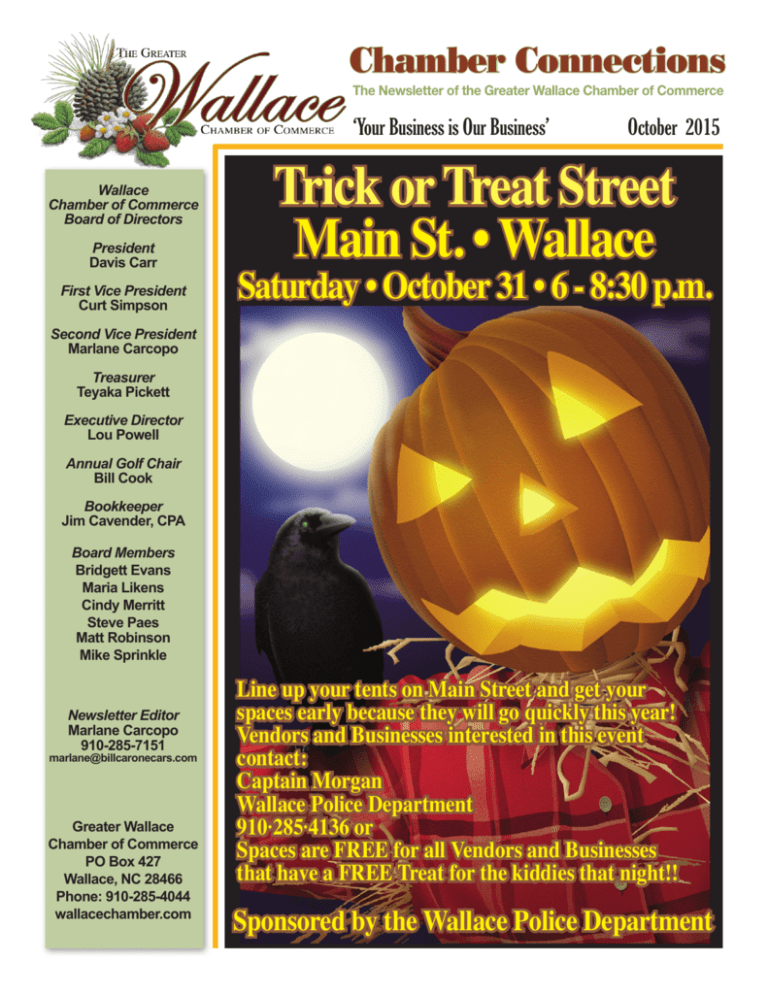 Chamber Connections
The Newsletter of the Greater Wallace Chamber of Commerce
'Your Business is Our Business'
Wallace
Chamber of Commerce
Board of Directors
President
Davis Carr
First Vice President
Curt Simpson
October 2015
Trick or Treat Street
Main St. • Wallace
Saturday • October 31 • 6 - 8:30 p.m.
Second Vice President
Marlane Carcopo
Treasurer
Teyaka Pickett
Executive Director
Lou Powell
Annual Golf Chair
Bill Cook
Bookkeeper
Jim Cavender, CPA
Board Members
Bridgett Evans
Maria Likens
Cindy Merritt
Steve Paes
Matt Robinson
Mike Sprinkle
Newsletter Editor
Marlane Carcopo
910-285-7151
[email protected]
Greater Wallace
Chamber of Commerce
PO Box 427
Wallace, NC 28466
Phone: 910-285-4044
wallacechamber.com
Line up your tents on Main Street and get your
spaces early because they will go quickly this year!
Vendors and Businesses interested in this event
contact:
Captain Morgan
Wallace Police Department
910·285·4136 or
Spaces are FREE for all Vendors and Businesses
that have a FREE Treat for the kiddies that night!!
Sponsored by the Wallace Police Department
Thursday, Oct 8
12-1pm, before the
monthly meeting
at the Mad Boar
Sponsored by Realo Drugs
Thursday, Oct 22
1-6pm, at the Depot.
Sponsored by Walgreens
OPEN HOUSE
Vocational Rehabilitaion
Please join us at our Open House
Thursday • October 8 • 9-12
and learn how we can help staff your
business with quality employees!
Vocational Rehabilitation
94 Magnolia Extension
Phone: 910-296-0049
Yvonne Cano
We've Moved!
Cavenders Accounting
Effective September 1, 2015, Cavenders Accounting
has moved to 224 East Main Street (the Graham Phillips, Attorney & Mary Susan Phillips, Attorney, office).
Our telephone number and fax number will remain the
same.
Our new physical address is 224 East Main Street,
Wallace, NC 28466, and our new mailing address is: PO
Box 267, Wallace, NC 28466-0267
Phone: 910-285-7523 Fax: 910-285-6012 PLEASE
NOTE OUR NEW EMAIL ADDRESS: [email protected]
gmail.com
JSCC Career & College Fair
October 22 • 11am-2 pm
James Sprunt Community College, in partnership with the NC
Works Career Center of DuplinCounty, would like to extend this
invitation for your organization to participate in the JSCC Career
& College Fair from 11:00 a.m. to 2:00 p.m. on Thursday, October 22. The fair will take place inthe Duplin County Agricultural
Center at 165 Agriculture Drive in Kenansville, NC. It will be a
unique opportunity for your organization to recruit local talent
from JSCC students as well as community members.
The NC Mobile JobLink bus will be present to give applicants
the opportunity to apply for jobs immediately onsite. Food
trucks will also be available for lunch. Employer and college
check-in will begin at 10:15 a.m. Local employers and colleges
are welcome to host a table at the fair by registering in advanced.
If you are interested in participating, please register online at http://www.jamessprunt.edu/ and clicking on the "Upcoming Career & College Fair" link.
Should you have any questions,please do not hesitate to contact Mary Elizabeth Mcintosh at [email protected]
or (910) 296-6003.
Ribbon Cutting & Grand Reopening
Greg and Kimi Rogers will host a Grand Reopening for IPM
Computers and Ribbon Cutting for Legal Shield Tuesday, October 6 at 10 a.m. at their office located at 112 West Main St.
IPM offers hardware and software solution and virus removal
and firewall services, and Legal Shield offers legal services for a
monthly contract fee.
Welcome our New Members
The Trading Co. of Rose Hill
EWB Heating & Air
Wally & Tweetie Short
Eddie Bivens
Hardware • Sporting Goods • Guns
112 E. Church St. • Rose Hill
910-289-3451
HVAC sales & service & Licensed electrical contractor
Burgaw
910-232-3751
Customer
APPRECIATION CELEBRATION
October 17
6-9 pm
FREE CONCERT
Carolina Treat Band
featuring Blair Mozingo
FREE BOUNCY HOUSES
FREE HOT DOGS & ICE CREAM
while they last
DRAWING
for the 2015 Charitable Camaro Car Raffle
NO COOLERS • NO PETS
Bill Carone
CHEVROLET-BUICK-GMC
/64t8"--"$&
910-285-7151
BillCaroneCars.com
Festival
of Trees
A fundraiser for The Learning Station at the Wallace Train Depot
Local businesses and organizations have decorated trees with
ornaments that reflect the theme of their business or organization.
The trees are displayed in the Wallace Depot. and will be open
to the public during special holiday events.
Visitors will have the opportunity to purchase tickets to vote
for their favorite tree. Proceeds from the "votes" will benefit the
Learning Station at the Depot and the Model Train Room.
Visit the Wallace Train Depot and enjoy themed
trees decorated by local businesses & organizations.
Purchase tickets and vote for your favorite tree!
Christmas at Twilight
November 21 • 1-7 pm
Polar Express Fun Day & Craft Sale at the Depot
December 5 • 10 am-4 pm
Wallace Christmas Parade Hot Chocolate & Chili
December 12 • 10 am-2 pm
For additional information contact:
Georgia Farrior- 910-470-4185
Susan Parks- 910-470-3993
Monthly Membership Meeting
Thursday, October 8, 1:00 p.m.
at the Mad Boar
Speaker: Lee Woodard
JSCC Samll Business Center
5 co-pay at lunch meetings
$
910-285-3215
The Duplin County Optimist Club recently donated a collection of school
supplies for distribution to children at
Wallace Elementary School. Backpacks,
crayons, notebooks, pens and pencils and
more were included.
There is still a great need, so consider a
contribution. Pictured; (l-r) School Social
Worker Karen Levings, Optimist Club Secretary Lou Powell, Duplin Optimist Club President Andrew Farrior, Wallace Elementary School Principal Jay Parker.