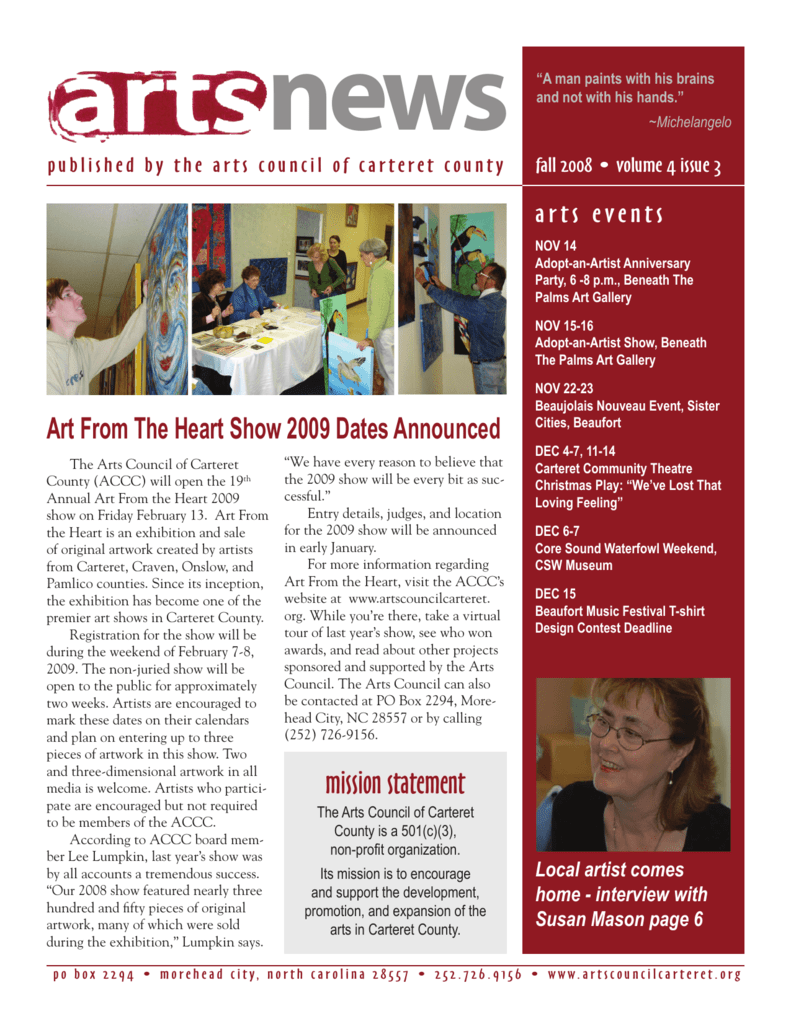 news
published by the arts council of carteret county
"A man paints with his brains
and not with his hands."
~Michelangelo
fall 2008 • volume 4 issue 3
arts events
NOV 14
Adopt-an-Artist Anniversary
Party, 6 -8 p.m., Beneath The
Palms Art Gallery
NOV 15-16
Adopt-an-Artist Show, Beneath
The Palms Art Gallery
Art From The Heart Show 2009 Dates Announced
The Arts Council of Carteret
County (ACCC) will open the 19th
Annual Art From the Heart 2009
show on Friday February 13. Art From
the Heart is an exhibition and sale
of original artwork created by artists
from Carteret, Craven, Onslow, and
Pamlico counties. Since its inception,
the exhibition has become one of the
premier art shows in Carteret County.
Registration for the show will be
during the weekend of February 7-8,
2009. The non-juried show will be
open to the public for approximately
two weeks. Artists are encouraged to
mark these dates on their calendars
and plan on entering up to three
pieces of artwork in this show. Two
and three-dimensional artwork in all
media is welcome. Artists who participate are encouraged but not required
to be members of the ACCC.
According to ACCC board member Lee Lumpkin, last year's show was
by all accounts a tremendous success.
"Our 2008 show featured nearly three
hundred and fifty pieces of original
artwork, many of which were sold
during the exhibition," Lumpkin says.
"We have every reason to believe that
the 2009 show will be every bit as successful."
Entry details, judges, and location
for the 2009 show will be announced
in early January.
For more information regarding
Art From the Heart, visit the ACCC's
website at www.artscouncilcarteret.
org. While you're there, take a virtual
tour of last year's show, see who won
awards, and read about other projects
sponsored and supported by the Arts
Council. The Arts Council can also
be contacted at PO Box 2294, Morehead City, NC 28557 or by calling
(252) 726-9156.
NOV 22-23
Beaujolais Nouveau Event, Sister
Cities, Beaufort
DEC 4-7, 11-14
Carteret Community Theatre
Christmas Play: "We've Lost That
Loving Feeling"
DEC 6-7
Core Sound Waterfowl Weekend,
CSW Museum
DEC 15
Beaufort Music Festival T-shirt
Design Contest Deadline
mission statement
The Arts Council of Carteret
County is a 501(c)(3),
non-profit organization.
Its mission is to encourage
and support the development,
promotion, and expansion of the
arts in Carteret County.
Local artist comes
home - interview with
Susan Mason page 6
p o b o x 2 2 9 4 • m o r e h e a d c i t y, n o r t h c a r o l i n a 2 8 5 5 7 • 2 5 2 . 7 2 6 . 9 1 5 6 • w w w . a r t s c o u n c i l c a r t e r e t . o r g
ACCC Board of Directors
Members of the Arts Council
of Carteret County during its
annual meeting in June voted
and approved the following as
the board of directors for the
organization in 2008-2009:
President
Pam Cooper
Vice President
Robert Malone
Secretary
Herb Pierson
Treasurer
Sally Lumpkin
Past President
Lee Lumpkin
Board Members
Myrna Eure
Rich Farrell
Robin Hamm
Pam Holliday
Dora Irving Jones
Robin Koehler
Carolyn Price
Gale Swann
ACCC Blog Master
Patrick Keough
The Arts News is published
quarterly for members of the
Arts Council of Carteret County.
Editor
Bob Malone
Design
Jill Miller
Printing
Robert Sherwell, UPS Store
The Arts Council of Carteret County
PO Box 2294
Morehead City NC 28557
252.726.9156
email: artscarteret @yahoo.com
web: artscouncilcarteret.org
Message From The President
It is an exciting time for the Art's Council. We
are beginning our first fiscal year with our newly
expanded Board of Directors. We now have 14 board
members, and each new member brings his or her
own special interests and talents to the board. The
enthusiasm of the new members has invigorated us
all, and we are working on improving our existing
programs as well as starting new ones.
With regards to existing programs, we are happy
to announce that our Grassroots Grant program will
Pam Cooper
be bigger than ever this year. We have received our
largest grant to date from the state, which will allow us to pass on even more
funds to our Grassroots Grant recipients.
As for future programs, we are currently working on an important and
exciting strategic plan for the Arts Council. We are working with other
area arts organizations to expand our reach throughout the county. Another
long-term goal is to find a permanent home for our organization with space
for performing arts and visual arts. With the momentum our new board is
generating, we hope the ideas in our new strategic plan will soon become
realities.
Thank you for your continued support of the Arts Council of Carteret
County.
Adopt-an-Artist Celebrates One Year Anniversary
The successful Arts Council
Adopt-an-Artist program is having
a first birthday celebration to honor
those businesses, artists, and the hard
workers/volunteers who have made
this program a success. An opening
night reception for businesses and
artists will be held Friday, November
14 from 6 p.m. to 8 p.m. at Beneath
The Palms Art Gallery located at The
West Ridge Center at 5058 Arendell
St. across Hwy 70 from the Sonic
Restaurant near the Hwy 70 and 24
intersection.
A public show will run Saturday,
November 15 from 10 a.m. to 4 p.m.
and again on Sunday, November
16 from noon to 4 p.m. The show
will share many works of art in all
visual media, accompanied by music,
fellowship, and refreshments.
Artists currently in the Adoptan-Artist program as well as those
who want to join the program are
encouraged to show their works by
calling Herb Pierson at 342-8030.
Artwork can be bought at the show.
Two- and three-dimensional works
can be accepted. This not a juried
or judged show; however, space and
program membership limitations will
apply. The last day to be considered
for entry is Wednesday, November 5
at 5 p.m.
Beaufort Music Festival
T-Shirt Design Contest
The Beaufort Music Festival,
scheduled for May 8-9, 2009, is holding a T-shirt design contest. Deadline
for entries is Dec. 15, 2008. For more
details on the contest rules and other
Festival information, go to www.beaufortmusicfestival.com.
Meet the New ACCC Board Members
Richard Farrell
Rich is president of Art Studio
500, Morehead City, housed in
the town's 100-year-old historic
landmark Tide Water Power and
Electric building's sound-view
location. He has melded his life-long
passion for artistic expression and
the capabilities of digital design into
his newest venture: Art Studio 500.
In 1980, Richard founded Apex,
North Carolina-based Art Farm Inc.,
where he built a full service graphic
design studio and advertising agency
in a unique, rural 150-year-old farm
setting. He currently provides creative
solutions to the challenging demands
of the commercial advertising world.
Richard has produced award-winning
commercial designs, dynamic graphics,
photography (film and digital),
illustration, digital imagery, and web
design for a host of notable clients.
Most recently, his artistic talents
have expanded into digitally "painted"
imagery, which led him into his
explorations of archival quality
Limited Edition Gicleé printing
techniques on canvas. His interests
in people and outdoor activities
have inspired his most recent
limited edition Gicleé printed digital
paintings of coastal scenes, scenes of
nature, landscapes, and commissioned
custom portraits.
Robin Hamm
Robin has been active in the
Carteret Community Theater
(CCT) for over ten years where she
has directed, produced, and stagemanaged many plays, including the
recent CCT production of "Home
Free." Robin has been an active
volunteer in other organizations.
She has helped in fund raising for
Habitat for Humanity, coordinated
educational activities for Kids Fest,
and provided support activities for
the Domestic Violence Tea. Robin
has been married for 31 years to Ken
Hamm and has two grown children,
Elizabeth and Sarah, who currently
live in the area.
Pamela Holliday
Pam is a former public school
principal and director of exceptional
children's programs before she
retired in December 2004. She then
taught writing part-time at Carteret
Community College where she
renewed her love of clay by taking
a course in pottery. She has been
throwing pots at Bridges Street
Pottery in Morehead City since 2005.
Pam had her first pottery show
in October 2005 as part of the four
woman group called Back Creek
Artists and has had several group
and solo shows in the county since.
She has been juried into the Carteret
County Arts and Crafts Coalition and
Carolina Artists Studio Gallery. She
earned an honorable mention for her
pottery at the Morehead City 150th
celebration in 2007, an Excellence
in Art award from the ACCC at the
2008 Art From the Heart and an
honorable mention at the juried Big
Rock Art Show in 2008. She shows
her work at Handscapes Gallery in
Beaufort, Nicole's Studio in Raleigh,
Carolina Artists Studio and Gallery in
Morehead City, and in her home.
Dora Irving Jones
Dora is the Retired and Senior
Volunteer Program Director at Coastal
Community Action, Inc. in Newport.
She has served as 2008 Cochair of
Leadership Carteret and serves on its
Steering Committee as well as also on
the Newport Community Emergency
Response Teams (CERT). Dora is
a native of Jones County, currently
resides in Newport, and is married to
Roger Jones.
Robin Koehler
Robin has had a lifetime
involvement with art, experimenting
with various mediums. After learning
to quilt in 1998, Robin's work became
completely consumed by fabric and
fibers and what could be accomplished
with them.
Her passion for painting and
beading has added new layers to her
fiber art. "It is a unique and exciting
challenge to find a way to merge
these mediums into something that
speaks to people," she says. "The goal
is to manipulate the fabric as much
as possible without losing the tactile
quality that draws the viewer in and
makes them WANT to touch it."
Sweetener for ACCC Memberships
After a long, hot summer, ACCC Membership Chair and
Board Member Carolyn Price (Beneath the Palms gallery
owner) scooped up an idea to attract Council membership
renewals as well as recruit newcomers: "Renew Your
Membership, Recruit a Friend: A Sweet Treat to Show
Our Thanks." The program encourages a Council member
to take a friend to Baskin Robbins in Morehead City and
buy a single scoop ice cream cone or sundae that will
yield a second one free. Baskin Robbins in Morehead City
is honoring the ACCC coupon in the flier, which is good
through Dec. 31, 2008.
Art Camp '08
a huge success
More than 50 students ages
11-15 participated in Art Camp
'08 August 4-8 at the Carteret
Community College (CCC) Fine
Arts facility. The camp was
sponsored by the Arts Council of
Carteret County, in cooperation
with CCC and its Foundation,
which provided grants support for
the program. Students received
instruction in drawing/painting and
photography/computer-generated
art. The last day of camp featured
student presentations concluding
with an awards ceremony.
The purpose of Art Camp '08
was to allow students to continue
their study of art during the
summer and to further develop
their creativity and talent through
a structured program to stimulate
their creative minds.
CCC instructors for the camp
courses were Patrick Keough and
Shannon Ayers, photography;
Jason Smith, painting; and Lela
McClanahan, drawing. Pam
Cooper, Myrna Eure, and Carolyn
Price from the ACCC provided
daily support to the arts campers.
Based on the success of Art Camp
'08, a similar activity is being
considered for summer 2009.
Photos by:Tina Taylor, CCC
Photography Program graduate
Susan M. Mason: An Artist Returns to Her Home
by Bill Colbert
Carteret County
is pleased to include Susan M.
Mason among its
constantly growing number of
outstanding artists.
Her excellence in
the arts has been
further and recently underscored
when her painting Fishin' the Pounds
was selected as the official painting for
the forthcoming 2008 North Carolina
Seafood Festival.
Although she was born and raised
in Atlantic, Susan spent 21 years living and teaching in Alaska (above the
Arctic Circle) in Inupiaq (Eskimo)
villages. How does one get from eastern North Carolina to the Arctic? In
Susan's case, it happened when both
she and her husband were teaching
in Hickory, NC and he (then working toward an administrative license)
were offered positions with Northwest
Arctic Schools. They had made a list
of pros and cons relative to taking
the positions and decided they were
against the positions for all the wrong
reasons and they were off to Alaska.
Although hesitant at first, Susan
loved the Arctic and developed a tre-
mendous love for the people and the
locale. As she describes it: "My experience was wonderful and I have a great
respect for the people and the land.
I found many similarities between
the Arctic and where I grew up. Arctic vistas were like Carteret County
– they were open and broad with
an endless sky. I have always been
intrigued by the details of such landscapes and by things that take time or
are often overlooked.
After graduating from ECU, Susan
taught for a total of 28 years. She has
also worked as a free-lance illustrator
in both Alaska and North Carolina.
She has illustrated several Inupiaq
Master Arts Calendar
Developed By Alliance
Featuring Arts Events
artscouncilcarteret.org—and is updated monthly. Diane Donovan of the
Carteret Arts Forum is the editor-inchief of the master arts calendar. She
welcomes new additions to the calendar and can be reached at [email protected]
ec.rr.com.
The master arts calendar is one
of four activities the Alliance has undertaken since its formation in early
spring 2008. The group is also developing a list of performance venues,
audience demographics in various arts
The Alliance for the Arts in
Carteret County is developing and
publishing a master arts calendar of all
arts-related events that are occurring
in Carteret County during 2008-2009.
The master arts calendar is posted
on the Arts Council website—www.
language books The Owl and the Red
Fox and Smiles for Mother. She was
awarded first place recognition in the
Alaskan Magazine photography contest in 2004 and was a finalist in the
International Gallery Print Botanical
Photography competition in 2002.
Her watercolor Kotzeb Nights was
selected for A Year of Alaskan Artists,
a statewide publication. She has exhibits at the Thomasville, NC YMCA
and the Alaskan Native Heritage Museum.
Locally Susan's work can be seen
at the Mattie King Davis Gallery in
Beaufort and Carolina Artists' Studio
in Morehead City. Susan is indeed a
bright star in the arts community and
another good reason why Carteret
County is a leader in the arts.
Bill Colbert, a former ACCC board member and long time supporter of the arts Council,
interviews ACCC member Susan Mason.
events, and recording arts outreach
efforts in the county. The Alliance
has as its charter member groups the
Arts Council, American Music Festival, Carteret Arts Forum, Carteret
Community Theatre, Coastal Jazz
Society, and Down East Folk Arts Society. Other nonprofit 501(c)(3) arts
organizations are invited to join the
Alliance.
For more information, please contact Bob Malone at 252-728-7550
Adopt-an-Artist Schedule
Thanks to the overwhelming
support of the Carteret County
business community, the Adopt-anArtist program, sponsored by the
Arts Council of Carteret County, is
celebrating its first anniversary as of
November 1. There are now 30 area
businesses that are displaying the
works of the Arts Council's member
artists that have submitted packages
requesting that they be a part of
this program. But according to Sally
Lumpkin, program administrator,
"there is plenty of room for more!"
Artists and businesses who are
interested in participating should
visit www.artscouncilcarteret.org for
details.
The following artists and their
work will be on display for viewing
and possible purchase at the following
businesses from November 5 – January
6, 2009.
Linda Anderson
Pastels at CMAST
Sally Anger
Acrylics - Amos Mosquitos Restaurant,
CMAST and Diamond Shoal Jewelers
Betty Beard
Pastels - Beach Care East, Carteret County
Public Schools Central Services and Drs.
Ward & Lawrence, DDS
Derek Beckman
Watercolors - Down East Medical
Associates
Joel Becton
Photography - J. Chalk Designs
Pam Holliday
Photography - Cooperative Bank (Hwy 24),
Pottery - SoundBank (Beaufort)
Debbie Holmes
Photography- Sunshine Cleaners &
Laundry, Hwy 24
Verena Heroux
Watercolors - Carteret County Chamber of
Commerce
Kathleen Johnston
Photography - Floyd's 1921 Restaurant and
Robinson & Stith Insurance
Larry Jones
Photography - Cape Lookout Psychiatry
Gwen Jordan
Acrylics - Country Club of the Crystal Coast,
Robinson & Stith Insurance, The Bountiful
Bagel and The Broad Street Clinic
Robin Koehler
Fiber art - Leon Mann Jr. Senior Enrichment
Center
Diana Malinowski
Acrylics - Crystal Coast Civic Center
Sandra Malone
Pine straw needle baskets - Diamond Shoal
Jewelers, Floyd's 1921 Restaurant and The
History Place
Bill Meserve
Photography - First Citizens Bank, Beaufort
Jeanne McNeill
Watercolors - Emerald Isle Realty, Floyd's
1921 Restaurant and Second to None
Heather Sink
Acrylics - Country Club of the Crystal
Coast and Marine Federal Credit Union,
Morehead
Cheryl Burke
Photography - Carteret Co. Dept. of Health
Pat Warnke
Oils - Channel Marker Restaurant and
Diamond Shoal Jewelers
Johnnie Dennis
Photography - Crystal Coast Civic Center,
Floyd's 1921 Restaurant and The History
Place
Linda Werthwein
Watercolors, inks and oils - Marine Federal
Credit Union, Morehead and Hyper
International
Meg Forward
Acrylics - CMAST, Cape Lookout
Psychiatry, and Western Carteret Medical
Center
Please visit and support all of the area
businesses that are involved in the
Adopt-an-Artist program.
Art Shows, Art Shows, Art Shows!
Spring and summer 2008 proved to
be a busy art show season for the ACCC.
Coming on the heels of a very successful
Art From the Heart show (see pg. 1 for 09
dates), the Arts Council was asked to sponsor and participate in three separate major
events.
The first arts show, June 11 - 12, was
in conjunction with the 50th anniversary Big
Rock Blue Marlin Tournament that week.
On invitation from the tournament committee and in cooperation with the Morehead
City Parks and Recreation Department, the
ACCC produced a "Fine Arts and Crafts
Festival in the Park." A juried arts exhibition, featuring maritime themes, was held
in the Morehead City Train Depot where a
dozen artists displayed their artwork in a
variety of media. Cash awards were made
during a special reception to artists judged
in first, second, and third place plus three
honorable mentions.
Outside the Train Depot in City Park
were tents holding art from artist members
of the Arts Council and the Carteret County
Arts and Crafts Coalition. The two-day
fine arts festival drew a number of visitors
who were both participating in one of the
country's biggest fishing tournaments as
well as taking in an opportunity to view and
purchase work from Carteret County artisans.
A special thanks goes to Bob Leibert, a
former ACCC board member and long-time
supporter of the Arts Council, who coordinated the two-day event.
The second art show was part of a
reception held July 16 at the Maritime Museum in Beaufort during the Barta Boys and
Girls Club billfish tournament. Two days
later on July 18 a third arts exhibition, sponsored by the ACCC, was held at the Country Club-Crystal Coast, Pine Knoll Shores,
where about 45 club members viewed art
from council members.
The Arts Council welcomes the opportunity to partner with these and other
organizations in the future who wish to
incorporate local artwork in their events.
Please contact us at www.artscouncilcarteret.org or [email protected] or
252-726-9156.
The Arts Council of Carteret
County would like to thank
everyone who supported 2008 Art
From The Heart. Special thanks
go to First Citizens Bank, the
show's primary sponsor, and the
Carteret County News-Times for
providing the ideal building and
location.
Finally the Arts Council board
of directors wishes to thank the
artists and citizens of Carteret
County for turning out in such
large numbers to show their
interest and support of the arts.
CORPORATE LEVELS
Benefactor
First Citizens Bank
the
THANK YOU!
COUNCIL
O F
C A R T E R E T
C O U N T Y
H a v e Yo u R e n e w e d Yo u r M e m b e r s h i p ?
The Arts Council of Carteret County
Membership Application
Name ________________________________________________
Address ______________________________________________
City _ ________________________________________________
State_ ______________________ Zip _ _____________________
Email_________________________________________________
Supporter
Al Williams Properties
Art Escapes and Frames
Beaufort Inn
Concept Marketing
Chalk & Gibbs Ins. & Real Estate
Emerald Isle Realty
JK Dennis Photography
Martha Smith Brooks Art
Peterson, Eure & Assoc., P.A.
Scott Taylor Photography
Sound Bank
The Star Team
Therapeutic Massage
Wachovia Bank
Individuals
Mr. and Mrs. A.C. Hall
Mr. & Mrs. Hamilton Sloan
Dr. & Mrs. Richard Wray
Sponsor
Mr. & Mrs. Rangeley Brown
Telephone_____________________________________________
Please circle your preferred membership:
INDIVIDUAL
$10 - Student (18 and under)
$25-99 - Friend
$100-249 - Supporter
$250 - Sponsor
BUSINESS
$100 - Supporter
$500 - Sponsor
$1000 - Benefactor
$2500+ - Philanthropist
Memberships are good for 365 days from the date of renewal.
Please check here if you prefer your gift to ACCC to remain anonymous______
Checks may be made payable to ACCC and mailed to:
PO Box 2294
Morehead City, NC 28557
ACCC is a 501(c)(3) non-profit organization.
Membership fees and contributions are tax-deductible to the extent allowed by law.