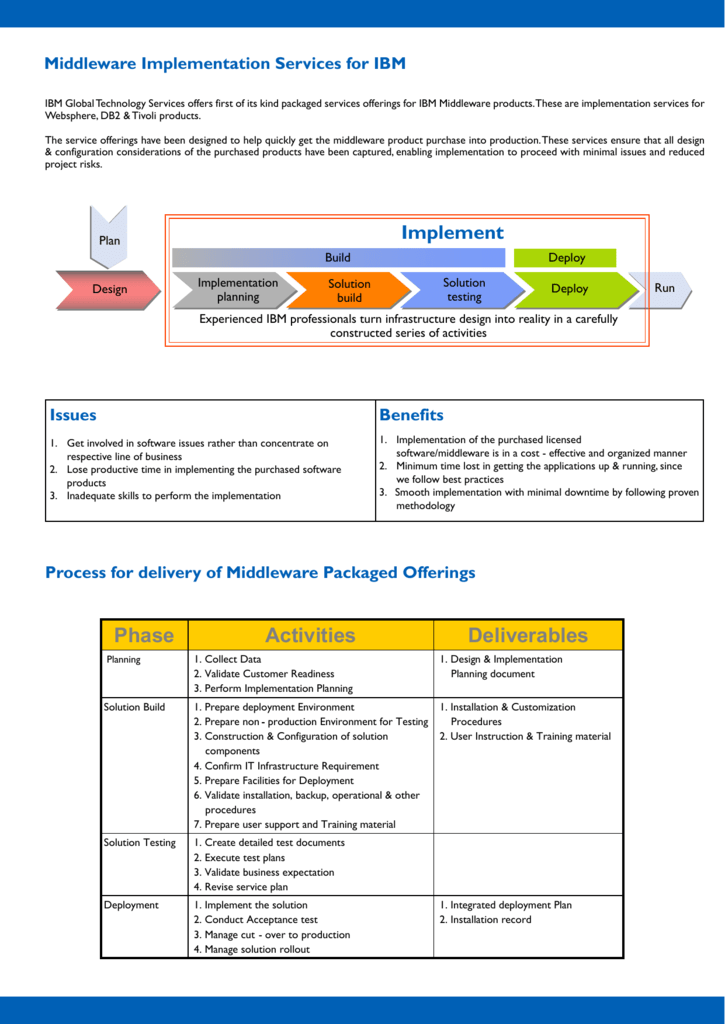 Middleware Implementation Services for IBM
IBM Global Technology Services offers first of its kind packaged services offerings for IBM Middleware products. These are implementation services for
Websphere, DB2 & Tivoli products.
The service offerings have been designed to help quickly get the middleware product purchase into production. These services ensure that all design
& configuration considerations of the purchased products have been captured, enabling implementation to proceed with minimal issues and reduced
project risks.
Implement
Plan
Build
Design
Implementation
planning
Deploy
Solution
testing
Solution
build
Deploy
Run
Experienced IBM professionals turn infrastructure design into reality in a carefully
constructed series of activities
Issues
Benefits
1. Get involved in software issues rather than concentrate on
respective line of business
2. Lose productive time in implementing the purchased software
products
3. Inadequate skills to perform the implementation
1. Implementation of the purchased licensed
software/middleware is in a cost - effective and organized manner
2. Minimum time lost in getting the applications up & running, since
we follow best practices
3. Smooth implementation with minimal downtime by following proven
methodology
Process for delivery of Middleware Packaged Offerings
Phase
Activities
Deliverables
Planning
1. Collect Data
2. Validate Customer Readiness
3. Perform Implementation Planning
1. Design & Implementation
Planning document
Solution Build
1. Prepare deployment Environment
2. Prepare non - production Environment for Testing
3. Construction & Configuration of solution
components
4. Confirm IT Infrastructure Requirement
5. Prepare Facilities for Deployment
6. Validate installation, backup, operational & other
procedures
7. Prepare user support and Training material
1. Installation & Customization
Procedures
2. User Instruction & Training material
Solution Testing
1. Create detailed test documents
2. Execute test plans
3. Validate business expectation
4. Revise service plan
Deployment
1. Implement the solution
2. Conduct Acceptance test
3. Manage cut - over to production
4. Manage solution rollout
1. Integrated deployment Plan
2. Installation record
Why IBM ?
1.
2.
3.
4.
5.
6.
Implementation service provided by the company who built the software.
Experience driven by proven methodologies & IP assets
Experience backed by solid references
Provides better post implementation support as the deployed configuration is captured during implementation
Full lifecycle of services to meet client needs wherever they are
Access via Retain to International expertise to resolve problems swiftly.
Service Product Offering:
Services
Services
Implementation
Implementation
Platform
Platform
MS
MS
Linux
Linux
AIX
AIX
Solaris
Solaris
HP-UX
HP
- UX
WBI server foundation
√
√
√
√
√
WBI MB
√
√
√
√
√
WBI MQ Workflow
√
√
√
√
√
WMQ
√
√
√
√
√
WAS
√
√
√
√
√
WAS ND **
√
√
√
√
√
WAS Edge server
√
√
√
√
√
WebSphere Process server
√
√
√
√
√
MS
MS
Linux
Linux
AIX
AIX
Solaris
Solaris
HP-UX
HP
- UX
H AA
H
√
√
√
√
√
√
MS
MS
Linux
Linux
AIX
AIX
Solaris
Solaris
HP-UX
HP
- UX
HA
HA
Implementation
Implementation
DB2 UDB
Implementation
Implementation
Tivoli Provisioning Manager
HA
HA
√
√
IBM Tivoli Monitoring
√
√
√
√
√
Tivoli Enterprise Console
√
√
√
√
√
Tivoli Storage Manager
√
√
√
√
√
** Node based pricing
HA - High Availability
These are pre - scoped offerings. Additional effort required by client will be provided at extra cost
For more information
©Copyright IBM Corporation 2007
IBM, the IBM logo, are trademarks or registered trademarks of International Business Machines Corporation in the United States, other countries, or
both.Other company, product and service names may be trademarks or service marks of others. References in this publication to IBM products or
services do not imply that IBM intends to make them available in all countries in which IBM operates.