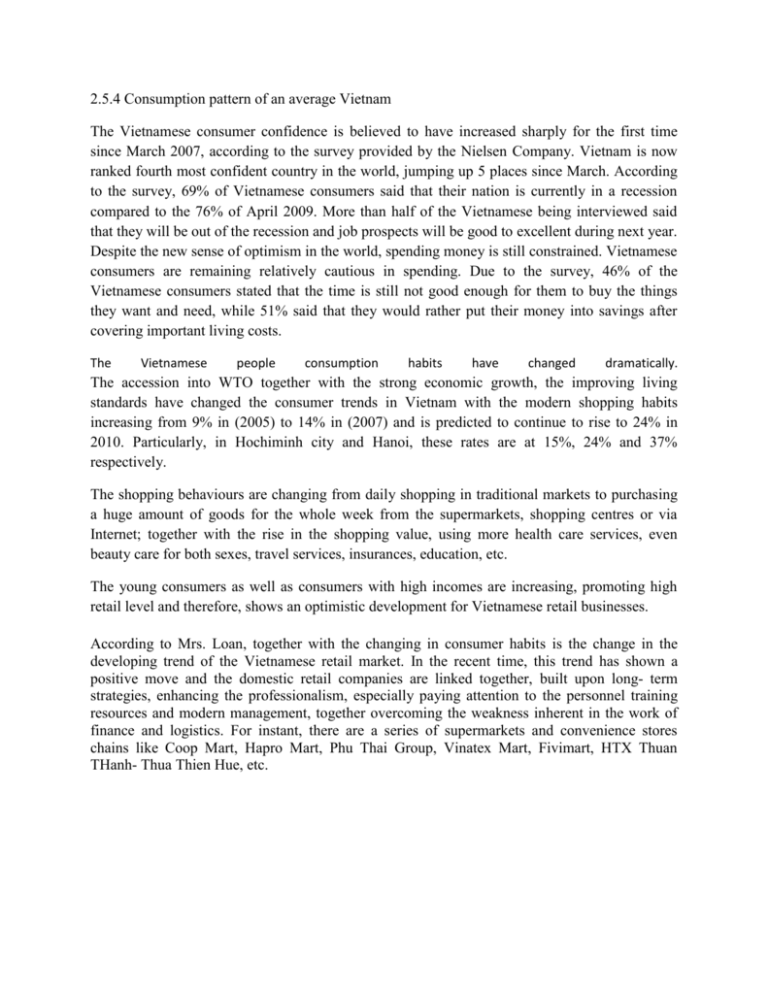 2.5.4 Consumption pattern of an average Vietnam
The Vietnamese consumer confidence is believed to have increased sharply for the first time
since March 2007, according to the survey provided by the Nielsen Company. Vietnam is now
ranked fourth most confident country in the world, jumping up 5 places since March. According
to the survey, 69% of Vietnamese consumers said that their nation is currently in a recession
compared to the 76% of April 2009. More than half of the Vietnamese being interviewed said
that they will be out of the recession and job prospects will be good to excellent during next year.
Despite the new sense of optimism in the world, spending money is still constrained. Vietnamese
consumers are remaining relatively cautious in spending. Due to the survey, 46% of the
Vietnamese consumers stated that the time is still not good enough for them to buy the things
they want and need, while 51% said that they would rather put their money into savings after
covering important living costs.
The
Vietnamese
people
consumption
habits
have
changed
dramatically.
The accession into WTO together with the strong economic growth, the improving living
standards have changed the consumer trends in Vietnam with the modern shopping habits
increasing from 9% in (2005) to 14% in (2007) and is predicted to continue to rise to 24% in
2010. Particularly, in Hochiminh city and Hanoi, these rates are at 15%, 24% and 37%
respectively.
The shopping behaviours are changing from daily shopping in traditional markets to purchasing
a huge amount of goods for the whole week from the supermarkets, shopping centres or via
Internet; together with the rise in the shopping value, using more health care services, even
beauty care for both sexes, travel services, insurances, education, etc.
The young consumers as well as consumers with high incomes are increasing, promoting high
retail level and therefore, shows an optimistic development for Vietnamese retail businesses.
According to Mrs. Loan, together with the changing in consumer habits is the change in the
developing trend of the Vietnamese retail market. In the recent time, this trend has shown a
positive move and the domestic retail companies are linked together, built upon long- term
strategies, enhancing the professionalism, especially paying attention to the personnel training
resources and modern management, together overcoming the weakness inherent in the work of
finance and logistics. For instant, there are a series of supermarkets and convenience stores
chains like Coop Mart, Hapro Mart, Phu Thai Group, Vinatex Mart, Fivimart, HTX Thuan
THanh- Thua Thien Hue, etc.