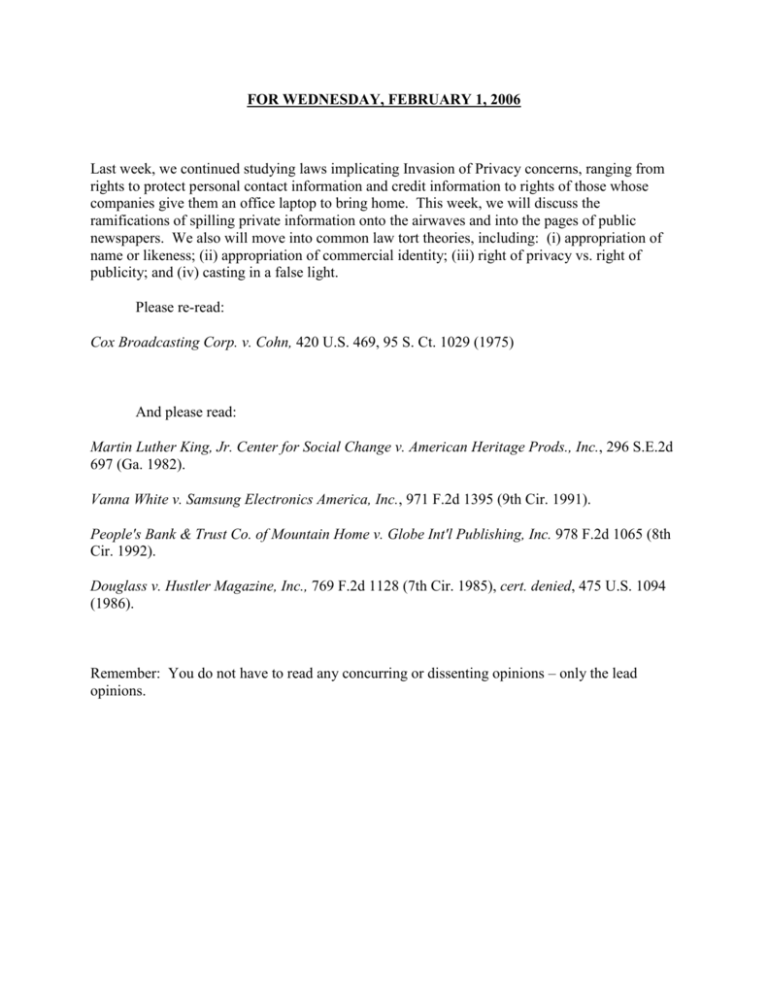 FOR WEDNESDAY, FEBRUARY 1, 2006
Last week, we continued studying laws implicating Invasion of Privacy concerns, ranging from
rights to protect personal contact information and credit information to rights of those whose
companies give them an office laptop to bring home. This week, we will discuss the
ramifications of spilling private information onto the airwaves and into the pages of public
newspapers. We also will move into common law tort theories, including: (i) appropriation of
name or likeness; (ii) appropriation of commercial identity; (iii) right of privacy vs. right of
publicity; and (iv) casting in a false light.
Please re-read:
Cox Broadcasting Corp. v. Cohn, 420 U.S. 469, 95 S. Ct. 1029 (1975)
And please read:
Martin Luther King, Jr. Center for Social Change v. American Heritage Prods., Inc., 296 S.E.2d
697 (Ga. 1982).
Vanna White v. Samsung Electronics America, Inc., 971 F.2d 1395 (9th Cir. 1991).
People's Bank & Trust Co. of Mountain Home v. Globe Int'l Publishing, Inc. 978 F.2d 1065 (8th
Cir. 1992).
Douglass v. Hustler Magazine, Inc., 769 F.2d 1128 (7th Cir. 1985), cert. denied, 475 U.S. 1094
(1986).
Remember: You do not have to read any concurring or dissenting opinions – only the lead
opinions.