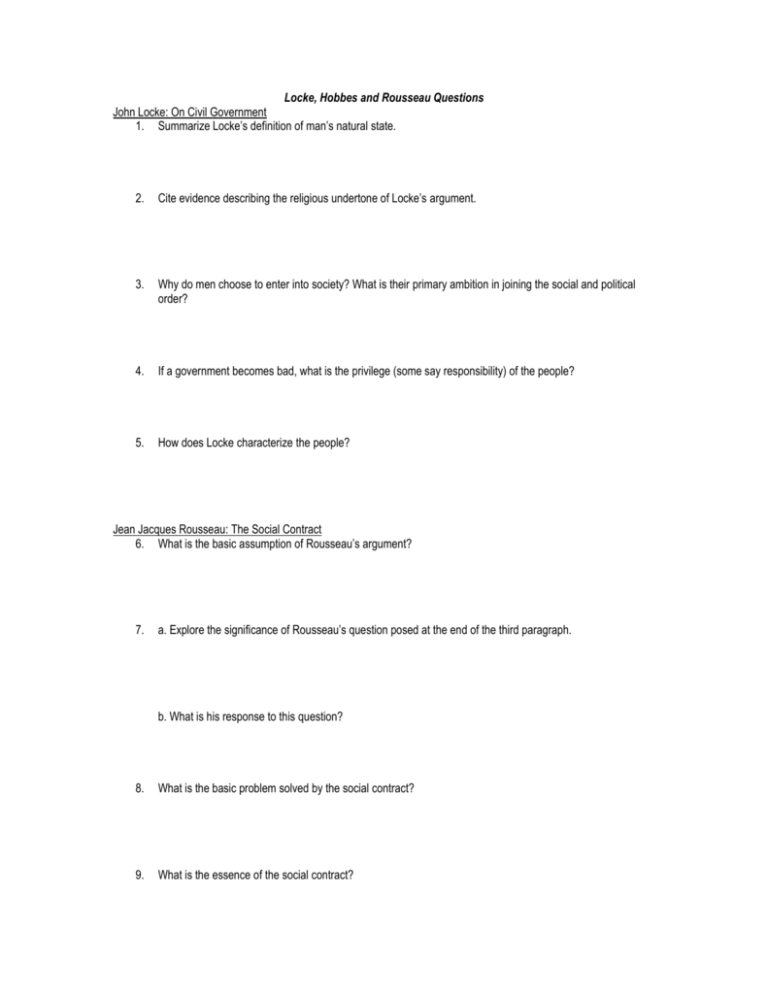 Locke, Hobbes and Rousseau Questions
John Locke: On Civil Government
1. Summarize Locke's definition of man's natural state.
2.
Cite evidence describing the religious undertone of Locke's argument.
3.
Why do men choose to enter into society? What is their primary ambition in joining the social and political
order?
4.
If a government becomes bad, what is the privilege (some say responsibility) of the people?
5.
How does Locke characterize the people?
Jean Jacques Rousseau: The Social Contract
6. What is the basic assumption of Rousseau's argument?
7.
a. Explore the significance of Rousseau's question posed at the end of the third paragraph.
b. What is his response to this question?
8.
What is the basic problem solved by the social contract?
9.
What is the essence of the social contract?
10. What must "everyone understand" about the social contract?
11. Infer from the document the benefits and drawbacks to individuals for upholding the social contract.
Thomas Hobbes: Leviathan Chapter XIII (On the Natural Condition of Man)
12. a. Describe Hobbes' perception of the equality of man
b. How does this equality cause problems?
13. Complete the chart
Thee Causes of Quarrel
Competition
Causes for Invasion
Gain
Ends
To become masters
Diffidence (fear)
Reputation
14. Use examples to describe the state of a society who does not have a common power to subdue mans' inner
drive.
15. In your estimation, is mans' natural state, "continual fear, and danger of violent death; and the life of man, solitary, poor, nasty,
brutish, and short."
16. What are the passions that drive man to seek peace?
17. Sum up: what is Hobbes' central thesis?