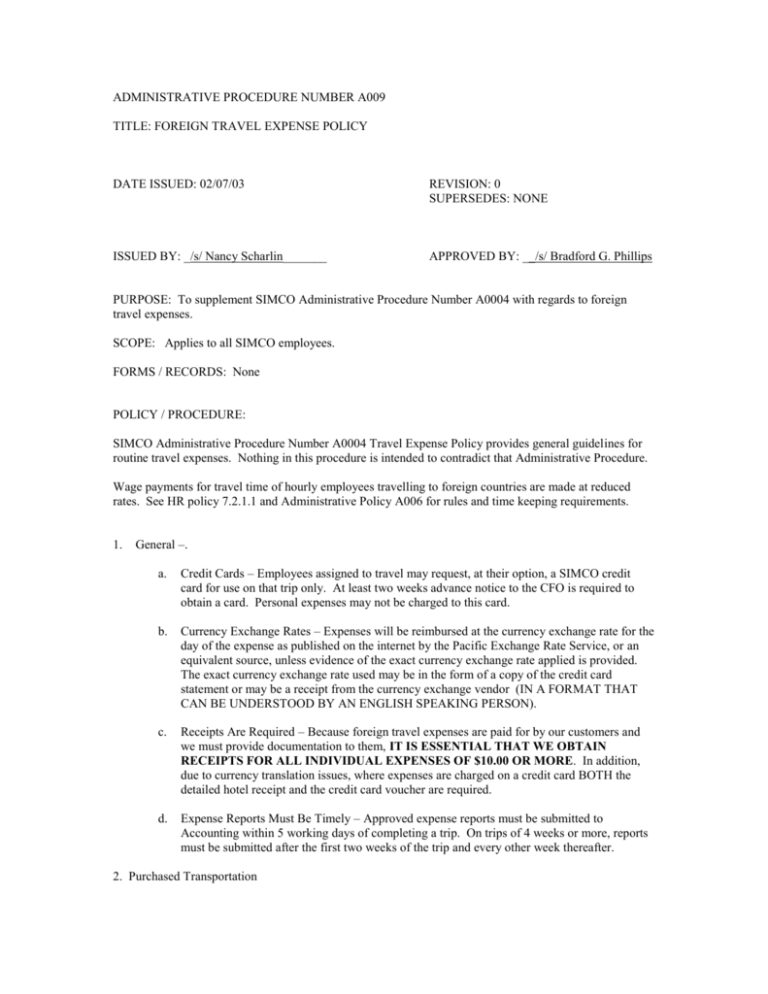 ADMINISTRATIVE PROCEDURE NUMBER A009
TITLE: FOREIGN TRAVEL EXPENSE POLICY
DATE ISSUED: 02/07/03
REVISION: 0
SUPERSEDES: NONE
ISSUED BY: _/s/ Nancy Scharlin_______
APPROVED BY: __/s/ Bradford G. Phillips
PURPOSE: To supplement SIMCO Administrative Procedure Number A0004 with regards to foreign
travel expenses.
SCOPE: Applies to all SIMCO employees.
FORMS / RECORDS: None
POLICY / PROCEDURE:
SIMCO Administrative Procedure Number A0004 Travel Expense Policy provides general guidelines for
routine travel expenses. Nothing in this procedure is intended to contradict that Administrative Procedure.
Wage payments for travel time of hourly employees travelling to foreign countries are made at reduced
rates. See HR policy 7.2.1.1 and Administrative Policy A006 for rules and time keeping requirements.
1.
General –.
a.
Credit Cards – Employees assigned to travel may request, at their option, a SIMCO credit
card for use on that trip only. At least two weeks advance notice to the CFO is required to
obtain a card. Personal expenses may not be charged to this card.
b.
Currency Exchange Rates – Expenses will be reimbursed at the currency exchange rate for the
day of the expense as published on the internet by the Pacific Exchange Rate Service, or an
equivalent source, unless evidence of the exact currency exchange rate applied is provided.
The exact currency exchange rate used may be in the form of a copy of the credit card
statement or may be a receipt from the currency exchange vendor (IN A FORMAT THAT
CAN BE UNDERSTOOD BY AN ENGLISH SPEAKING PERSON).
c.
Receipts Are Required – Because foreign travel expenses are paid for by our customers and
we must provide documentation to them, IT IS ESSENTIAL THAT WE OBTAIN
RECEIPTS FOR ALL INDIVIDUAL EXPENSES OF $10.00 OR MORE. In addition,
due to currency translation issues, where expenses are charged on a credit card BOTH the
detailed hotel receipt and the credit card voucher are required.
d.
Expense Reports Must Be Timely – Approved expense reports must be submitted to
Accounting within 5 working days of completing a trip. On trips of 4 weeks or more, reports
must be submitted after the first two weeks of the trip and every other week thereafter.
2. Purchased Transportation
a.
Travel to and from the Airport – Airport shuttle services including a reasonable tip (e.g. 10%)
will be reimbursed.
b.
Travel while on site –
1. Employees on foreign travel are encouraged to take public transportation. Receipts
for public transportation are required for all individual expenses of $10.00 or more in
US currency.
2. Beginning and ending points of all daily business trips must be documented on the
expense report. Personal / recreational trips are not reimbursable.
Charges and tips for baggage handling – Reasonable charges and tips for baggage handling,
including excess baggage charges for standards, will be reimbursed. Full details and
justification must be provided for all excess baggage charges. Personal excess baggage
charges are not reimbursable.
c.
3. Personal Meals –
a. Per Diem –
1. The standard per diem rates will apply to foreign travel unless a different rate is
specified for a particular trip.
2. Perdiem for the days of departure from home and arrival at home will be pro-rated as
per Administrative Procedure A004.
3. Per diem for a particular meal will not be reimbursed when the employee incurs
business meeting expenses for that particular meal.
4. Miscellaneous Expenses –
a. Personal Telephone Calls – Administrative Procedure A004 guidelines for personal telephone
calls will apply unless other provisions are made for specific trips. For overseas trips,
personal telephone calls for up to one hour per week are authorized. The employee's
supervisor will specify how the calls are to be made – whether at the hotel rates or through a
company authorized cell phone. Appropriate receipts or phone bills are required.
b. Business Telephone Calls –
1. All telephone charges will be considered personal calls unless noted as business
calls.
2. Charges for business calls will be reimbursed. As with personal calls, the
employee's supervisor will specify how the calls are to be made. Receipts or phone
bills are required.
c. Internet charges – Reasonable business internet charges included on the hotel receipt will be
reimbursed. Personal internet charges will be part of the personal telephone call allotment.
All internet charges will be considered personal unless noted as business charges.
d. Laundry and dry cleaning – Reasonable expenses for laundry and dry cleaning will be
reimbursed for SIMCO employees on foreign trips exceeding one week (including a
weekend). The employee is expected to use reasonable care in his choice of vendors so as to
obtain the best price, and is expected to bring sufficient clothing so that laundry services are
not required more than once a week with the first service after one full week into the job.
Receipts are required.
e. Personal Expenses – In general, personal expenses are not reimbursable. SIMCO will
reimburse the employee for reasonable costs of bottled water in areas where it is not possible
to drink the local water. The employee should make every effort to obtain the water at the
most economical rates. Receipts are required.
f. Other –
1. Passport, visas, required inoculations and photos – SIMCO will reimburse
employees for reasonable costs associated with entry into a foreign country.
Receipts are required.
2. ATM fees – SIMCO will reimburse employees for ATM fees not to exceed $10.00
per week.