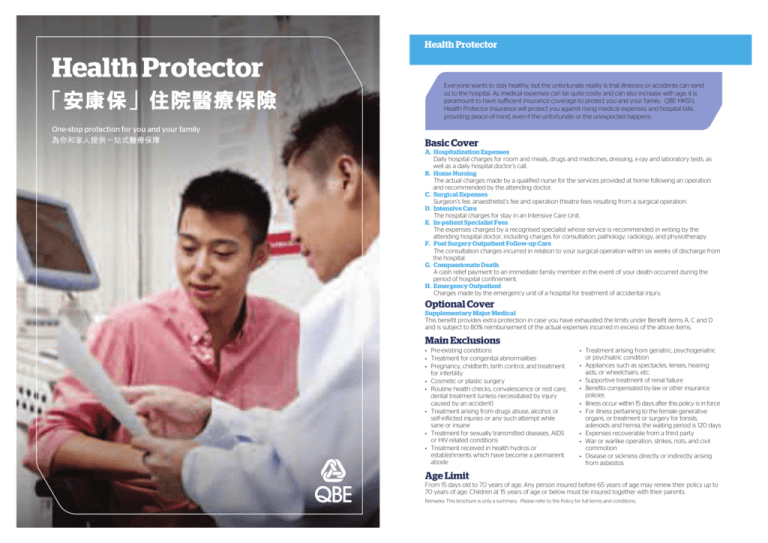 Health Protector
Everyone wants to stay healthy, but the unfortunate reality is that illnesses or accidents can send
us to the hospital. As medical expenses can be quite costly and can also increase with age, it is
paramount to have sufficient insurance coverage to protect you and your family. QBE-HKSI's
Health Protector Insurance will protect you against rising medical expenses and hospital bills,
providing peace-of-mind, even if the unfortunate or the unexpected happens.
Basic Cover
A. Hospitalization Expenses
Daily hospital charges for room and meals, drugs and medicines, dressing, x-ray and laboratory tests, as
well as a daily hospital doctor's call.
B. Home Nursing
The actual charges made by a qualified nurse for the services provided at home following an operation
and recommended by the attending doctor.
C. Surgical Expenses
Surgeon's fee, anaesthetist's fee and operation theatre fees resulting from a surgical operation.
D. Intensive Care
The hospital charges for stay in an Intensive Care Unit.
E. In-patient Specialist Fees
The expenses charged by a recognised specialist whose service is recommended in writing by the
attending hospital doctor, including charges for consultation, pathology, radiology, and physiotherapy.
F. Post Surgery Outpatient Follow-up Care
The consultation charges incurred in relation to your surgical operation within six weeks of discharge from
the hospital.
G. Compassionate Death
A cash relief payment to an immediate family member in the event of your death occurred during the
period of hospital confinement.
H. Emergency Outpatient
Charges made by the emergency unit of a hospital for treatment of accidental injury.
Optional Cover
Supplementary Major Medical
This benefit provides extra protection in case you have exhausted the limits under Benefit items A, C and D
and is subject to 80% reimbursement of the actual expenses incurred in excess of the above items.
Main Exclusions
t Pre-existing conditions
t Treatment for congenital abnormalities
t Pregnancy, childbirth, birth control, and treatment
for infertility
t Cosmetic or plastic surgery
t Routine health checks, convalescence or rest care,
dental treatment (unless necessitated by injury
caused by an accident)
t Treatment arising from drugs abuse, alcohol, or
self-inflicted injuries or any such attempt while
sane or insane
t Treatment for sexually transmitted diseases, AIDS
or HIV-related conditions
t Treatment received in health hydros or
establishments which have become a permanent
abode
t Treatment arising from geriatric, psychogeriatric
or psychiatric condition
t Appliances such as spectacles, lenses, hearing
aids, or wheelchairs, etc.
t Supportive treatment of renal failure
t Benefits compensated by law or other insurance
policies
t Illness occur within 15 days after this policy is in force
t For illness pertaining to the female generative
organs, or treatment or surgery for tonsils,
adenoids and hernia, the waiting period is 120 days
t Expenses recoverable from a third party
t War or warlike operation, strikes, riots, and civil
commotion
t Disease or sickness directly or indirectly arising
from asbestos
Age Limit
From 15 days old to 70 years of age. Any person insured before 65 years of age may renew their policy up to
70 years of age. Children at 15 years of age or below must be insured together with their parents.
Remarks: This brochure is only a summary. Please refer to the Policy for full terms and conditions.