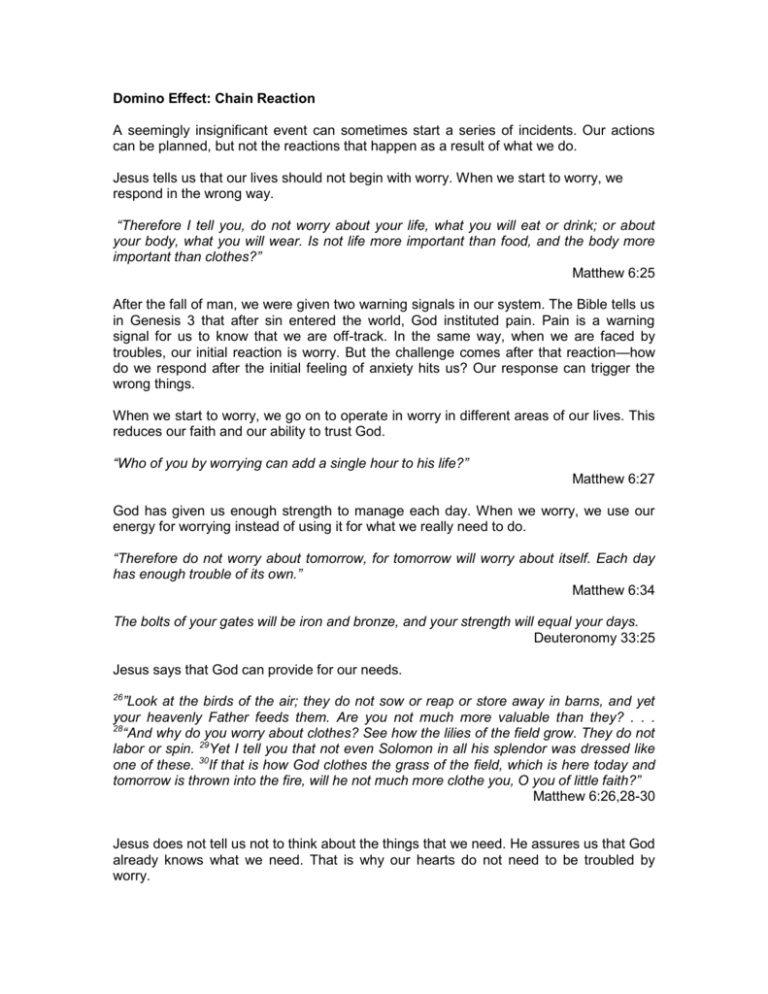 Domino Effect: Chain Reaction
A seemingly insignificant event can sometimes start a series of incidents. Our actions
can be planned, but not the reactions that happen as a result of what we do.
Jesus tells us that our lives should not begin with worry. When we start to worry, we
respond in the wrong way.
"Therefore I tell you, do not worry about your life, what you will eat or drink; or about
your body, what you will wear. Is not life more important than food, and the body more
important than clothes?"
Matthew 6:25
After the fall of man, we were given two warning signals in our system. The Bible tells us
in Genesis 3 that after sin entered the world, God instituted pain. Pain is a warning
signal for us to know that we are off-track. In the same way, when we are faced by
troubles, our initial reaction is worry. But the challenge comes after that reaction—how
do we respond after the initial feeling of anxiety hits us? Our response can trigger the
wrong things.
When we start to worry, we go on to operate in worry in different areas of our lives. This
reduces our faith and our ability to trust God.
"Who of you by worrying can add a single hour to his life?"
Matthew 6:27
God has given us enough strength to manage each day. When we worry, we use our
energy for worrying instead of using it for what we really need to do.
"Therefore do not worry about tomorrow, for tomorrow will worry about itself. Each day
has enough trouble of its own."
Matthew 6:34
The bolts of your gates will be iron and bronze, and your strength will equal your days.
Deuteronomy 33:25
Jesus says that God can provide for our needs.
"Look at the birds of the air; they do not sow or reap or store away in barns, and yet
your heavenly Father feeds them. Are you not much more valuable than they? . . .
28
"And why do you worry about clothes? See how the lilies of the field grow. They do not
labor or spin. 29Yet I tell you that not even Solomon in all his splendor was dressed like
one of these. 30If that is how God clothes the grass of the field, which is here today and
tomorrow is thrown into the fire, will he not much more clothe you, O you of little faith?"
Matthew 6:26,28-30
26
Jesus does not tell us not to think about the things that we need. He assures us that God
already knows what we need. That is why our hearts do not need to be troubled by
worry.
"So do not worry, saying, 'What shall we eat?' or 'What shall we drink?' or 'What shall
we wear? '32For the pagans run after all these things, and your heavenly Father knows
that you need them."
Matthew 6:31,32
31
Jesus tells us that seeking God should be the priority of our lives. When God is first in
our lives, other things will follow. This is the domino effect that must happen in our lives.
"But seek first his kingdom and his righteousness, and all these things will be given to
you as well."
Matthew 6:33
When we are faced with troubles, we must learn to pause and seek God in prayer. And
when we come to Him, we must come persistently.
Do not be anxious about anything, but in everything, by prayer and petition, with
thanksgiving, present your requests to God.
Philippians 4:6
In Luke 11, Jesus taught the disciples about prayer. He tells them to approach God as
their Father. Then Jesus tells them a story to illustrate how prayer should be.
"Then the one inside answers, 'Don't bother me. The door is already locked, and my
children are with me in bed. I can't get up and give you anything.' 8I tell you, though he
will not get up and give him the bread because he is his friend, yet because of the man's
boldness he will get up and give him as much as he needs. 9"So I say to you: Ask and it
will be given to you; seek and you will find; knock and the door will be opened to you.
10
For everyone who asks receives; he who seeks finds; and to him who knocks, the door
will be opened. 11"Which of you fathers, if your son asks for a fish, will give him a snake
instead? 12Or if he asks for an egg, will give him a scorpion? 13If you then, though you
are evil, know how to give good gifts to your children, how much more will your Father in
heaven give the Holy Spirit to those who ask him!"
Luke 11:7-13
7
In this story, Jesus points out that if an ungodly man can get what he asked for because
of his boldness, how much more would God answer us because He loves us. When we
pray to Him, God gives us the Holy Spirit who will give us wisdom and direct us.
Start this year by seeking God first.