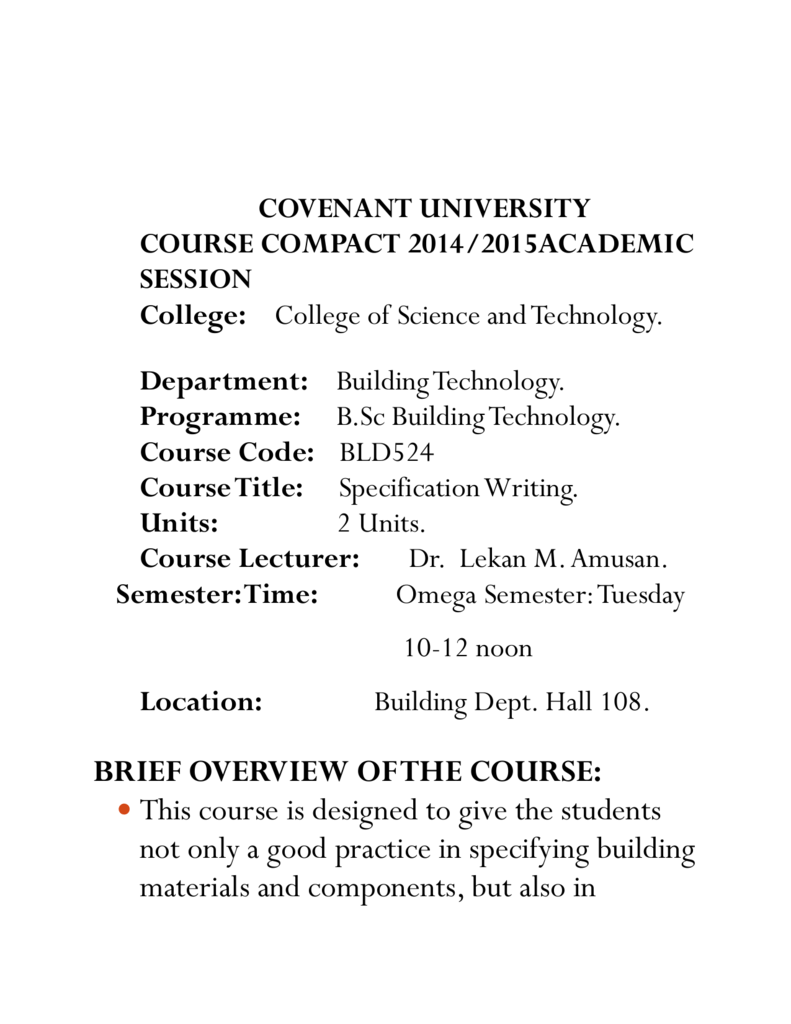 COVENANT UNIVERSITY
COURSE COMPACT 2014/2015ACADEMIC
SESSION
College: College of Science and Technology.
Department: Building Technology.
Programme: B.Sc Building Technology.
Course Code: BLD524
Course Title: Specification Writing.
Units:
2 Units.
Course Lecturer:
Dr. Lekan M. Amusan.
Semester: Time:
Omega Semester: Tuesday
10-12 noon
Location:
Building Dept. Hall 108.
BRIEF OVERVIEW OF THE COURSE:
 This course is designed to give the students
not only a good practice in specifying building
materials and components, but also in
judicious choice of same to satisfy a particular
design objectives for example cost wise:
Purpose and form of the specification.
Principles of specification writing in line with
the sections in the latest standard methods of
measurement of building works (BESMM).
b. COURSE OBJECTIVES/GOALS:
To equip student with knowledge of
preparing building work specification.
To enable student develop the skill of
introducing variety in building component
selection during design.
It facilitates students versatility in designed ,
to give the students good practice in
specifying building materials and
components,
C. METHODS OF LECTURE
DELIVERY/TEACHING AIDS: LECTURE
DELIVERY METHOD.
Lecture notes, formulation of students to study
groups in the class, for effective class
participation. Collective participation in problem
solving.
TEACHING AIDS.
Internet facilities, Lecture notes, On-site clips of
material incorporation in sites, Catalogues of
various materials. Marker/ Magnetic board
system.
Public address system:Yet to be deployed in lieu
of Student population
D. COURSE OUTLINES
 Modules and Detail of Topics.
 MODULE 1: Introduction to Specification: meaning, scope
and advantages
 MODULE 2: General Requirement. Site preparation,




Concrete construction.
MODULE 3: Timber and steel construction.
MODULE 4: Block construction , Insulation, Roofing,
Doors and Windows
MODULE 5: Plastering, Joinery and Fixtures, Tiling,
MODULE 6 : Painting, Floor coverings,Plumbing and
drainage.
 MODULE 7: Revision
E. TUTORIALS
 Tutorials are composed of questions drawn at
random from lecture modules after the
completion of each of the Modules.
F. STRUCTURE OF THE
PROGRAMME/METHOD OF GRADING.
 Continuous Assessment.
 Cont-Ass._30Mks.
 Examination.
 Exam_70Mks.
G. GROUND RULES & REGULATIONS.
i. Assignments are to be submitted as at when due
while late submission attracts marks deduction.
ii. Reporting for lectures 15minutes after the
commencement of lectures attracts penalty of
20minutes standing.
iii. Group assignment must be submitted in typed
form with pictorial information's well illustrated.
iv. 75% attendance is required for a Student to be
qualified in writing final examination in the Course.
h. Topics for term papers/Assignments/Students
activities.
I DELIVERY TOOLS:
 Magnetic Board Marker, Internet, Webmail,
Multimedia Projector
J. CONTEMPORARY ISSUES/INDUSTRY
RELEVANCE.
 Construction industry lacks sound
Professionals who are grounded in art and
management of construction project across
the nation, this has resulted in Project
abandonment, Cost &Time overrun, use of
substandard material. To this end however this
course contain recipe to forestall these, if they
are sincerely absorbed, it would proffer way
out of the pandemic.