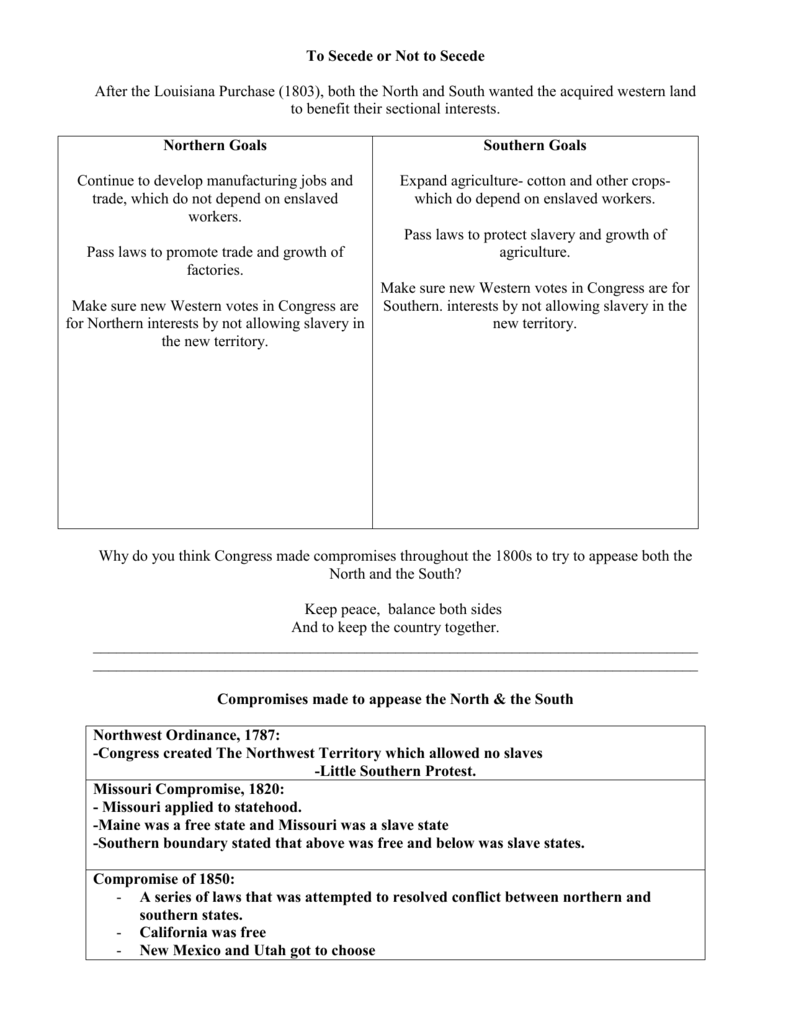 To Secede or Not to Secede
After the Louisiana Purchase (1803), both the North and South wanted the acquired western land
to benefit their sectional interests.
Northern Goals
Southern Goals
Continue to develop manufacturing jobs and
trade, which do not depend on enslaved
workers.
Expand agriculture- cotton and other cropswhich do depend on enslaved workers.
Pass laws to promote trade and growth of
factories.
Make sure new Western votes in Congress are
for Northern interests by not allowing slavery in
the new territory.
Pass laws to protect slavery and growth of
agriculture.
Make sure new Western votes in Congress are for
Southern. interests by not allowing slavery in the
new territory.
Why do you think Congress made compromises throughout the 1800s to try to appease both the
North and the South?
Keep peace, balance both sides
And to keep the country together.
______________________________________________________________________________
______________________________________________________________________________
Compromises made to appease the North & the South
Northwest Ordinance, 1787:
-Congress created The Northwest Territory which allowed no slaves
-Little Southern Protest.
Missouri Compromise, 1820:
- Missouri applied to statehood.
-Maine was a free state and Missouri was a slave state
-Southern boundary stated that above was free and below was slave states.
Compromise of 1850:
- A series of laws that was attempted to resolved conflict between northern and
southern states.
- California was free
- New Mexico and Utah got to choose
-
The slave trade was abolished in Washington DC
Fugitive slave law was passed.
Kansas-Nebraska Act, 1854:
- Created territories allowing them to to decide if they should be slave or free.
- Angered Northerners- who thought that they should be free states because they
were above the Missouri Compromise.
What was the fugitive slave law?
It declared that all runaway slaves shall be brought back to their masters.
Summarize the Dred Scott v. Sandford case.
- He moved to a free state and lived there for quite a whle but he came back to the slave state and
he thought that he was a free person but the said that he and his family was a slave and they shall
do what they are told.
Slavery was a cruel and oppressive institution, but due to their strength and spirit, enslaved
people resisted slavery in many ways. How did African's and African American's who were
enslaved often survive?
Breaking the Bonds of the Union
In 1860, Republican _______Abraham Lincoln ___________________________ was elected as
President of the United States of America. Why did this anger the South?
HE said that he wanted to abolish slavery
Lincoln declared, "A house divided against itself cannot stand. I believe this government cannot
last forever, half slave and half free. I do not expect the house to fall – but I do expect it will
cease to be divided." How do you interpret this quote?
On December 20, 1860, South Carolina became the first state to secede (leave/withdraw) from
the "Union" Shortly after, the other southern states followed to join the newly formed
Confederate States of America, with __________Jefferson
Davis___________________________ as their recognized president. Who was the last
Southern State to secede on May 20, 1861?
Confederate Slave States
North Carolina
South Carolina
Georgia
Tennessee
Arkansas
Texas
Florida
Louisiana
Mississippi
Alabama
Virginia
Union FREE States:
California
Conn.
Illinois
Indiana
Iowa
Kansas
Maine
Mass.
Michigan
Minnesota
Nevada
New Hampshire
New Jersey
New York
Penn.
Rhode Island
Ohio
Wisconsin
Union SLAVE STATES:
Delaware
Kentucky
Missouri
Maryland
West Virginia
What occurred at Fort Sumter in April 1861?