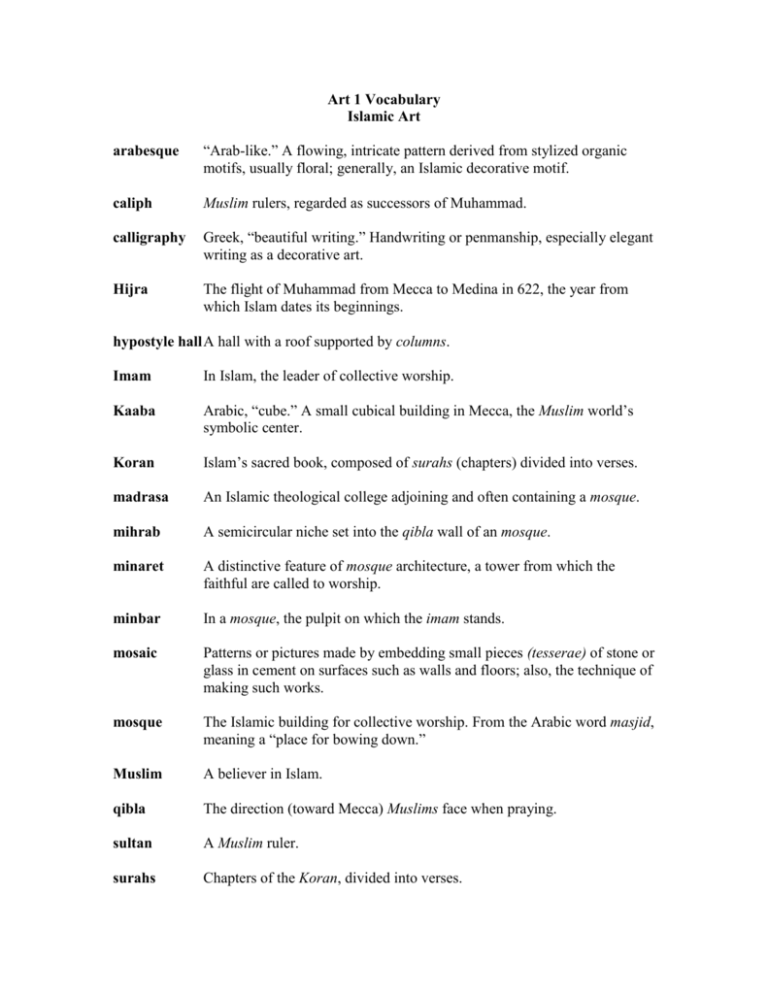 Art 1 Vocabulary
Islamic Art
arabesque
"Arab-like." A flowing, intricate pattern derived from stylized organic
motifs, usually floral; generally, an Islamic decorative motif.
caliph
Muslim rulers, regarded as successors of Muhammad.
calligraphy
Greek, "beautiful writing." Handwriting or penmanship, especially elegant
writing as a decorative art.
Hijra
The flight of Muhammad from Mecca to Medina in 622, the year from
which Islam dates its beginnings.
hypostyle hall A hall with a roof supported by columns.
Imam
In Islam, the leader of collective worship.
Kaaba
Arabic, "cube." A small cubical building in Mecca, the Muslim world's
symbolic center.
Koran
Islam's sacred book, composed of surahs (chapters) divided into verses.
madrasa
An Islamic theological college adjoining and often containing a mosque.
mihrab
A semicircular niche set into the qibla wall of an mosque.
minaret
A distinctive feature of mosque architecture, a tower from which the
faithful are called to worship.
minbar
In a mosque, the pulpit on which the imam stands.
mosaic
Patterns or pictures made by embedding small pieces (tesserae) of stone or
glass in cement on surfaces such as walls and floors; also, the technique of
making such works.
mosque
The Islamic building for collective worship. From the Arabic word masjid,
meaning a "place for bowing down."
Muslim
A believer in Islam.
qibla
The direction (toward Mecca) Muslims face when praying.
sultan
A Muslim ruler.
surahs
Chapters of the Koran, divided into verses.