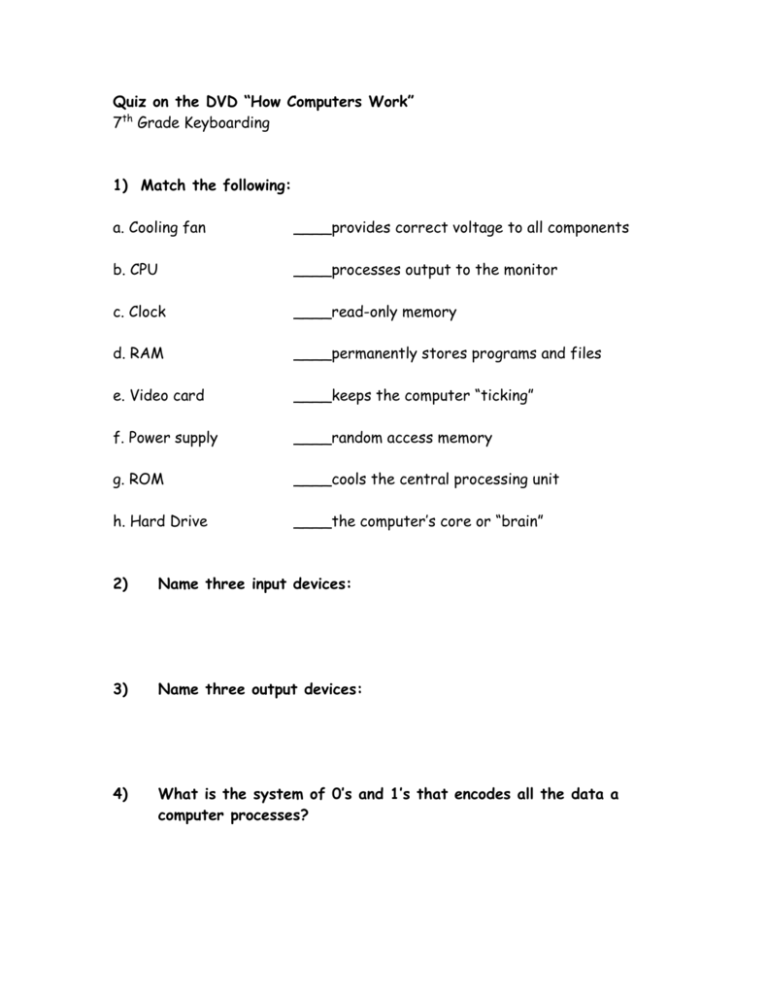 Quiz on the DVD "How Computers Work"
7th Grade Keyboarding
1) Match the following:
a. Cooling fan
____provides correct voltage to all components
b. CPU
____processes output to the monitor
c. Clock
____read-only memory
d. RAM
____permanently stores programs and files
e. Video card
____keeps the computer "ticking"
f. Power supply
____random access memory
g. ROM
____cools the central processing unit
h. Hard Drive
____the computer's core or "brain"
2)
Name three input devices:
3)
Name three output devices:
4)
What is the system of 0's and 1's that encodes all the data a
computer processes?
5)
Why is a lot of RAM good to have?
Match the following:
a.
Kilobyte
____one billion bytes
b. Gigabyte
____a zero or one
c.
____one million bytes
Bit
d. Byte
____one trillion bytes
e.
Megabyte
____8 bits
f.
Terabyte
____one thousand bytes
Describe what the CPU does:
Extra credit:
1) What is the unit of measurement that measures the speed at which
the CPU carries out instructions?
2) What is considered a fast speed for the CPU?