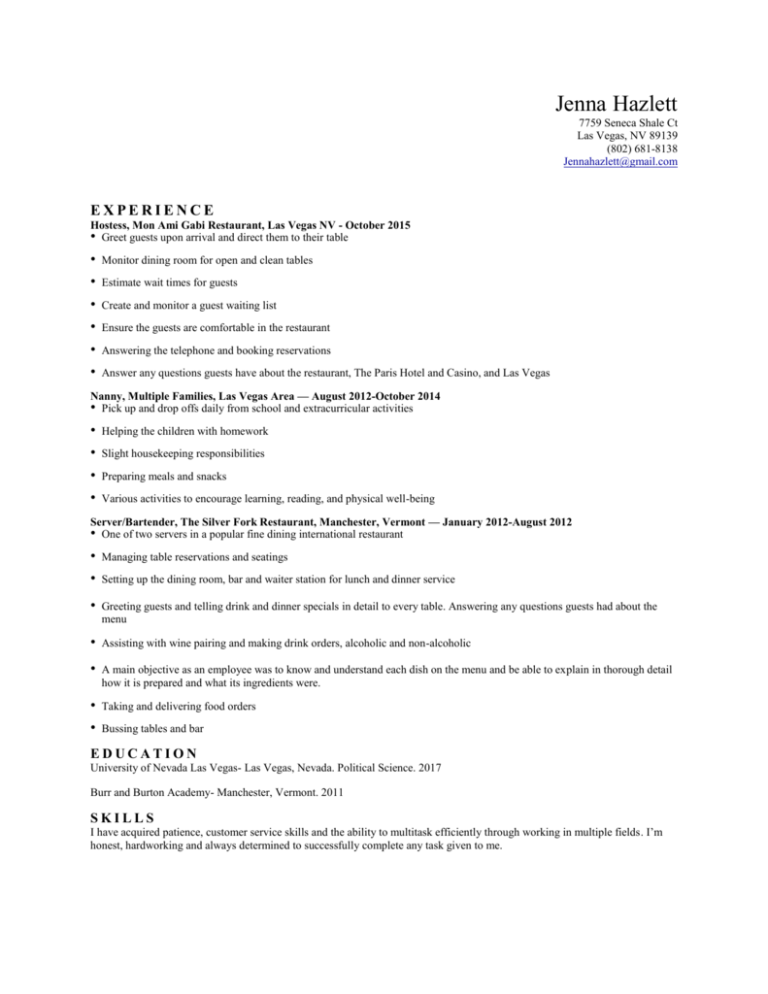 Jenna Hazlett
7759 Seneca Shale Ct
Las Vegas, NV 89139
(802) 681-8138
Jennahazlett@gmail.com
EXPERIENCE
Hostess, Mon Ami Gabi Restaurant, Las Vegas NV - October 2015
• Greet guests upon arrival and direct them to their table
•
•
•
•
•
•
Monitor dining room for open and clean tables
Estimate wait times for guests
Create and monitor a guest waiting list
Ensure the guests are comfortable in the restaurant
Answering the telephone and booking reservations
Answer any questions guests have about the restaurant, The Paris Hotel and Casino, and Las Vegas
Nanny, Multiple Families, Las Vegas Area — August 2012-October 2014
• Pick up and drop offs daily from school and extracurricular activities
•
•
•
•
Helping the children with homework
Slight housekeeping responsibilities
Preparing meals and snacks
Various activities to encourage learning, reading, and physical well-being
Server/Bartender, The Silver Fork Restaurant, Manchester, Vermont — January 2012-August 2012
• One of two servers in a popular fine dining international restaurant
•
•
•
•
•
•
•
Managing table reservations and seatings
Setting up the dining room, bar and waiter station for lunch and dinner service
Greeting guests and telling drink and dinner specials in detail to every table. Answering any questions guests had about the
menu
Assisting with wine pairing and making drink orders, alcoholic and non-alcoholic
A main objective as an employee was to know and understand each dish on the menu and be able to explain in thorough detail
how it is prepared and what its ingredients were.
Taking and delivering food orders
Bussing tables and bar
EDUCATION
University of Nevada Las Vegas- Las Vegas, Nevada. Political Science. 2017
Burr and Burton Academy- Manchester, Vermont. 2011
SKILLS
I have acquired patience, customer service skills and the ability to multitask efficiently through working in multiple fields. I'm
honest, hardworking and always determined to successfully complete any task given to me.