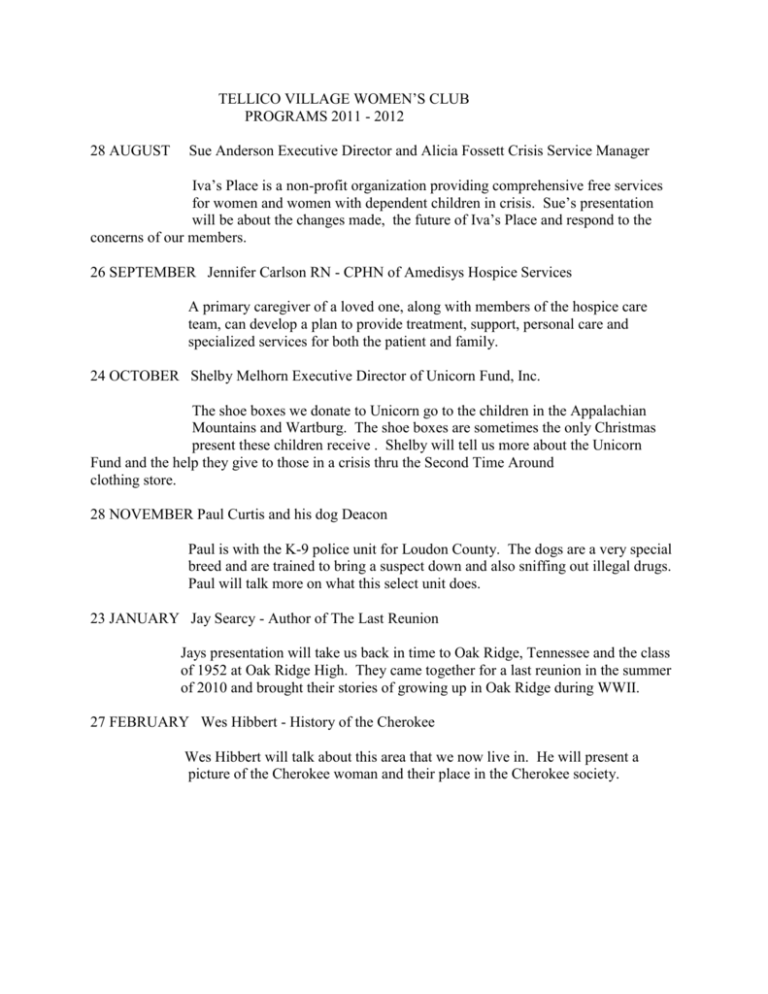 TELLICO VILLAGE WOMEN'S CLUB
PROGRAMS 2011 - 2012
28 AUGUST
Sue Anderson Executive Director and Alicia Fossett Crisis Service Manager
Iva's Place is a non-profit organization providing comprehensive free services
for women and women with dependent children in crisis. Sue's presentation
will be about the changes made, the future of Iva's Place and respond to the
concerns of our members.
26 SEPTEMBER Jennifer Carlson RN - CPHN of Amedisys Hospice Services
A primary caregiver of a loved one, along with members of the hospice care
team, can develop a plan to provide treatment, support, personal care and
specialized services for both the patient and family.
24 OCTOBER Shelby Melhorn Executive Director of Unicorn Fund, Inc.
The shoe boxes we donate to Unicorn go to the children in the Appalachian
Mountains and Wartburg. The shoe boxes are sometimes the only Christmas
present these children receive . Shelby will tell us more about the Unicorn
Fund and the help they give to those in a crisis thru the Second Time Around
clothing store.
28 NOVEMBER Paul Curtis and his dog Deacon
Paul is with the K-9 police unit for Loudon County. The dogs are a very special
breed and are trained to bring a suspect down and also sniffing out illegal drugs.
Paul will talk more on what this select unit does.
23 JANUARY Jay Searcy - Author of The Last Reunion
Jays presentation will take us back in time to Oak Ridge, Tennessee and the class
of 1952 at Oak Ridge High. They came together for a last reunion in the summer
of 2010 and brought their stories of growing up in Oak Ridge during WWII.
27 FEBRUARY Wes Hibbert - History of the Cherokee
Wes Hibbert will talk about this area that we now live in. He will present a
picture of the Cherokee woman and their place in the Cherokee society.
The details of the following two presentation will be finalized and provided at a later date:
26 MARCH
Rebecca Wilson-Taylor - UT Dept. of Anthropology - Assistant Coordinator of
the Forensic Anthropology Center
.
23 APRIL Stacie Bohanan - FBI Media Representative - Public Affairs Specialist
Stacie has been with the Knoxville FBI office for 12 years and 20 years in law
enforcement. Recognized in 2010 by FBI Director Robert Mueller for the most
Outstanding community outreach program among all 56 field offices.
.