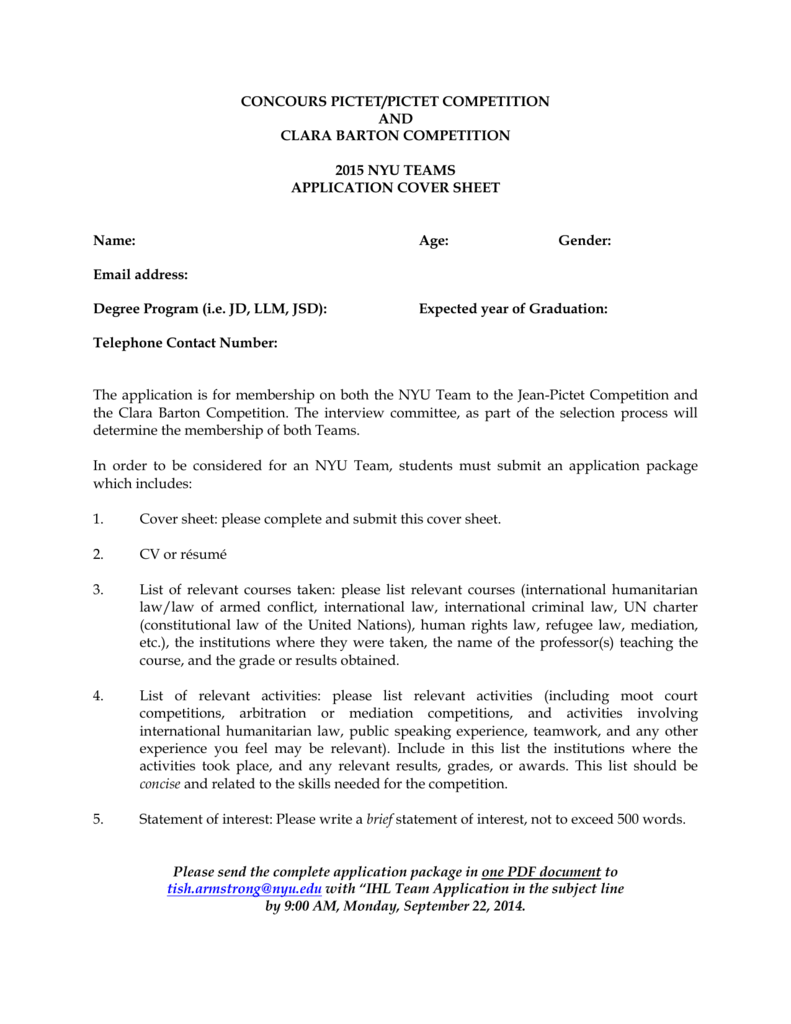 CONCOURS PICTET/PICTET COMPETITION
AND
CLARA BARTON COMPETITION
2015 NYU TEAMS
APPLICATION COVER SHEET
Name:
Age:
Gender:
Email address:
Degree Program (i.e. JD, LLM, JSD):
Expected year of Graduation:
Telephone Contact Number:
The application is for membership on both the NYU Team to the Jean-Pictet Competition and
the Clara Barton Competition. The interview committee, as part of the selection process will
determine the membership of both Teams.
In order to be considered for an NYU Team, students must submit an application package
which includes:
1.
Cover sheet: please complete and submit this cover sheet.
2.
CV or résumé
3.
List of relevant courses taken: please list relevant courses (international humanitarian
law/law of armed conflict, international law, international criminal law, UN charter
(constitutional law of the United Nations), human rights law, refugee law, mediation,
etc.), the institutions where they were taken, the name of the professor(s) teaching the
course, and the grade or results obtained.
4.
List of relevant activities: please list relevant activities (including moot court
competitions, arbitration or mediation competitions, and activities involving
international humanitarian law, public speaking experience, teamwork, and any other
experience you feel may be relevant). Include in this list the institutions where the
activities took place, and any relevant results, grades, or awards. This list should be
concise and related to the skills needed for the competition.
5.
Statement of interest: Please write a brief statement of interest, not to exceed 500 words.
Please send the complete application package in one PDF document to
[email protected] with "IHL Team Application in the subject line
by 9:00 AM, Monday, September 22, 2014.