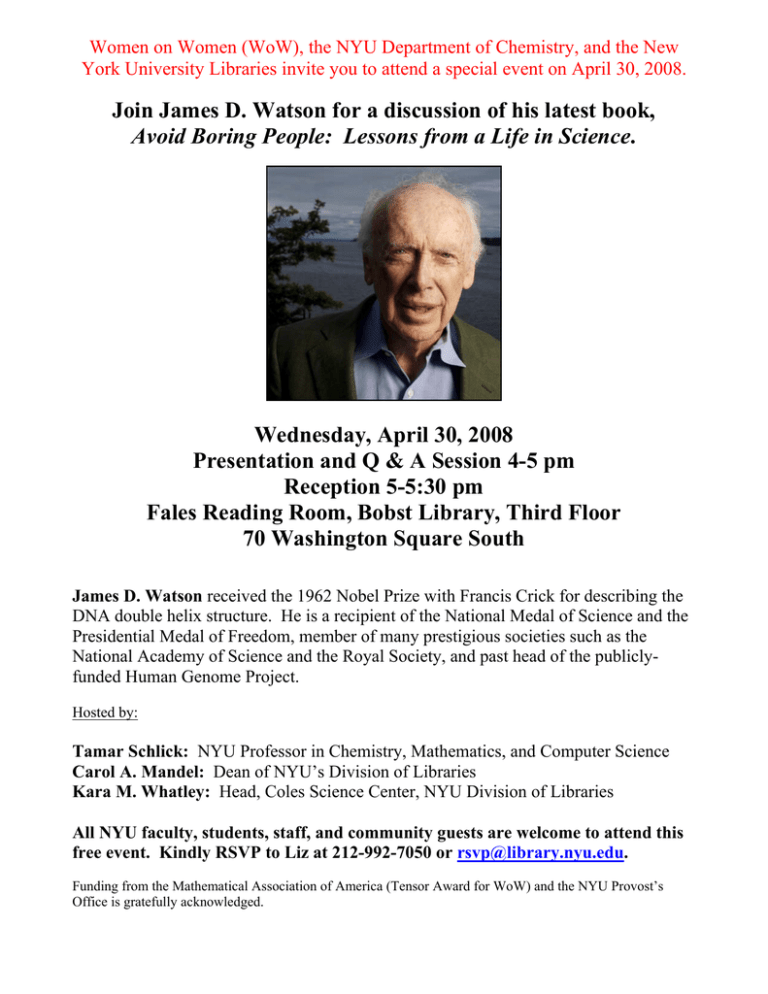 Women on Women (WoW), the NYU Department of Chemistry, and the New
York University Libraries invite you to attend a special event on April 30, 2008.
Join James D. Watson for a discussion of his latest book,
Avoid Boring People: Lessons from a Life in Science.
Wednesday, April 30, 2008
Presentation and Q & A Session 4-5 pm
Reception 5-5:30 pm
Fales Reading Room, Bobst Library, Third Floor
70 Washington Square South
James D. Watson received the 1962 Nobel Prize with Francis Crick for describing the
DNA double helix structure. He is a recipient of the National Medal of Science and the
Presidential Medal of Freedom, member of many prestigious societies such as the
National Academy of Science and the Royal Society, and past head of the publiclyfunded Human Genome Project.
Hosted by:
Tamar Schlick: NYU Professor in Chemistry, Mathematics, and Computer Science
Carol A. Mandel: Dean of NYU's Division of Libraries
Kara M. Whatley: Head, Coles Science Center, NYU Division of Libraries
All NYU faculty, students, staff, and community guests are welcome to attend this
free event. Kindly RSVP to Liz at 212-992-7050 or rsvp@library.nyu.edu.
Funding from the Mathematical Association of America (Tensor Award for WoW) and the NYU Provost's
Office is gratefully acknowledged.