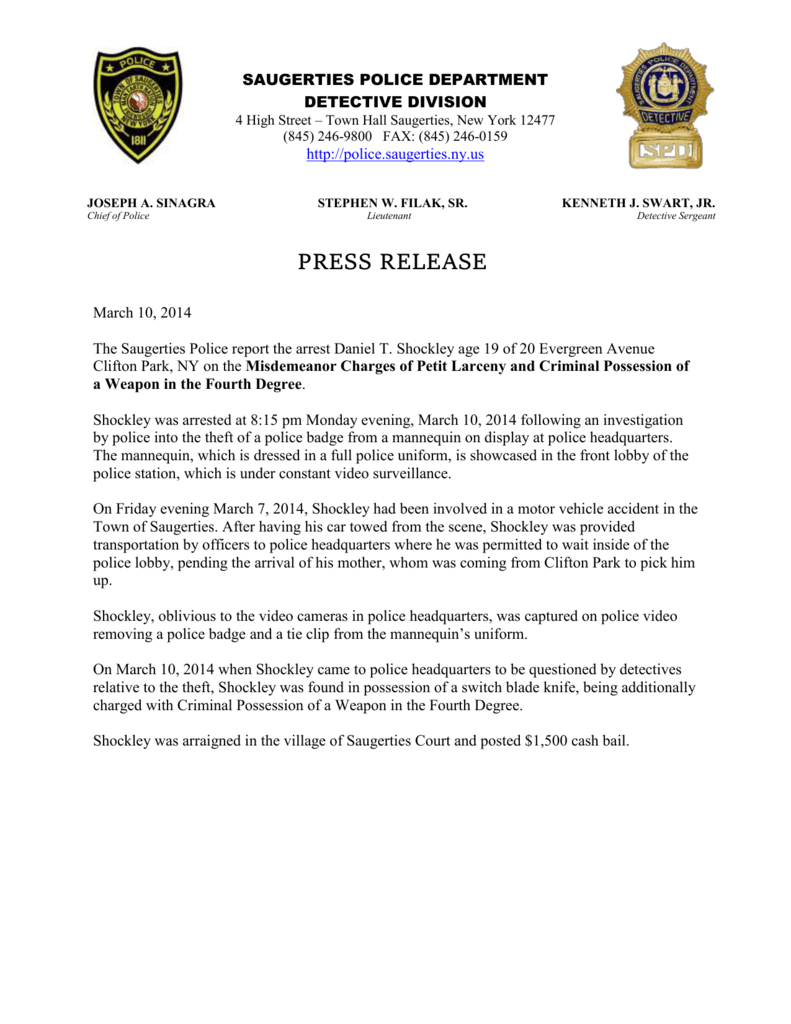 SAUGERTIES POLICE DEPARTMENT
DETECTIVE DIVISION
4 High Street – Town Hall Saugerties, New York 12477
(845) 246-9800 FAX: (845) 246-0159
http://police.saugerties.ny.us
JOSEPH A. SINAGRA
Chief of Police
STEPHEN W. FILAK, SR.
KENNETH J. SWART, JR.
Lieutenant
Detective Sergeant
PRESS RELEASE
March 10, 2014
The Saugerties Police report the arrest Daniel T. Shockley age 19 of 20 Evergreen Avenue
Clifton Park, NY on the Misdemeanor Charges of Petit Larceny and Criminal Possession of
a Weapon in the Fourth Degree.
Shockley was arrested at 8:15 pm Monday evening, March 10, 2014 following an investigation
by police into the theft of a police badge from a mannequin on display at police headquarters.
The mannequin, which is dressed in a full police uniform, is showcased in the front lobby of the
police station, which is under constant video surveillance.
On Friday evening March 7, 2014, Shockley had been involved in a motor vehicle accident in the
Town of Saugerties. After having his car towed from the scene, Shockley was provided
transportation by officers to police headquarters where he was permitted to wait inside of the
police lobby, pending the arrival of his mother, whom was coming from Clifton Park to pick him
up.
Shockley, oblivious to the video cameras in police headquarters, was captured on police video
removing a police badge and a tie clip from the mannequin's uniform.
On March 10, 2014 when Shockley came to police headquarters to be questioned by detectives
relative to the theft, Shockley was found in possession of a switch blade knife, being additionally
charged with Criminal Possession of a Weapon in the Fourth Degree.
Shockley was arraigned in the village of Saugerties Court and posted $1,500 cash bail.