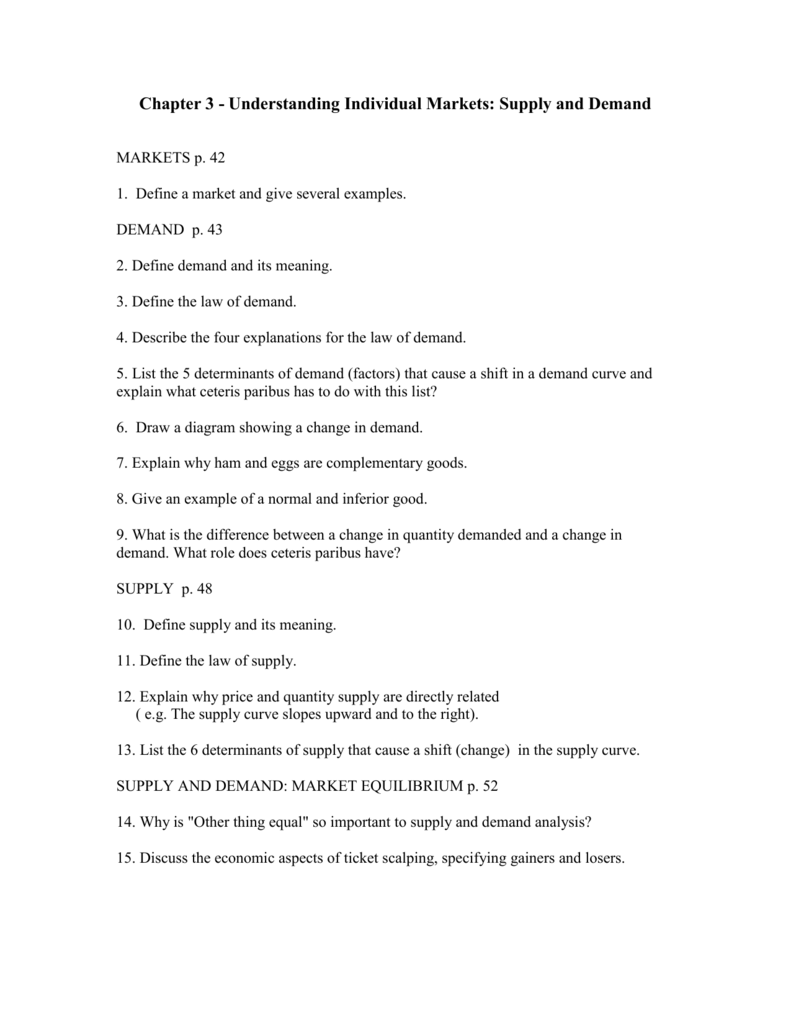 Chapter 3 - Understanding Individual Markets: Supply and Demand
MARKETS p. 42
1. Define a market and give several examples.
DEMAND p. 43
2. Define demand and its meaning.
3. Define the law of demand.
4. Describe the four explanations for the law of demand.
5. List the 5 determinants of demand (factors) that cause a shift in a demand curve and
explain what ceteris paribus has to do with this list?
6. Draw a diagram showing a change in demand.
7. Explain why ham and eggs are complementary goods.
8. Give an example of a normal and inferior good.
9. What is the difference between a change in quantity demanded and a change in
demand. What role does ceteris paribus have?
SUPPLY p. 48
10. Define supply and its meaning.
11. Define the law of supply.
12. Explain why price and quantity supply are directly related
( e.g. The supply curve slopes upward and to the right).
13. List the 6 determinants of supply that cause a shift (change) in the supply curve.
SUPPLY AND DEMAND: MARKET EQUILIBRIUM p. 52
14. Why is "Other thing equal" so important to supply and demand analysis?
15. Discuss the economic aspects of ticket scalping, specifying gainers and losers.