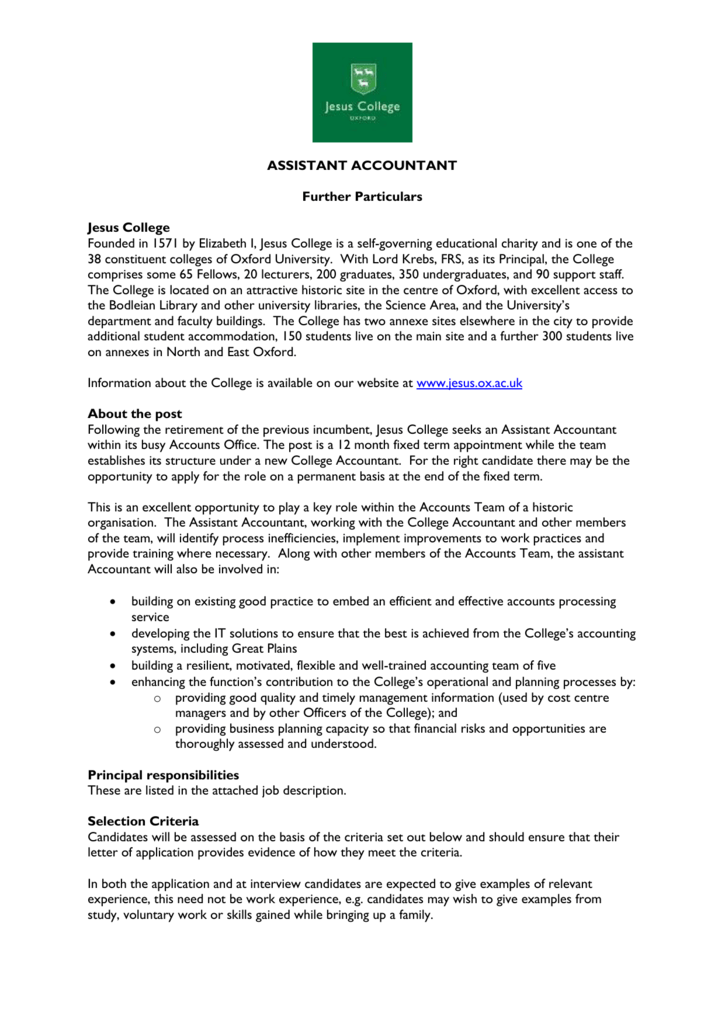 ASSISTANT ACCOUNTANT
Further Particulars
Jesus College
Founded in 1571 by Elizabeth I, Jesus College is a self-governing educational charity and is one of the
38 constituent colleges of Oxford University. With Lord Krebs, FRS, as its Principal, the College
comprises some 65 Fellows, 20 lecturers, 200 graduates, 350 undergraduates, and 90 support staff.
The College is located on an attractive historic site in the centre of Oxford, with excellent access to
the Bodleian Library and other university libraries, the Science Area, and the University's
department and faculty buildings. The College has two annexe sites elsewhere in the city to provide
additional student accommodation, 150 students live on the main site and a further 300 students live
on annexes in North and East Oxford.
Information about the College is available on our website at www.jesus.ox.ac.uk
About the post
Following the retirement of the previous incumbent, Jesus College seeks an Assistant Accountant
within its busy Accounts Office. The post is a 12 month fixed term appointment while the team
establishes its structure under a new College Accountant. For the right candidate there may be the
opportunity to apply for the role on a permanent basis at the end of the fixed term.
This is an excellent opportunity to play a key role within the Accounts Team of a historic
organisation. The Assistant Accountant, working with the College Accountant and other members
of the team, will identify process inefficiencies, implement improvements to work practices and
provide training where necessary. Along with other members of the Accounts Team, the assistant
Accountant will also be involved in:




building on existing good practice to embed an efficient and effective accounts processing
service
developing the IT solutions to ensure that the best is achieved from the College's accounting
systems, including Great Plains
building a resilient, motivated, flexible and well-trained accounting team of five
enhancing the function's contribution to the College's operational and planning processes by:
o providing good quality and timely management information (used by cost centre
managers and by other Officers of the College); and
o providing business planning capacity so that financial risks and opportunities are
thoroughly assessed and understood.
Principal responsibilities
These are listed in the attached job description.
Selection Criteria
Candidates will be assessed on the basis of the criteria set out below and should ensure that their
letter of application provides evidence of how they meet the criteria.
In both the application and at interview candidates are expected to give examples of relevant
experience, this need not be work experience, e.g. candidates may wish to give examples from
study, voluntary work or skills gained while bringing up a family.
Essential Knowledge, Skills and Experience











Part qualified Accountant as recognised by CCAB / AAT level 4 or equivalent proven
experience
A sound understanding and experience in management accounts, reconciliation, double entry
book keeping, reporting and year end accounts
High levels of accuracy and attention to detail
Good problem solving skills with ability to exercise initiative
Strong organisational skills and a methodical and structured approach to work
Experience of working successfully as part of a busy Accounts team
Demonstrable experience of working to tight timescales and deadlines
Flexible attitude and ability to work under pressure when necessary
Good communication skills, both orally and in writing, including the ability to successfully
influence and persuade
Eagerness to play a key role in the development of new systems and processes
Excellent IT skills with a good knowledge of MS Office in particular Excel where
Intermediate/Advanced skills are important
Desirable Qualities


Knowledge of Great Plains or equivalent ERP system
Experience of the Higher Education sector, the University and/or its colleges
Benefits
Salary: within the range £27,057 – £31,342 per annum, broadly equivalent to Grade 6 on University
pay scale, depending on qualifications and experience.
Hours: full time - 35 hours per week, excluding meal breaks
Holiday: 38 days per year pro rata. This includes all Bank and Public holidays. The College currently
closes at Christmas usually for 10 days and Easter for 5 days so these are regarded as mandatory
holidays which must be taken as part of the leave entitlement.
Meals: a free lunch is available when on duty.
Pension: Automatic enrolment into the contributory Oxford University Pension Scheme from the
start of employment.
To apply
To apply for this role you must submit the following three documents:
•
•
•
A completed application form;
A curriculum vitae; and
A completed equal opportunities form
An application form and equal opportunities form are available on the website
www.jesus.ox.ac.uk/fellows-and-staff/vacancies/college or from HR Department, Jesus College,
Oxford, OX1 3DW, email address: [email protected]
The closing date for applications is noon on Wednesday 1 April 2015. The above
documents should be returned by post or email to HR by this date.
Interviews will be held week commencing 13 April 2015.
Please be aware that the College is closed from Tuesday 31 March until Monday 6 April (inclusive), it
will not be possible to speak to anyone regarding the role or your application during this period.
Data protection. All data supplied by applicants will be used only for the purposes of determining
their suitability for the post and will be held in accordance with the principles of the Data Protection
Act 1998.
Jesus College is an equal opportunities employer.