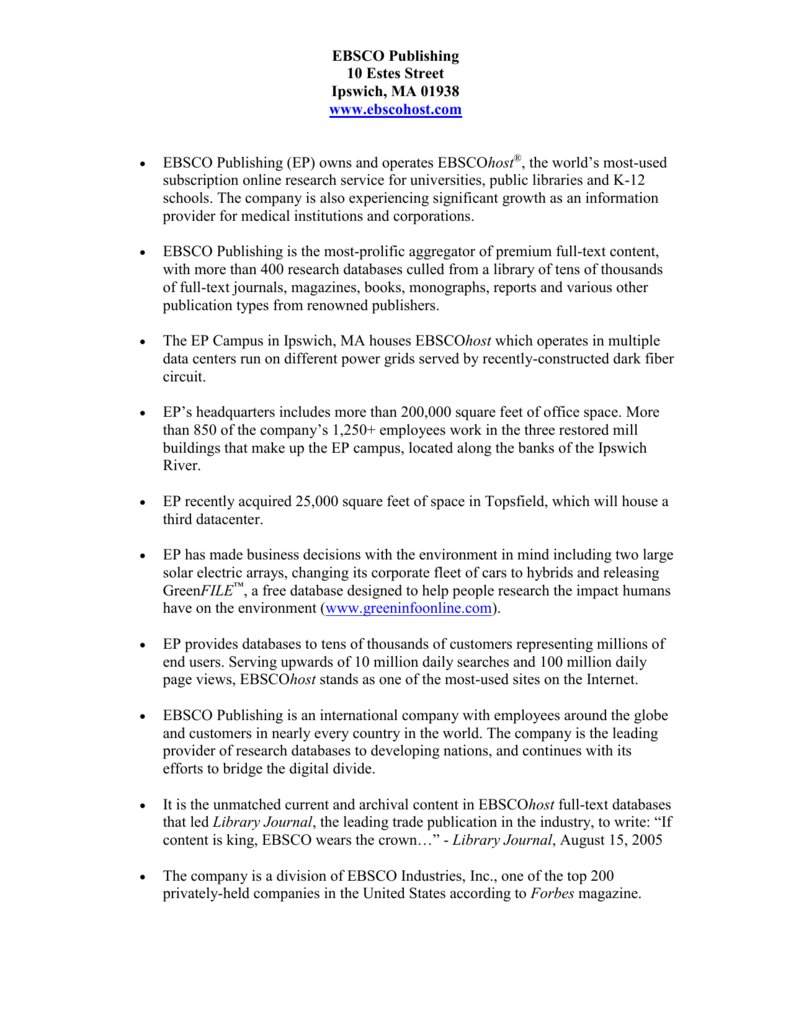 EBSCO Publishing
10 Estes Street
Ipswich, MA 01938
www.ebscohost.com

EBSCO Publishing (EP) owns and operates EBSCOhost®, the world's most-used
subscription online research service for universities, public libraries and K-12
schools. The company is also experiencing significant growth as an information
provider for medical institutions and corporations.

EBSCO Publishing is the most-prolific aggregator of premium full-text content,
with more than 400 research databases culled from a library of tens of thousands
of full-text journals, magazines, books, monographs, reports and various other
publication types from renowned publishers.

The EP Campus in Ipswich, MA houses EBSCOhost which operates in multiple
data centers run on different power grids served by recently-constructed dark fiber
circuit.

EP's headquarters includes more than 200,000 square feet of office space. More
than 850 of the company's 1,250+ employees work in the three restored mill
buildings that make up the EP campus, located along the banks of the Ipswich
River.

EP recently acquired 25,000 square feet of space in Topsfield, which will house a
third datacenter.

EP has made business decisions with the environment in mind including two large
solar electric arrays, changing its corporate fleet of cars to hybrids and releasing
GreenFILE™, a free database designed to help people research the impact humans
have on the environment (www.greeninfoonline.com).

EP provides databases to tens of thousands of customers representing millions of
end users. Serving upwards of 10 million daily searches and 100 million daily
page views, EBSCOhost stands as one of the most-used sites on the Internet.

EBSCO Publishing is an international company with employees around the globe
and customers in nearly every country in the world. The company is the leading
provider of research databases to developing nations, and continues with its
efforts to bridge the digital divide.

It is the unmatched current and archival content in EBSCOhost full-text databases
that led Library Journal, the leading trade publication in the industry, to write: "If
content is king, EBSCO wears the crown…" - Library Journal, August 15, 2005

The company is a division of EBSCO Industries, Inc., one of the top 200
privately-held companies in the United States according to Forbes magazine.

EP holds statewide contracts with 40 states and works extensively to promote the
value and usage of library resources including an NPR sponsorship inviting
people to explore the rich resources of their local libraries.