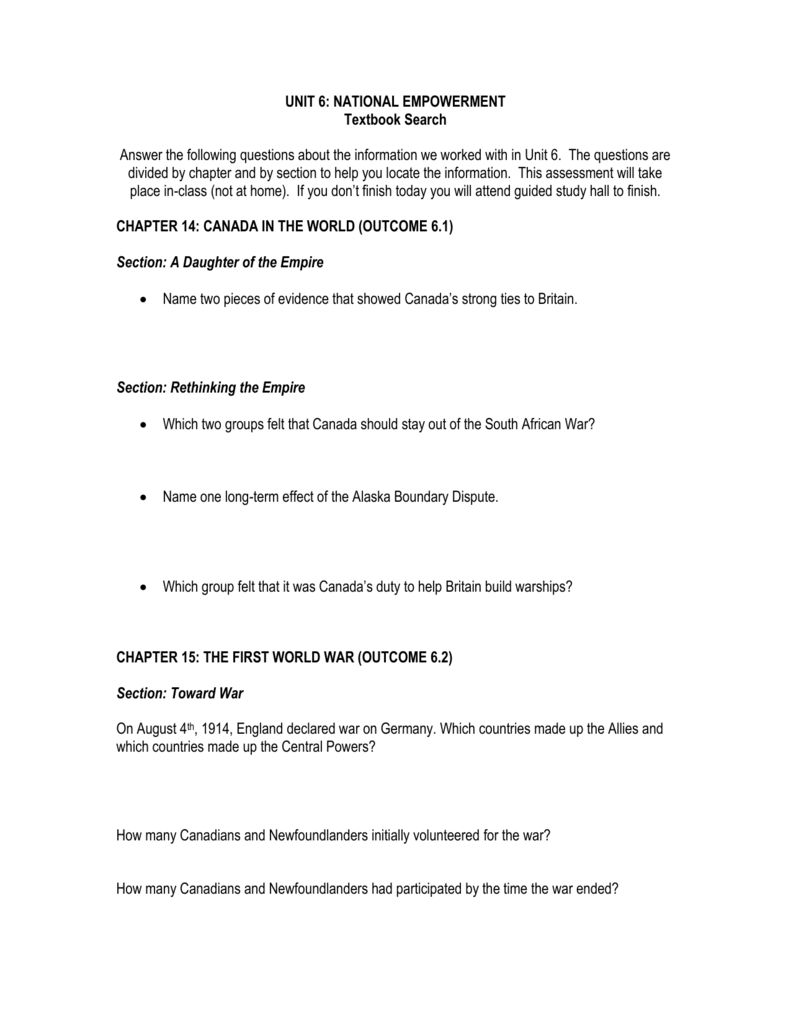 UNIT 6: NATIONAL EMPOWERMENT
Textbook Search
Answer the following questions about the information we worked with in Unit 6. The questions are
divided by chapter and by section to help you locate the information. This assessment will take
place in-class (not at home). If you don't finish today you will attend guided study hall to finish.
CHAPTER 14: CANADA IN THE WORLD (OUTCOME 6.1)
Section: A Daughter of the Empire

Name two pieces of evidence that showed Canada's strong ties to Britain.
Section: Rethinking the Empire

Which two groups felt that Canada should stay out of the South African War?

Name one long-term effect of the Alaska Boundary Dispute.

Which group felt that it was Canada's duty to help Britain build warships?
CHAPTER 15: THE FIRST WORLD WAR (OUTCOME 6.2)
Section: Toward War
On August 4th, 1914, England declared war on Germany. Which countries made up the Allies and
which countries made up the Central Powers?
How many Canadians and Newfoundlanders initially volunteered for the war?
How many Canadians and Newfoundlanders had participated by the time the war ended?
Section: Regiments and Battalions
How many battalions were in the Canadian Expeditionary Force (CEF)?
Section: Over There
In the Trenches:
What is a strategic location?
What is a front line?
What is no man's land?
What were the conditions like in the trenches?
What does it mean to go "over the top"?
The War in the Air:
Why were planes not initially considered useful in war?
What is a dogfight?
What is an ace?
What was the Black Flight?
The War at Sea:
How many ships and officers/crew did Canada have when the war broke out?
How many men did the Newfoundland Royal Naval Reserve contribute to serve in the British navy?
What were U-boats and what were they used for?
In the first 4 months of 1917, how many Allied ships did Germany sink?
What is a convoy?
Section: Into Battle
In what year did the Second Battle of Ypres take place?
Approximately how many Canadian soldiers were killed in the Battle of the Somme?
Approximately how many Canadian soldiers were wounded at the Battle of Vimy Ridge?
CHAPTER 16: ON THE HOME FRONT (OUTCOME 6.3)
Section: Life in Wartime
Choosing Not to Fight
What is a conscientious objector?
Women Take Charge
Name something that women did to help contribute to the war effort?
Section: A Booming Economy
Name two industries that helped Canadians make money during the war.
What is profiteering?
Section: Government in Wartime
Name two long-term effects of the First World War on Canada and/or Newfoundland.