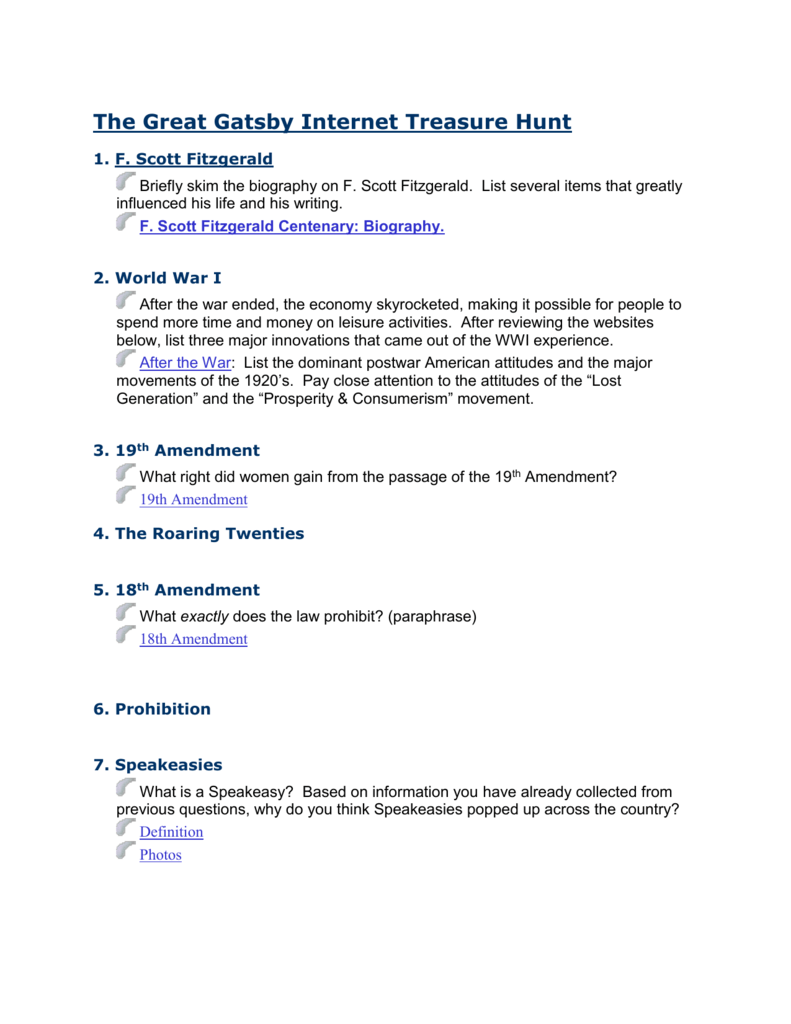 The Great Gatsby Internet Treasure Hunt
1. F. Scott Fitzgerald
Briefly skim the biography on F. Scott Fitzgerald. List several items that greatly
influenced his life and his writing.
F. Scott Fitzgerald Centenary: Biography.
2. World War I
After the war ended, the economy skyrocketed, making it possible for people to
spend more time and money on leisure activities. After reviewing the websites
below, list three major innovations that came out of the WWI experience.
After the War: List the dominant postwar American attitudes and the major
movements of the 1920's. Pay close attention to the attitudes of the "Lost
Generation" and the "Prosperity & Consumerism" movement.
3. 19th Amendment
What right did women gain from the passage of the 19th Amendment?
19th Amendment
4. The Roaring Twenties
5. 18th Amendment
What exactly does the law prohibit? (paraphrase)
18th Amendment
6. Prohibition
7. Speakeasies
What is a Speakeasy? Based on information you have already collected from
previous questions, why do you think Speakeasies popped up across the country?
Definition
Photos
8. Organized Crime & Arnold Rothstein
What's in a name? List three elements of Rothstein's character that interest you.
Explain.
The Organizer Read the quotes at the beginning of this site. What is his primary
occupation? What are his 'sidejobs?'
Did your impression of Rothstein change from one web page to the next?
Explain.
9. Flappers
10. Automobiles
11. Music
Listen to a few sample recordings of music from the early 1920's. What is your
initial reaction to the music?
Orchestral compositions – Listen to "The Charleston"
Josephine Baker – Listen to "I Love My Baby"
George Gershwin – Listen to "Rhapsody in Blue" (you may recognize it!)
12. 1920's Slang
13. Dorothy Parker Poem
14. Drawing Conclusions
Based on the information you have collected from this website, what do you think
the plot and setting of The Great Gatsby will include? What kinds of characters do
you expect to encounter in the novel?