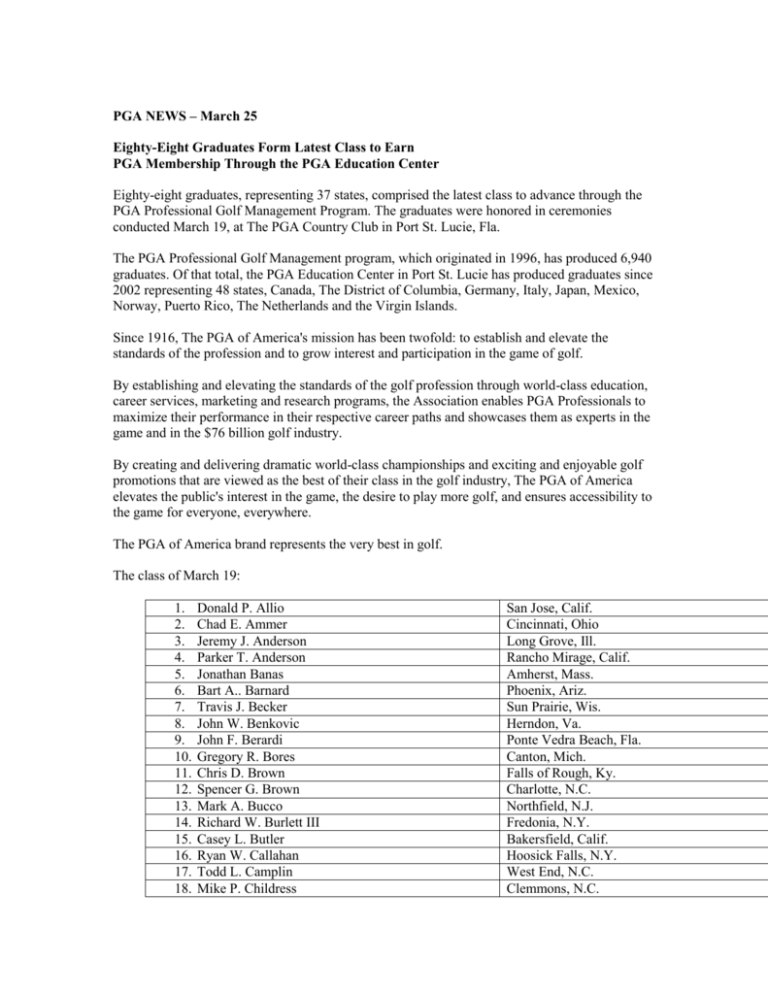 PGA NEWS – March 25
Eighty-Eight Graduates Form Latest Class to Earn
PGA Membership Through the PGA Education Center
Eighty-eight graduates, representing 37 states, comprised the latest class to advance through the
PGA Professional Golf Management Program. The graduates were honored in ceremonies
conducted March 19, at The PGA Country Club in Port St. Lucie, Fla.
The PGA Professional Golf Management program, which originated in 1996, has produced 6,940
graduates. Of that total, the PGA Education Center in Port St. Lucie has produced graduates since
2002 representing 48 states, Canada, The District of Columbia, Germany, Italy, Japan, Mexico,
Norway, Puerto Rico, The Netherlands and the Virgin Islands.
Since 1916, The PGA of America's mission has been twofold: to establish and elevate the
standards of the profession and to grow interest and participation in the game of golf.
By establishing and elevating the standards of the golf profession through world-class education,
career services, marketing and research programs, the Association enables PGA Professionals to
maximize their performance in their respective career paths and showcases them as experts in the
game and in the $76 billion golf industry.
By creating and delivering dramatic world-class championships and exciting and enjoyable golf
promotions that are viewed as the best of their class in the golf industry, The PGA of America
elevates the public's interest in the game, the desire to play more golf, and ensures accessibility to
the game for everyone, everywhere.
The PGA of America brand represents the very best in golf.
The class of March 19:
1.
2.
3.
4.
5.
6.
7.
8.
9.
10.
11.
12.
13.
14.
15.
16.
17.
18.
Donald P. Allio
Chad E. Ammer
Jeremy J. Anderson
Parker T. Anderson
Jonathan Banas
Bart A.. Barnard
Travis J. Becker
John W. Benkovic
John F. Berardi
Gregory R. Bores
Chris D. Brown
Spencer G. Brown
Mark A. Bucco
Richard W. Burlett III
Casey L. Butler
Ryan W. Callahan
Todd L. Camplin
Mike P. Childress
San Jose, Calif.
Cincinnati, Ohio
Long Grove, Ill.
Rancho Mirage, Calif.
Amherst, Mass.
Phoenix, Ariz.
Sun Prairie, Wis.
Herndon, Va.
Ponte Vedra Beach, Fla.
Canton, Mich.
Falls of Rough, Ky.
Charlotte, N.C.
Northfield, N.J.
Fredonia, N.Y.
Bakersfield, Calif.
Hoosick Falls, N.Y.
West End, N.C.
Clemmons, N.C.
19.
20.
21.
22.
23.
24.
25.
26.
27.
28.
29.
30.
31.
32.
33.
34.
35.
36.
37.
38.
39.
40.
41.
42.
43.
44.
45.
46.
47.
48.
49.
50.
51.
52.
53.
54.
55.
56.
57.
58.
59.
60.
61.
62.
63.
64.
65.
66.
67.
Todd E. Company
Robert N. Crovetti
Dominic L. Curran
Zack H. Curtis
Ryan W. Davis
Walter E. De Ravin
Jordan T. Dunsmore
Eric J. Ewing
Leah R.. Fickes
John W. Freeman
Robert W. Gander
Richard W. Giroux
Christopher S. Gorgone
Blake J. Graham
Paul Grandazzo
Mark D. Greer
John H. Grimley
Paul J. Guerra
Scott A. Hajdu
Bobby A. Hinds
David R. Hunt
Thomas J. James
Todd J. Kinnikin
Adam C. Kwiatkoski
Anthony M. Lake
Matthew D. Long
Lauren H. Lundy
Jason P. Malcolm
John F. Mavros
Brad S. McCluski
Russ E. Meyers
Brian P. Miller
Burt L. Minick
Christopher C. Moore
Robert M. O'Neill
Paul K.Ogawa
Derek A. Osinski
Candice S. Palmer
Michael D. Paukovits
Paul I. Paulson
Mike F. Perez
Jason P. Poyner
Matthew A. Primrose
Lawrence V. Ray
Charles E. Reely
Troy M. Reynolds
James R. Richard
Andrew D. Richards
Jeffrey W. Robison
Avon, Ohio
Peabody, Mass.
Silver City, N.M.
Mt Juliet, Tenn.
Murfreesboro, Tenn.
Loch Sheldrake, N.Y.
West Palm Beach, Fla.
Saint Louis, Mo.
Yucatan, Mexico
Muskego, Wis.
Wisconsin Dells, Wis.
Federal Way, Wash.
Casselberry, Fla.
Overland Park, Kan.
Rocky Hill, Conn.
College Station, Texas
North Kingstown, R.I.
Bakersfield, Calif.
Richardson, Texas
Los Angeles, Calif.
Bridgewater, N.J.
Chowchilla, Calif.
Broken Arrow, Okla.
Chicago, Ill.
Ellisburg, N.Y.
Albuquerque, N.M.
Rockville, Md.
Palm Beach Gardens, Fla.
Brookfield, Ill.
Pittsford, N.Y.
Wayne, N.J.
Greenville, S.C.
Mars Hill, N.C.
Roswell, Ga.
Casper, Wyo.
Pearl City, Hawaii
Golden, Colo.
La Quinta, Calif.
Macungie, Pa.
Bellevue, Wash.
McAllen, Texas
Livingston, N.J.
Ruskin, Fla.
Springfield, Mo.
Fairfield, Pa.
Chantilly, Va.
Milford, Mass.
Savannah, Ga.
Katy, Texas
68.
69.
70.
71.
72.
73.
74.
75.
76.
77.
78.
79.
80.
81.
82.
83.
84.
85.
86.
87.
88.
Daniel P. Rodgers
Jason A. Sanders
Blair Shadday
Ralph E. Smith Jr.
Wayne Smyth
Tim R. Stephens
Brian T. Stewart
Grant Sturgeon
Sean E. Swidzinski
Doug F. Thies
John D Thompson
Kevin L. Tracey
Mike Turnesa
Chris J. Vossekuil
Randy E. Walton
Shawn D. Welock
Scott D. Wenzel
Rory Wickstrom
Christopher M. Wilkins
Michael S.Williams
Patrick (Tim) Williams
Butler, Pa.
Chandler, Ariz.
Fishers, Ind.
Humble, Texas
Rocky Hill, Conn.
Santa Barbara, Calif.
Durham, N.C.
Louisville, Ky.
Renfrew, Pa.
Omaha, Neb.
Westmont, Ill.
Baton Rouge, La.
Rye, N.Y.
Las Vegas, Nev.
Scottsdale, Ariz.
South Berwick, Maine
Fairfax, Va.
Virginia Beach, Va.
Austin, Texas
Greenville, S.C.
Knoxville, Tenn.