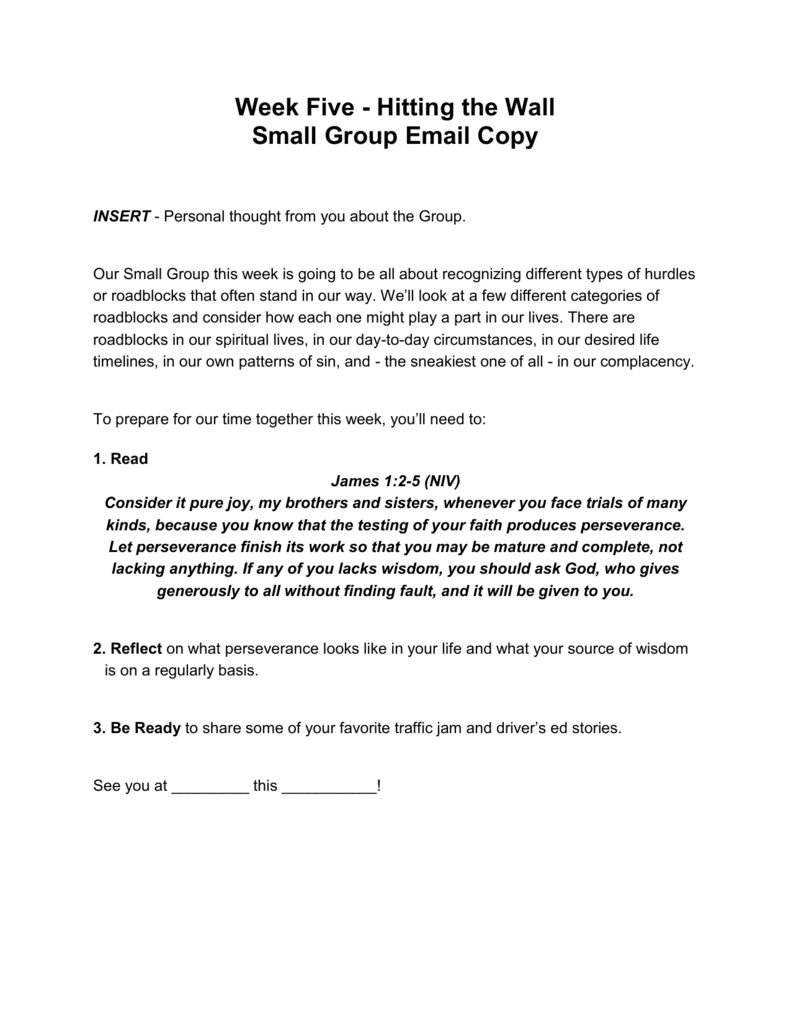 Week Five - Hitting the Wall
Small Group Email Copy
INSERT - Personal thought from you about the Group.
Our Small Group this week is going to be all about recognizing different types of hurdles
or roadblocks that often stand in our way. We'll look at a few different categories of
roadblocks and consider how each one might play a part in our lives. There are
roadblocks in our spiritual lives, in our day-to-day circumstances, in our desired life
timelines, in our own patterns of sin, and - the sneakiest one of all - in our complacency.
To prepare for our time together this week, you'll need to:
1. Read
James 1:2-5 (NIV)
Consider it pure joy, my brothers and sisters, whenever you face trials of many
kinds, because you know that the testing of your faith produces perseverance.
Let perseverance finish its work so that you may be mature and complete, not
lacking anything. If any of you lacks wisdom, you should ask God, who gives
generously to all without finding fault, and it will be given to you.
2. Reflect on what perseverance looks like in your life and what your source of wisdom
is on a regularly basis.
3. Be Ready to share some of your favorite traffic jam and driver's ed stories.
See you at _________ this ___________!