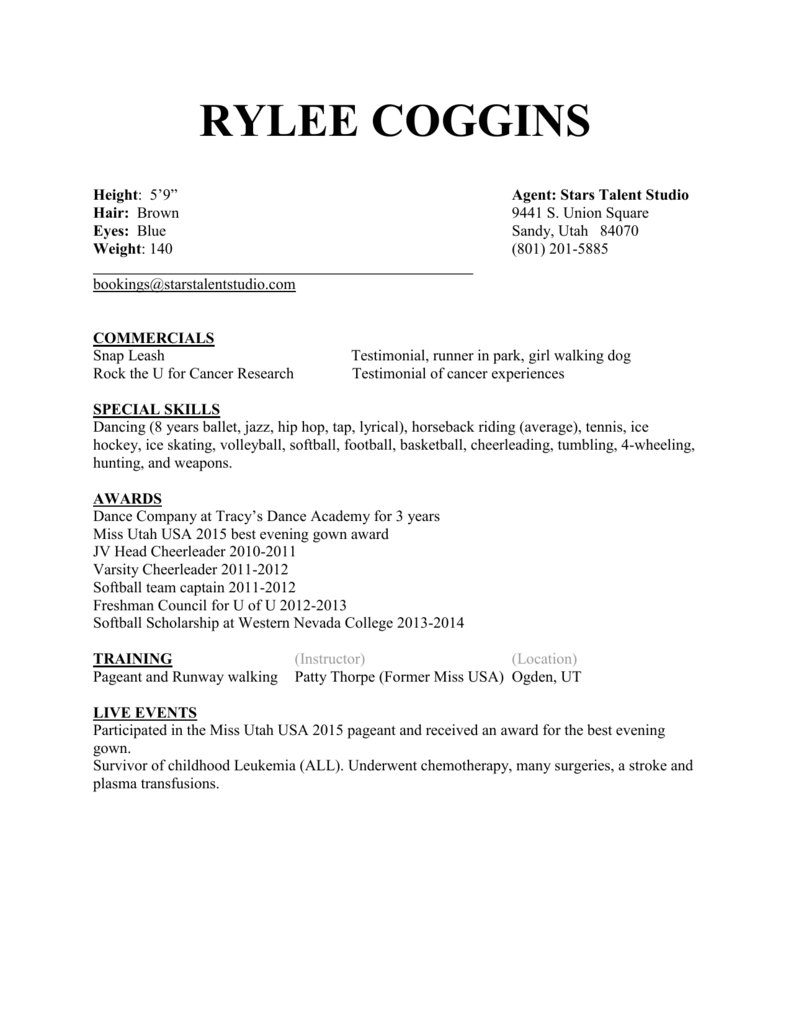 RYLEE COGGINS
Height: 5'9"
Hair: Brown
Eyes: Blue
Weight: 140
_________________________________________________
[email protected]
COMMERCIALS
Snap Leash
Rock the U for Cancer Research
Agent: Stars Talent Studio
9441 S. Union Square
Sandy, Utah 84070
(801) 201-5885
Testimonial, runner in park, girl walking dog
Testimonial of cancer experiences
SPECIAL SKILLS
Dancing (8 years ballet, jazz, hip hop, tap, lyrical), horseback riding (average), tennis, ice
hockey, ice skating, volleyball, softball, football, basketball, cheerleading, tumbling, 4-wheeling,
hunting, and weapons.
AWARDS
Dance Company at Tracy's Dance Academy for 3 years
Miss Utah USA 2015 best evening gown award
JV Head Cheerleader 2010-2011
Varsity Cheerleader 2011-2012
Softball team captain 2011-2012
Freshman Council for U of U 2012-2013
Softball Scholarship at Western Nevada College 2013-2014
TRAINING
Pageant and Runway walking
(Instructor)
(Location)
Patty Thorpe (Former Miss USA) Ogden, UT
LIVE EVENTS
Participated in the Miss Utah USA 2015 pageant and received an award for the best evening
gown.
Survivor of childhood Leukemia (ALL). Underwent chemotherapy, many surgeries, a stroke and
plasma transfusions.