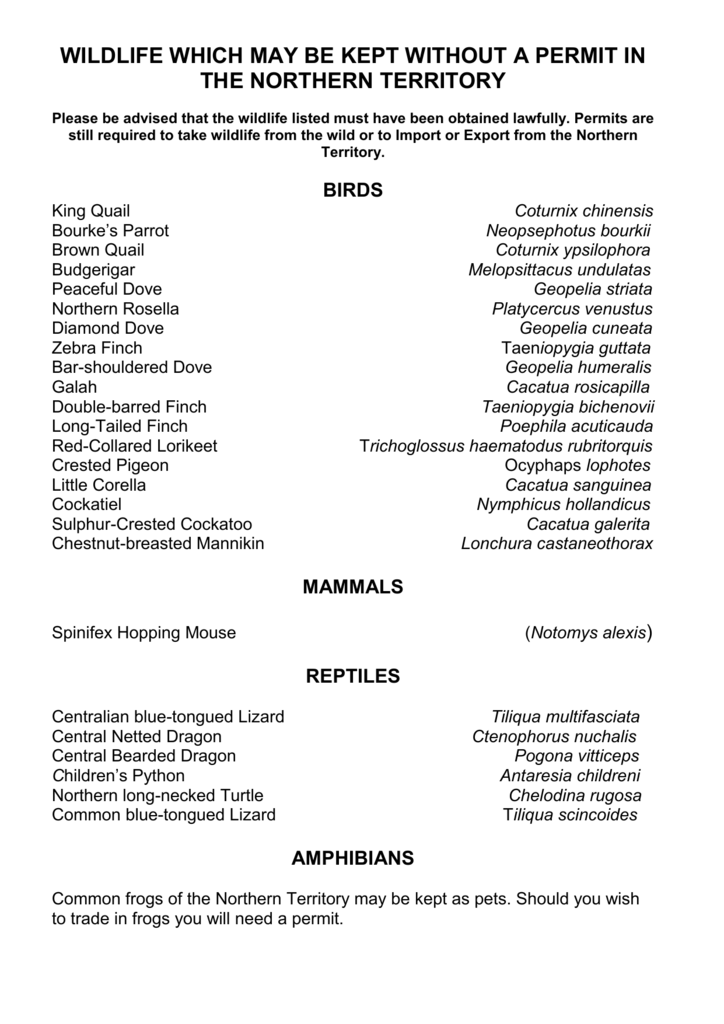 WILDLIFE WHICH MAY BE KEPT WITHOUT A PERMIT IN
THE NORTHERN TERRITORY
Please be advised that the wildlife listed must have been obtained lawfully. Permits are
still required to take wildlife from the wild or to Import or Export from the Northern
Territory.
BIRDS
King Quail
Bourke's Parrot
Brown Quail
Budgerigar
Peaceful Dove
Northern Rosella
Diamond Dove
Zebra Finch
Bar-shouldered Dove
Galah
Double-barred Finch
Long-Tailed Finch
Red-Collared Lorikeet
Crested Pigeon
Little Corella
Cockatiel
Sulphur-Crested Cockatoo
Chestnut-breasted Mannikin
Coturnix chinensis
Neopsephotus bourkii
Coturnix ypsilophora
Melopsittacus undulatas
Geopelia striata
Platycercus venustus
Geopelia cuneata
Taeniopygia guttata
Geopelia humeralis
Cacatua rosicapilla
Taeniopygia bichenovii
Poephila acuticauda
Trichoglossus haematodus rubritorquis
Ocyphaps lophotes
Cacatua sanguinea
Nymphicus hollandicus
Cacatua galerita
Lonchura castaneothorax
MAMMALS
(Notomys alexis)
Spinifex Hopping Mouse
REPTILES
Centralian blue-tongued Lizard
Central Netted Dragon
Central Bearded Dragon
Children's Python
Northern long-necked Turtle
Common blue-tongued Lizard
Tiliqua multifasciata
Ctenophorus nuchalis
Pogona vitticeps
Antaresia childreni
Chelodina rugosa
Tiliqua scincoides
AMPHIBIANS
Common frogs of the Northern Territory may be kept as pets. Should you wish
to trade in frogs you will need a permit.