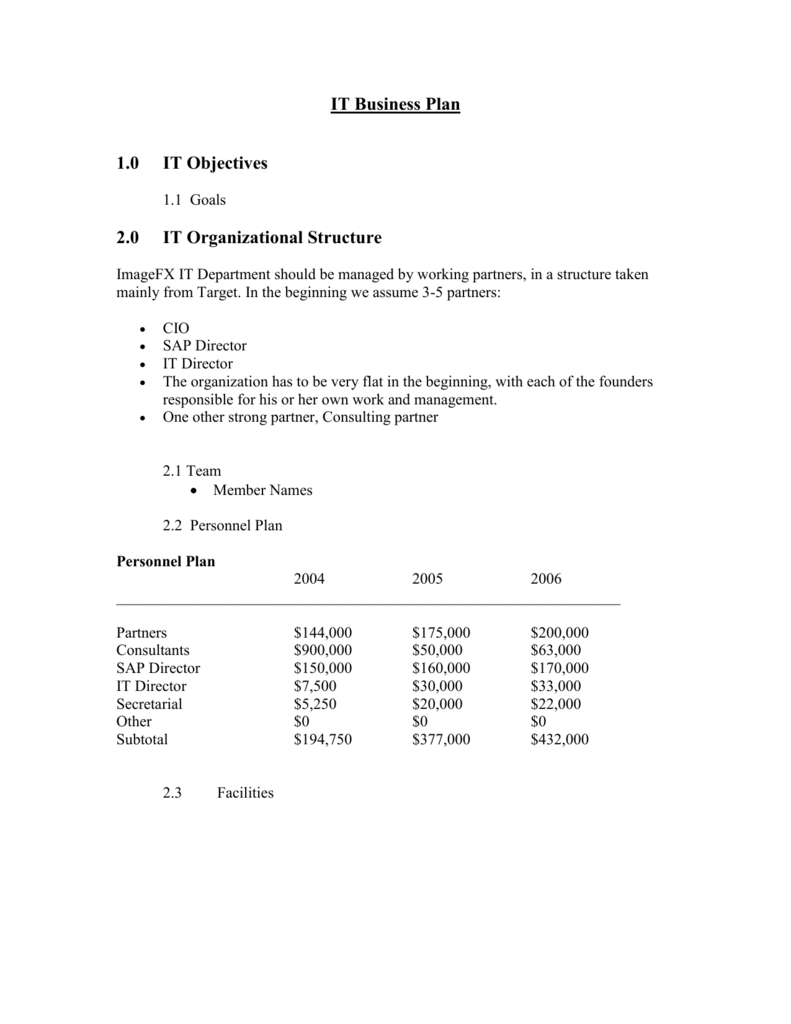 IT Business Plan
1.0
IT Objectives
1.1 Goals
2.0
IT Organizational Structure
ImageFX IT Department should be managed by working partners, in a structure taken
mainly from Target. In the beginning we assume 3-5 partners:





CIO
SAP Director
IT Director
The organization has to be very flat in the beginning, with each of the founders
responsible for his or her own work and management.
One other strong partner, Consulting partner
2.1 Team
 Member Names
2.2 Personnel Plan
Personnel Plan
2004
2005
2006
_________________________________________________________________
Partners
Consultants
SAP Director
IT Director
Secretarial
Other
Subtotal
2.3
$144,000
$900,000
$150,000
$7,500
$5,250
$0
$194,750
Facilities
$175,000
$50,000
$160,000
$30,000
$20,000
$0
$377,000
$200,000
$63,000
$170,000
$33,000
$22,000
$0
$432,000
3.0
IT Strategy and Implementation Plan
3.1
Implementation Plan
Section 1 – Answer the following fundamental questions:
1. Why are we implementing SAP?
2. How will it benefit ImageFX?
3. What modules will be implemented? Provide an explanation for each
module.
Section 2 – Resources - Refer to SAP Implementation Guide pp 14-16
1. What resources will be used, i.e. which specific employees or
consultants?
2. If consultants will be used, what background will they have?
3. Will you structure teams for the implementation, i.e. Basis team, ALE
team, Config?
4. What Process teams will be needed, i.e. Finance, HR, etc.
Section 3 – Timeline
1. Identify Project Phases – i.e. Phase I may be the implementation of
main SAP modules – Phase II may be implementation of "fringe"
modules. Or you could implement a plant by plant rollout.
3.2
Training Plan
1. Who will be trained?
2. What will they be trained in? What courses – Be specific?
3. When will they be trained – This should coincide with implementation
timeline for delivery of SAP modules.
4. Who will train them? In-house or consultant?
5. Where will the training take place? Onsite or Offsite
6. Will internal courseware be developed?
4.0
IT Financial Plan
4.1
Budget
5.0
Target Conversion Strategy
5.1
Conversion Plan
Section 1 – Target Systems Assessment
1.
2.
3.
4.
Define Target current system structure
Which systems can be supported by SAP?
Which systems most likely cost Target the most to maintain?
Which systems are important to Target and why?
Section 2 – Conversion Strategy
1. Which Target systems will you convert and why?
2. Define a timeline for conversion of the systems, i.e. SD will be converted
over a period of one year, simultaneously with HR, in the Midwest region.
Target is currently using the following systems:
Functional Area
Current Systems
System Functionality
Human Resources
PeopleSoft
Maintain Employee Data
Manage Hiring, Firing, and Leaves Absence
Benefits Administration
Payroll
Finance
Oracle Financials
Accounts Payable
Account Receivable
General Ledger
Marketing
Access, Excel, SAS
Track Department Expenses
In addition, Target uses proprietary systems for the following:





Training
Budgeting
Sales & Distribution (tracking sales & inventory)
Purchasing
Credit Card System (tracks customer shopping habits)
Finally, Target out sources their Internet sales system.
Supporting information and General Conversion Strategy:
Proprietary systems typically cost more money to maintain than off the shelf products
It may mot be necessary to convert all at once, or at all, to SAP in all departments of
Target, depending on cost and usage.
Departmental systems typically cost the business more money than ERP systems, as data
is duplicated across the infrastructure.
All Target personnel needs to buy into SAP; kickoff and departmental meetings need to
take place to educate staff.
SAP training needs to be provided for Sales and Distribution for all of Target, as well as
any other modules that ImageFX decides to convert.
Target's SAP should be implemented in phases – consideration should be taken regarding
system usage and store location, i.e. Sales and Distribution module would not be
implemented in every store all at once, whereas a smaller department such as Human
Resources may be able to cut over all at once.