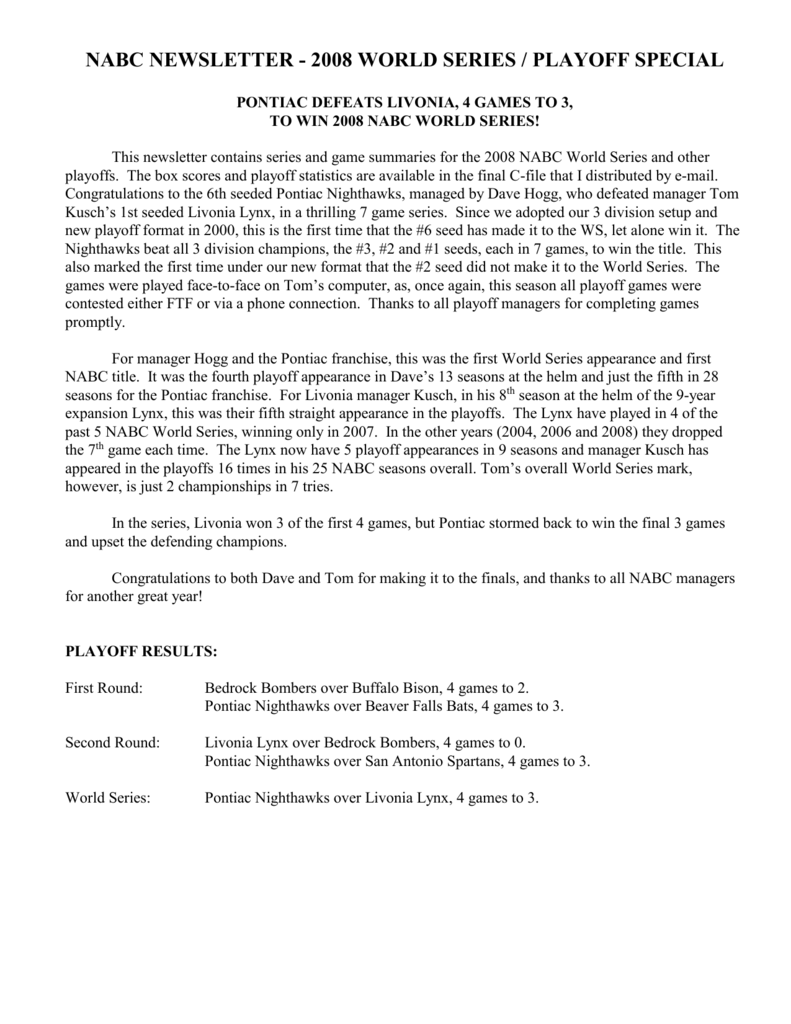 NABC NEWSLETTER - 2008 WORLD SERIES / PLAYOFF SPECIAL
PONTIAC DEFEATS LIVONIA, 4 GAMES TO 3,
TO WIN 2008 NABC WORLD SERIES!
This newsletter contains series and game summaries for the 2008 NABC World Series and other
playoffs. The box scores and playoff statistics are available in the final C-file that I distributed by e-mail.
Congratulations to the 6th seeded Pontiac Nighthawks, managed by Dave Hogg, who defeated manager Tom
Kusch's 1st seeded Livonia Lynx, in a thrilling 7 game series. Since we adopted our 3 division setup and
new playoff format in 2000, this is the first time that the #6 seed has made it to the WS, let alone win it. The
Nighthawks beat all 3 division champions, the #3, #2 and #1 seeds, each in 7 games, to win the title. This
also marked the first time under our new format that the #2 seed did not make it to the World Series. The
games were played face-to-face on Tom's computer, as, once again, this season all playoff games were
contested either FTF or via a phone connection. Thanks to all playoff managers for completing games
promptly.
For manager Hogg and the Pontiac franchise, this was the first World Series appearance and first
NABC title. It was the fourth playoff appearance in Dave's 13 seasons at the helm and just the fifth in 28
seasons for the Pontiac franchise. For Livonia manager Kusch, in his 8th season at the helm of the 9-year
expansion Lynx, this was their fifth straight appearance in the playoffs. The Lynx have played in 4 of the
past 5 NABC World Series, winning only in 2007. In the other years (2004, 2006 and 2008) they dropped
the 7th game each time. The Lynx now have 5 playoff appearances in 9 seasons and manager Kusch has
appeared in the playoffs 16 times in his 25 NABC seasons overall. Tom's overall World Series mark,
however, is just 2 championships in 7 tries.
In the series, Livonia won 3 of the first 4 games, but Pontiac stormed back to win the final 3 games
and upset the defending champions.
Congratulations to both Dave and Tom for making it to the finals, and thanks to all NABC managers
for another great year!
PLAYOFF RESULTS:
First Round:
Bedrock Bombers over Buffalo Bison, 4 games to 2.
Pontiac Nighthawks over Beaver Falls Bats, 4 games to 3.
Second Round:
Livonia Lynx over Bedrock Bombers, 4 games to 0.
Pontiac Nighthawks over San Antonio Spartans, 4 games to 3.
World Series:
Pontiac Nighthawks over Livonia Lynx, 4 games to 3.
NABC NEWSLETTER - 2008 WORLD SERIES / PLAYOFF SPECIAL
WORLD SERIES –Pontiac 4, Livonia 3 (Played F-T-F by Tom Kusch and Dave Hogg, write-up by
Dave Hogg)
Placido Polanco's RBI single in the ninth inning of Game 7 gave the Pontiac Nighthawks a 3-2 victory over
the Livonia Lynx and their first NABC World Series title. Polanco's game-winning hit keyed Pontiac's
incredible postseason run, as they beat all three division champs with each series going seven games. The
Nighthawks came from 3-1 down in two series as they became the first #6 seed to win the championship.
Game 1
Livonia 3, Pontiac 0
The Lynx started the series quickly with a pair of home victories. In Game 1, Brandon Webb allowed six hits
- all singles - in a 3-0 victory. Former Nighthawk Yorvit Torrealba scored in the second inning and drove in
another run in the third off Paul Byrd.
Game 2
Livonia 6, Pontiac 2
In Game 2, Livonia stunned Pontiac ace Jake Peavy with six runs in the first inning, including RBI doubles
by Albert Pujols and Magglio Ordonez and a two-run two-base hit by Mark Ellis. The Lynx didn't score
again, and Pontiac came back with two runs in the second on Alex Gonzalez's homer. Kelvim Escobar left
the game in the third inning with an injured wrist, which will cause him to miss 12 day, but the Livonia
bullpen put together 6 1-3 innings of one-hit relief to ice the 6-2 win.
Game 3
Pontiac 8, Livonia 6
The series moved to Pontiac for Game 3, and Livonia took a 2-0 lead with single runs in the first two innings
- an RBI double by David Ortiz in the first and another run-scoring double by Yorvit Torrealba in the second.
The Nighthawks, though, tied the game with a two-out rally in the second. Eric Byrnes started the surge by
drawing a walk, then stole second. Ramon Castro followed with an RBI double and scored when Alfonso
Soriano dropped Alex Gonzalez's line drive. Pontiac took a 3-2 lead on Ken Griffey's fourth-inning homer,
but Soriano redeemed himself with a two-run triple that put the Lynx back ahead in the fifth. Marlon Byrd's
RBI single increased the Livonia advantage to 5-3 in the sixth, but Pontiac went back in front on Todd
Helton's three-run homer in the bottom of the inning. The Lynx still weren't ready to give up their hopes for
a 3-0 series lead, and Ortiz tied the game with a solo homer off Chien-Mien Wang in the seventh, but Wang
got through the eighth and Manny Corpas pitched a perfect ninth. With extra innings looming, Ryan Howard
led off the bottom of the ninth with a walk off Peter Moylan. Aaron Heilman came out of the bullpen to face
Alex Rodriguez, who greeted him with a long walk-off homer to left.
Game 4
Livonia 4, Pontiac 3
Jack Cust's two-run homer off Brandon Webb gave Pontiac a first-inning lead in Game 4, but Livonia tied
the game in the third on Marlon Byrd's RBI single and a run-scoring groundout by Albert Pujols. Todd
Helton's RBI single put the Nighthawks back in front in the fourth, and when Paul Byrd handed the 3-2 lead
over to the Pontiac bullpen, it looked like the series would be tied at 2. The Nighthawks bullpen hadn't
allowed a run since early in the second round, but Pujols singled off Russ Springer with two out in the eighth
and Magglio Ordonez followed with a game-winning homer.
NABC NEWSLETTER - 2008 WORLD SERIES / PLAYOFF SPECIAL
Game 5
Pontiac 7, Livonia 2
Up 3-1, the Lynx jumped on Jake Peavy in the first inning again in Game 5, getting back-to-back solo
homers from Albert Pujols and Magglio Ordonez, but the Pontiac ace didn't allow another hit in the complete
game win. Meanwhile, the Nighthawks chased Paul Maholm with four runs in the second, keyed by a tworun triple by Todd Helton. Maholm was starting in place of Kelvim Escobar, who was unable to return from
his wrist injury. Ken Griffey homered twice and Ryan Howard and Alex Rodriguez each hit four-baggers as
Pontiac sent the series back to Livonia with a 7-2 win.
Game 6
Pontiac 2, Livonia 1
Jack Cust gave Pontiac a 2-0 lead with a first-inning homer for the second time in three games. The
Nighthawks didn't score again off Javier Vazquez, but the Lynx struggled against Chein-Ming Wang. Mark
Ellis made it 2-1 with a fifth-inning solo homer, but Livonia didn't put another runner in scoring position
until Alfonso Soriano reached second with two out in the ninth. Russ Springer struck out pinch-hitter Mike
Redmond to set up the dramatic seventh game.
Game 7
Pontiac 3, Livonia 2
Pontiac manager Dave Hogg had made a surprise decision for Game 7 by starting Shawn Marcum, who
hadn't pitched since the first round, instead of Paul Byrd. Marcum allowed Mark Ellis' second-inning homer,
but Pontiac took the lead with a pair of runs off Livonia ace Brandon Webb in the 6th. Jack Cust started the
inning with a walk and took third on Ryan Howard's double. Peter Moylan replaced Webb, but Alex
Rodriguez greeted him with a game-tying single. Ken Griffey struck out, but Eric Byrnes put Pontiac
ahead with a one-out RBI single. Bobby Howry pitched two shutout innings and Russ Springer retired
Marlon Byrd to start the eighth before giving way to Corpas. He struck out Albert Pujols and Pontiac was
within four outs of the title with a 2-1 lead in the bottom of the eighth, but Magglio Ordonez tied the game
with a solo homer off Corpas - the first run the Nighthawks closer had allowed in the postseason. Corpas
then struck out David Ortiz to send the game to the ninth. It was Ordonez's second dramatic homer of the
series. Ordonez's first key homer came in Game 4, a two-run shot off Springer that gave the Lynx a 4-3 win
and put them on the verge of a second straight title with a 3-1 series lead. Pontiac, though, only allowed
three runs in the final 26 innings to take the title.
Joe Nathan struck out Jermaine Dye for the first out in the 9th, but Eric Byrnes followed with a double.
Pinch-hitter Jose Vidro walked, but Nathan got Kenji Johjima to fly out to shallow center. Polanco then hit a
grounder into the hole that just eluded Livonia shortstop Mark Loretta, and the speedy Byrnes easily beat
Ordonez's throw to the plate. Joel Peralta retired Alfonso Soriano to start the bottom of the ninth, before
giving way to Henry Owens. Melvin Mora grounded out to first base, and pinch-hitter Rafael Furcal lined
out to Byrnes to end the game.
Manny Corpas was named the Series MVP after winning two games in relief and only allowing one hit in
five innings. Jack Cust was the runner-up for his six RBIs in the final four games.
NABC NEWSLETTER - 2008 WORLD SERIES / PLAYOFF SPECIAL
PLAYOFF SUMMARIES
Second Round – Livonia 4, Bedrock 0 (Played F-T-F by Ron Swinkin and Tom Kusch, write-up by
Tom Kusch)
Game 1
Livonia 5, Bedrock 0
Verlander vs Webb (Livonia's Mr October)
Bottom of 1st - Albert Pujols homers just inside the foul pole - Liv 1 Bed 0
Top of 3rd - Howie Kendrick gets first hit for Bedrock, followed by Barry Bonds single. Webb gets Jeter
and Loney to avoid trouble!
Bottom of 3rd - Marlon Byrd doubles, then with 2 out, Mag Ordonez singles him in, followed by David
Ortiz's 2 run bomb - Liv 4 Bed 0
Bottom of 7th - Mike Redmond walks, Byrd FC, then 2 hit and run singles by Pujols and Ordonez - Liv 5
Bed 0
Game 2
Livonia 7, Bedrock 2
Billingsley vs Escobar
Bottom of 1st - Byrd starts game with single, advanced to second on a groundout and scored on an Ortiz
single - Liv 1 Bed 0
Top of 2nd - Casey Kotchman Ks with runner on second to end inning
Bottom of 2nd - Mark Ellis (3 hits in game 1) doubles to lead off inning, infield hit for Rafi Furcal moved
him up, and with 2 outs, Pujols H&R single scored Ellis - Liv 2 Bed 0
Top of 3rd - Kev Kouzmanoff doubled to lead off, grounder moved him to 3rd, walk to Hopper and a sac fly
by Jeter - Liv 2 Bed 1
Bottom of 3rd - Al Soriano doubled with 1 out and scored on a Melvin Mora (ex Bedrock player) double Liv 3 Bed 1
Top of 4th - Jorge Posada doubled with 1 out and scored one out later on a Kotchman single - Liv 3 Bed 2
Bottom of 4th - Redmond single, Byrd single chases Billingsley. R Soriano gets the next two, before JC
Romero is brought in to face the lefty Ortiz. Unfazed Ortiz unloads a three run shot, breaking open a close
game - Liv 6 Bed 2
Bottom of 5th - Mark Ellis leads off with a solo homer off Chad Cordero - Liv 7 Bed 2
Escobar went 7 2/3 for the win. Moylan finished. Livonia outhit Bedrock in this game 15 to 6!
NABC NEWSLETTER - 2008 WORLD SERIES / PLAYOFF SPECIAL
Game 3
Livonia 2, Bedrock 1
Vazquez vs Cain - series shifts to Bedrock.
Bottom of 2nd - Hopper walked, Kotchman singled him to third, but Kouzmanoff hits into DP to keep game
scoreless
Bottom of 3rd - Kendrick doubled, then with 2 out, Loney was HBP and Posada walked. After two balls,
Beltran fanned leaving bases loaded!
Top of 5th - One out single for Furcal, Yorvit Torrealba doubles but Furcal is thrown out at home. Byrd then
singles in Torrealba.- Liv 1 Bed 0
Bottom of 7th - With one out, Kendrick walked, Bonds HBP and Jeter singles to left. Great throw by
Ordonez nips Kendrick at home. Although pitching a shutout, and much to his displeasure, Vazquez was
replaced by Justin Speier, who got Loney to fly to deep center (probably a homer in Lynx stadium)
Bottom of 8th - Workhorse Peter Moylan enters for Livonia. With 2 out, Hopper walks and Kotchman
singled, before Hank Blalock flew out to end the threat.
Top of 9th - Ortiz is safe on Kendrick throwing error, Theriot steals 2nd running for Ortiz and Soriano
doubles off Romero for the insurance run - Liv 2 Bed 0
Bottom of 9th - Nathan tries to close it out! Buck starts with pinch hit double, moves to 3rd on a
grounder. Jeter fanned and Loney bounced one to Nathan who THREW IT AWAY, scoring Buck. Posada
was called out on strikes (questionable call) to end it - Liv 2 Bed 1
Vazquez 6 2/3 shutout innings and bullpen held up for the win.
Game 4
Livonia 4, Bedrock 2 (14 innings)
Rematch of Webb vs Verlander
Top of 1st - Pujols singled and Ordonez hit a no-doubter! - Liv 2 Bed 0
Bottom of 1st - Bonds singled and stole 2nd. With 2 outs, Posada singled, but Bonds out at the plate on rifle
throw by Soriano.
Bottom of 2nd - Hopper singled with 2 outs, Kotchman singled and error by Ellis on grounder by Kendrick
plated an unerned run - Liv 2 Bed 1
Bottom of 5th - Suffice it to say that after 5 innings, Bedrock had already left 11 runners on base!!!!
Bottom of 6th - Bonds hit Bedrock's first and only homer of the series! - Liv 2 Bed 2
Top of 14th - Ortiz rockets one off R Soriano to break tie. Mora and Ellis with back to back doubles for
insurance. - Liv 4 Bed 2
Bottom of 14th - Nathan struck out the side. Great bullpen work by both teams!
Series Notes:
Clutch hitting was the key, or lack thereof, for this series. Bedrock left 27 men on base the final two games
alone, and never led in any of the 4 games! Webb gave up 1 earned run in 16 innings. Livonia outhomered
Bedrock 6 - 1 for the series, and outscored them 18 - 5. Hopper may have earned more playing time next
year, getting on base 8 times in the series.
NABC NEWSLETTER - 2008 WORLD SERIES / PLAYOFF SPECIAL
Second Round – Pontiac 4, San Antonio 3 (Played via phone by Dave Hogg and Larry Bond, writeup by Dave Hogg)
Pontiac advanced to its first World Series with a 7-3 victory over San Antonio in Game 7 of the semifinals.
Pontiac led the series 3-2 going back to San Antonio, but the Spartans routed Nighthawks ace Jake Peavy 7-2
in Game 6 to set up the decider.
Game 1
San Antonio 13, Pontiac 5
The Spartans started the series quickly, hitting five homers – two by Adam Dunn - in a 13-5 Game 1 victory,
behind Brad Penny, who defeated Chien-Ming Wang.
Game 2
Pontiac 7, San Antonio 4
Alex Rodriguez ended a postseason slump by hitting three homers in the first five innings of Game 2. Dunn,
who had homered earlier in the game, hit an RBI double to pull San Antonio within 7-4 in the 6th, but
Corpas got out of a one-out, bases-loaded jam later in the inning and the Nighthawks bullpen clinched the
win. Paul Byrd got the win over Danny Haren.
Game 3
Pontiac 3, San Antonio 2
The series moved to Pontiac, and San Antonio led 2-0 after five innings of Game 3, but Ken Griffey Jr. tied
the game with a sixth-inning 2-run homer and Todd Helton gave Pontiac a 3-2 lead with a solo shot in the
seventh. Peavy allowed three hits in eight innings to defeat John Smoltz, and Corpas finished for the save.
Game 4
San Antonio 5, Pontiac 0
Game 4 was another pitching duel, with Wang and Penny taking a scoreless game into the 7th, as Wang took
a no-hitter into the 5th before Adrian Beltre doubled to break it up. Jim Thome hit a solo homer in the 7th,
and Beltre's homer addyed a 2-run shot in the inning for San Antonio, before they added single runs in the
8th and 9th to win 5-0. Penny pitched a five-hit shutout.
Game 5
Pontiac 8, San Antonio 2
Pontiac routed Danny Haren in Game 5 to move within one win of the World Series. Ryan Howard homered
twice, good for 3 runs, and Alex Gonzalez hit a three-run shot as the Nighthawks scored eight times in three
innings to go up 8-0 after five. Paul Byrd, who didn't pitch in the Pontiac's first-round win over Beaver Falls,
took a shutout into the 8th, and ended up allowing two runs on 10 hits in a complete-game victory.
Game 6
San Antonio 7, Pontiac 2
Jake Peavy had a chance to clinch the series, just as he had done in Game 7 against the Bats, but Cody Ross
hit a two-run homer in the first and the Spartans added three more in the fourth to take a commanding 5-0
lead. Howard gave Pontiac a bit of hope with a two-run shot in the 6th, but Chase Utley clinched the game
with a two-run homer in the 7th. John Smoltz allowed just 1 hit in 6.2 innings for the win.
NABC NEWSLETTER - 2008 WORLD SERIES / PLAYOFF SPECIAL
Game 7
Pontiac 7, San Antonio 4
San Antonio scored three runs off Chien-Mien Wang in the first inning of Game 7 on a RBI double by Matt
Diaz and a two-run homer by Troy Tulowitzki, but Pontiac started their comeback when Jack Cust homered
off Brad Penny in the second. Ryan Howard's three-run homer put the Nighthawks up 4-3 in the third, and
budding postseason legend Alex Gonzalez hit a three-run shot to make it 7-3 in the fourth. The San Antonio
bullpen shut Pontiac down from there, and the Spartans got within 7-4 on Nick Swisher's fifth-inning homer,
but Wang, Henry Owens and Manny Corpas finished off the win and the series.
The Nighthawks scored 32 runs in the series, and 27 of them came on 15 home runs. Todd Helton's RBI
double in Game 5 was the only run Pontiac got in the final five games that wasn't off a homer. Rodriguez
and Howard hit four each, while Gonzalez had three after hitting .393 in the first-round win over Beaver
Falls.
First Round – Bedrock 4, Buffalo 2 (Played via phone by Ron Swinkin and John Duke, home game
write-ups by Ron Swinkin and John Duke)
Game 1
Bedrock 4, Buffalo 2
Justin Verlander (BED) got the win over Tim Hudson (BUF). Buffalo took an early lead as Mike Lowell
drove in a run in the 1st with a ground out, but the Bombers struck back on Hank Blalock's 2-run homer in
the 2nd to lead 2-1. Barry Bonds pounded a solo shot in the 3rd to put the Bombers up 3-1 and they added a
Derek Jeter sac fly in the 9th for a 4-1 margin. After Verlander yielded a solo homer to Matt Holliday in the
9th, J.J. Putz came on to get the last 2 outs for the save.
Game 2
Buffalo 4, Bedrock 2
Chad Billingsley (BED) vs. Roy Halladay (BUF). Halladay was injured with 2 out in the 2nd and will miss
13 days. Billingsley took the loss, while Luis Ayala got the win in relief. Matt Holliday walked with the
bases loaded in the 3rd for the first Bison run, before Barry Bonds tied it at 1 with a solo shot in the 4th.
Aaron Hill singled in the lead run in the Bison 5th, then Matt Stairs hammered a key 2-run homer in the 6th to
give the Herd a 4-1 margin. Joakim Soria recorded the last 5 outs, although a run scored in the 9th when PH
Travis Buck singled and came all the way around on a 3-base error by Hunter Pence.
Game 3
Bedrock 3, Buffalo 1
With it all even at one, the series moves to the Quarry, Bedrock's home ball park. With the pitching match
up of Brandon Backe (BUF) vs. Matt Cain (BED), plenty of offense is expected. The scoring opens in the
bottom of the 1st, after a leadoff walk to Barry Bonds, Jorge Posada hits a 2 out 2 run HR to give Bedrock
the early 2-0 lead. In the top of the 4th, Buffalo cuts into the Bedrock lead, when Matt Stairs singles in Matt
Holliday, who had walked and been advanced to 2nd. With Backe being relieved in the 4th, the Buffalo pen
holds Bedrock scoreless until the 6th, when Carlos Beltran scores on a Casey Kotchman sac fly, after backto-back singles by Beltran and Norris Hopper, making it 3-1. Cain, who is pitching a gem, is relieved in the
7th, and the Bedrock pen does not allow a hit over the final 2 1/3 innings to preserve the Bedrock lead and
give the win to Cain. J.J. Putz pitches the 9th for the save. Cain pitches 6 2/3 of 4 hit ball, while Bedrock
only manages 6 hits off of Buffalo pitching.
NABC NEWSLETTER - 2008 WORLD SERIES / PLAYOFF SPECIAL
Game 4
Bedrock 6, Buffalo 3
With Bedrock up 2 games to 1, the game 1 starters of Justin Verlander and Tim Hudson are set to go again.
Buffalo jumps to an early 2-0 lead in the top of the 1st, on a Matt Stairs 2 run double after singles by Aaron
Hill and Matt Holliday. That lead holds until the bottom of the 5th, when Bedrock finally gets to Hudson for
5 runs, paced by 2 run homers by both Casey Kotchman and James Loney, plus an RBI single by Derek
Jeter. Buffalo gets one back in the 6th on an rbi single by Asdrubal Cabrera after Moises Alou and Jeremy
Hermida singles. A Carlos Beltran homer in the 6th extends the lead to 6-3 and knocks Hudson out of the
game. The bullpens allow no additional scoring as J. J. Putz picks up his 3rd save of the series. Verlander
notches his 2nd win of series and Hudson takes his 2nd loss.
Game 5
Buffalo 4, Bedrock 2
Facing elimination, Buffalo turns to Cole Hamels, who is coming back from an injury. Bedrock counters
with Billingsley. Buffalo strikes early, scoring in the top of the 1st on a Mike Lowell rbi single, driving in
Aaron Hill who had singled and stole 2nd. Bedrock comes right back in the bottom of the 1st, tying it at one
on a Barry Bonds HR. Bedrock takes a 2-1 lead in the bottom of the 2nd, on a Kevin Kouzmanoff sac fly
after Carlos Beltran and Casey Kotchman had singled. Buffalo ties it back up in the 5th when Hunter Pence
doubles home Asdrubal Cabrera, who had singled. With it tied in the 8th and Mariano Rivera on the mound
for Bedrock, Moises Alou hits a 2 run HR, after a Derek Jeter error. The Buffalo bullpen shuts down
Bedrock over the last 2 2/3 giving the win to Justin Hampson with the save to Joakim Soria, his second of the
series. Rivera takes the loss, as Buffalo lives to play another day.
Game 6
Bedrock 10, Buffalo 7 (12 innings)
In one of the more memorable games in NABC playoff history, the Bombers outlasted the Bison to take the
series, 4 games to 2. It was a pitching rematch of game 3 with Matt Cain vs. Brandon Backe, but neither
lasted long in this one. Buffalo went up 2 in the 1st on RBI singles by the 2 Matt's (Holliday and Stairs).
Bedrock came back with single runs in the 3rd, on a fielder's choice on a Derek Jeter grounder, and in the 4th,
on an RBI double by Casey Kotchman, to tie it at 2. Aaron Hill doubled off reliever C.J. Wilson to drive in
the lead run for the Bison in the 5th, but the Bombers tied it off reliever Justin Hampson, when Howie
Kendrick stole home on the front end of a double steal with Barry Bonds! The Bison took the lead again in
the 8th, when Holliday crushed a solo homer off J.C. Romero for a 4-3 lead. But reliever Matt Capps
couldn't hold it as the Bombers scored 4 times in the 9th to go up, 7-4. Jeter doubled in a run to tie it, then
Norris Hopper plated the lead marker with an RBI single and another run scored on the play on Holliday's
error. Hank Blalock added an RBI single, which proved quite important. J.J. Putz came on looking for his
4th save of the series, but it was not to be, thanks to his own wildness. The Herd scored 3 times to tie it at 7,
despite getting just 1 hit in the frame. Moises Alou walked to lead it off and PH Goeff Jenkins was HBP by
Putz and is injured for 5 days. PH Shelley Duncan doubled to drive in Alou, then another run scored on a
ground out by Orlando Cabrera. After 2 more walks to Hunter Pence and Hill, Holliday delievered a sac fly
to score PR Tim Hudson with the tying run. It stayed tied into the Bedrock 12th, when the Bombers scored 3
times off Bison reliever Sean Green to give the win to Joe Thatcher. DH Travis Buck, who had replaced
James Loney who was ejected way back in the 1st inning, singled home Kendrick, who had walked, with the
game winner, before Carlos Beltran added a 2-run singe to make the final, 10-7, Bedrock.
NABC NEWSLETTER - 2008 WORLD SERIES / PLAYOFF SPECIAL
First Round – Pontiac 4, Beaver Falls 3 (Played via phone by Dave Hogg and Brian Lebeck, write-up
by Brian Lebeck)
Game 1
Pontiac 10, Beaver Falls 3
Game one features a pitching matchup of Jake Peavy (PON) vs. Chris Young (BF). Peavy gets out to a good
start early on and limits the Beaver Falls baserunners, while Young flirts with disaster in the first couple of
innings, but gets out of the jams. Unfortunately for Young and Beaver Falls, his luck runs out in the third.
With 2 on, Ryan Howard puts Pontiac on the board with a 3-run homer. They add another in the inning when
Byrnes doubles in Griffey. Two more Pontiac runs score in the 5th on a Dye homer. Pontiac up 6-0. Peavy
cruises until the 7th, when pinch hitter Rick Ankiel breaks up the no-hitter. Then Beaver Falls gets doubles
from Mike Cameron and Hanley Ramirez, and a run scoring single from Ichiro Suzuki. When the dust clears
in the 7th, Beaver Falls cuts the Nighthawk lead in half, 6-3 Pontiac. Pontiac comes right back and scores 2
more in the 8th, and 2 more in the 9th and wins game one 10-3. Number 9 hitter in the Pontiac lineup, Alex
Gonzalez goes 5 for 5 with 2 doubles, and a homer.
Game 2
Beaver Falls, 2, Pontiac 0
Beaver Falls not wanting to go down by 2 at home sends Scott Kazmir to the mound to face Chen-Ming
Wang. Wang pitchers well and limits Beaver Falls to only 5 hits and 2 runs, but the story of this game is
Scott Kazmir. Kazmir spreads out 3 hits over 9 innings, and strikes out 11 Nighthawk batters to get the
shutout. Molina and Suzuki drive in one run each to led the Beavers Falls offense and get the 2-0 win.
Series tied at 1.
Game 3
Beaver Falls, 10, Pontiac 0
The series shifts to Pontiac. The pitching matchup is Jeremy Guthrie for Beaver Falls, and Shaun Marcum
for Pontiac. Beaver Falls takes an early lead on the first inning 2-run homer by Teixeira. Teixeria drives
another run in on a third inning sacrifice fly, and Beaver Falls keeps tagging on runs. Teixeria homers again
in the 8th to lead the offense with 5 RBIs. Beaver Falls scores 10 runs in the game. Regarding the Beaver
Falls pitching, Jeremy Guthrie was less than dominating, but Pontiac could not score. Guthrie scatters 6 hits
and 5 walks and gets an unlikely shutout in a 10-0 Beaver Falls win. Pontiac leaves ten runners on base
while being shutout. Beaver Falls up 2-1.
Game 4
Beaver Falls, 7, Pontiac 2
Young and Peavy have a rematch of the game 1 starters. Both pitchers are well in control and dominate for
the first five innings. In the 6th, Beaver Falls loads the bases with no one out, then get a single, and ground
out and a sac fly (by Kearns, Molina and Chavez) to plate 3 runs. Beaver Falls extends the lead in the 7th on
doubles by Ramirez and Teixeria to take a 4-0 lead. In the 8th, doubles by Ryan and Ramirez score two
more to build a 7-0 lead for Beaver Falls. In the meantime, on the mound for Beaver Falls Chris Young takes
a 26-inning scoreless streak by the Beaver Falls staff, and an no-hitter into the 9th. Young Ks the leadoff
hitter, then gives up a walk, and then a double to Polanco to breakup the no-hitter. After that a single by
Howard and a double by Alex Rodriguez chase Young from the mound. Pontiac gets 2 runs, but loses 7-2
and falls behind Beaver Falls 3-1.
NABC NEWSLETTER - 2008 WORLD SERIES / PLAYOFF SPECIAL
Game 5
Pontiac 7, Beaver Falls 3
Pontiac, facing elimination, sends Wang to the hill versus Kazmir. Beaver Falls gets on the board first on a
Suzuki triple and a Teixeria single. Pontiac comes back in the second on solo homers by Rodriguez to tie it
and then Griffey to take a 2-1 lead. In the third Griffey drops a fly ball allowing Beaver Falls to tie the game
at 2-2. In the bottom of the thrid doubles by Helton, Howard and Dye score 3 runs and Pontiac begins to
show signs of life again and takes a 5-2 lead. Two more 6th inning runs andsolid pitching from Wang allow
Pontiac to cruise to a 7-3 win, and stave off elimination. Beaver Falls up 3-2 in the series.
Game 6
Pontiac 8, Beaver Falls 2
Game Six
The story of game six is the the 5th inning. With the score tied two each, 7 straight Nighthawks batters reach
base. Five different batters drive in a run each in the inning. The big hitter in the game is Dye. Dye has 4
hits and drives in 3 runs. Marcum goes 6 innings for the win and Pontiac evens the series at 3-3 with an 8 to
2 win. The series is now tied with a game seven to be played.
Game 7
Pontiac 3, Beaver Falls 2
Peavy for Pontiac and Young for Beaver Falls are the pitchers. Each has won a game in the series. Beaver
Falls scores first in the second inning. Hanley Ramirez doubles to drive in 2 to give them 2-0 lead. Pontiac
gets one in the 4th on doubles by Polanco and Dye. Pontiac then takes the lead in the 5th. Johjima and
Gonzalez back to back doubles tied it, then Polanco doubles to put Pontiac on top 3-2. Jake Peavy then shuts
down Beaver Falls. Peavy retires the final 16 hitters in order. Pontiac wins 3-2 and takes the series 4-3.
2009 NABC DRAFT MEETING

Please don't forget to mark your calendar for Saturday, March 7th, 2009, for the annual
NABC rookie draft and league meeting.
LEAGUE NEWS
If you haven't ordered your disk and/or cards yet, you may want to do so soon. The disks are supposed to be
ready to mail in November and the cards in December. I will put out the rule change proposal request soon,
and I expect the yearbook to be complete in mid-December. Thanks for another great season!
TRADE REPORT


Estey sends Gerald Laird to Woodland for Andruw Jones.
Estey sends Bill Hall to Can-Am for Gary Sheffield.