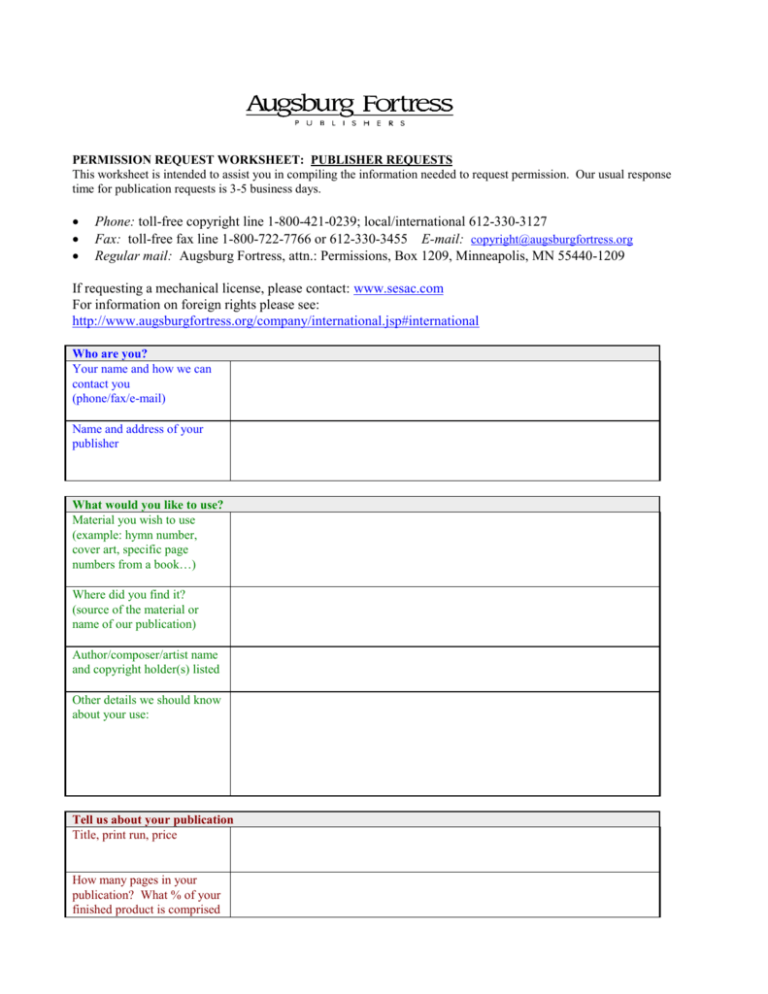 PERMISSION REQUEST WORKSHEET: PUBLISHER REQUESTS
This worksheet is intended to assist you in compiling the information needed to request permission. Our usual response
time for publication requests is 3-5 business days.



Phone: toll-free copyright line 1-800-421-0239; local/international 612-330-3127
Fax: toll-free fax line 1-800-722-7766 or 612-330-3455 E-mail: copyright@augsburgfortress.org
Regular mail: Augsburg Fortress, attn.: Permissions, Box 1209, Minneapolis, MN 55440-1209
If requesting a mechanical license, please contact: www.sesac.com
For information on foreign rights please see:
http://www.augsburgfortress.org/company/international.jsp#international
Who are you?
Your name and how we can
contact you
(phone/fax/e-mail)
Name and address of your
publisher
What would you like to use?
Material you wish to use
(example: hymn number,
cover art, specific page
numbers from a book…)
Where did you find it?
(source of the material or
name of our publication)
Author/composer/artist name
and copyright holder(s) listed
Other details we should know
about your use:
Tell us about your publication
Title, print run, price
How many pages in your
publication? What % of your
finished product is comprised
of our material?