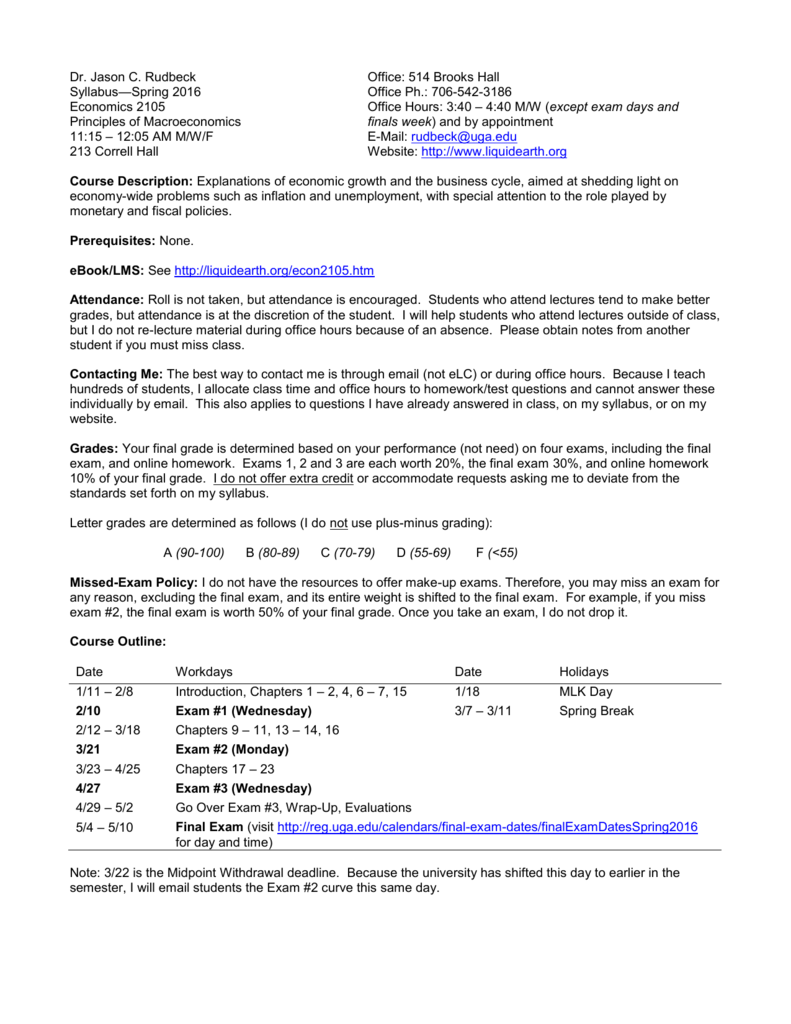 Dr. Jason C. Rudbeck
Syllabus—Spring 2016
Economics 2105
Principles of Macroeconomics
11:15 – 12:05 AM M/W/F
213 Correll Hall
Office: 514 Brooks Hall
Office Ph.: 706-542-3186
Office Hours: 3:40 – 4:40 M/W (except exam days and
finals week) and by appointment
E-Mail: [email protected]
Website: http://www.liquidearth.org
Course Description: Explanations of economic growth and the business cycle, aimed at shedding light on
economy-wide problems such as inflation and unemployment, with special attention to the role played by
monetary and fiscal policies.
Prerequisites: None.
eBook/LMS: See http://liquidearth.org/econ2105.htm
Attendance: Roll is not taken, but attendance is encouraged. Students who attend lectures tend to make better
grades, but attendance is at the discretion of the student. I will help students who attend lectures outside of class,
but I do not re-lecture material during office hours because of an absence. Please obtain notes from another
student if you must miss class.
Contacting Me: The best way to contact me is through email (not eLC) or during office hours. Because I teach
hundreds of students, I allocate class time and office hours to homework/test questions and cannot answer these
individually by email. This also applies to questions I have already answered in class, on my syllabus, or on my
website.
Grades: Your final grade is determined based on your performance (not need) on four exams, including the final
exam, and online homework. Exams 1, 2 and 3 are each worth 20%, the final exam 30%, and online homework
10% of your final grade. I do not offer extra credit or accommodate requests asking me to deviate from the
standards set forth on my syllabus.
Letter grades are determined as follows (I do not use plus-minus grading):
A (90-100)
B (80-89)
C (70-79)
D (55-69)
F (<55)
Missed-Exam Policy: I do not have the resources to offer make-up exams. Therefore, you may miss an exam for
any reason, excluding the final exam, and its entire weight is shifted to the final exam. For example, if you miss
exam #2, the final exam is worth 50% of your final grade. Once you take an exam, I do not drop it.
Course Outline:
Date
Workdays
Date
Holidays
1/11 – 2/8
2/10
Introduction, Chapters 1 – 2, 4, 6 – 7, 15
Exam #1 (Wednesday)
1/18
MLK Day
3/7 – 3/11
Spring Break
2/12 – 3/18
3/21
Chapters 9 – 11, 13 – 14, 16
Exam #2 (Monday)
3/23 – 4/25
4/27
Chapters 17 – 23
Exam #3 (Wednesday)
4/29 – 5/2
Go Over Exam #3, Wrap-Up, Evaluations
Final Exam (visit http://reg.uga.edu/calendars/final-exam-dates/finalExamDatesSpring2016
for day and time)
5/4 – 5/10
Note: 3/22 is the Midpoint Withdrawal deadline. Because the university has shifted this day to earlier in the
semester, I will email students the Exam #2 curve this same day.
Chapter Outline:
Chapter
1
2
3
4
5
6
7
9
10
11
13
14
15
16
17
18
19
20
21
22
23
Topical Area
Ten Principles of Economics
Thinking like an Economist
Interdependence and the Gains from Trade
The Market Forces of Supply and Demand
Elasticity and Its Application
Supply, Demand, and Government Policies
Consumers, Producers, and the Efficiency of Markets
International Trade
Measuring a Nation's Income
Measuring the Cost of Living
Saving, Investment, and the Financial System
The Basic Tools of Finance
Unemployment and Its Natural Rate
The Monetary System
Money Growth and Inflation
Open-Economy Macroeconomics
A Macroeconomic Theory of the Open Economy
Aggregate Demand and Aggregate Supply
The Influence of Monetary and Fiscal Policy on Aggregate Demand
The Short-Run Tradeoff between Inflation and Unemployment
Five Debates over Macroeconomic Policy
Students with Disabilities: Appropriate accommodations will be made for students with disabilities that are
documented by the Disability Resources Center (DRC). Students must present a letter stating that the disability
has been documented and requesting the specific accommodations before the third week of classes.
Academic Honesty: As a University of Georgia student, you have agreed to abide by the University's academic
honesty policy, "A Culture of Honesty," and the Student Honor Code. All academic work must meet the standards
described in "A Culture of Honesty" found at: www.uga.edu/honesty. Lack of knowledge of academic honesty
policy is not a reasonable explanation for a violation. Questions related to course assignments and the academic
honesty policy should be directed to the instructor.
Tutoring Services: Milledge Academic Center provides free tutoring to all students for ECON 2105, 2106, and
other classes. This is an excellent resource that not all universities provide. More information is available at
http://www.uga.edu/dae/services/tutoring/tutoring_index.html.
Frequently Asked Questions: More detailed information on specific questions I commonly receive is listed on
my website under the Frequently Asked Questions section.
The course syllabus is a general plan for the course; deviations announced to the class by the instructor may be
necessary.