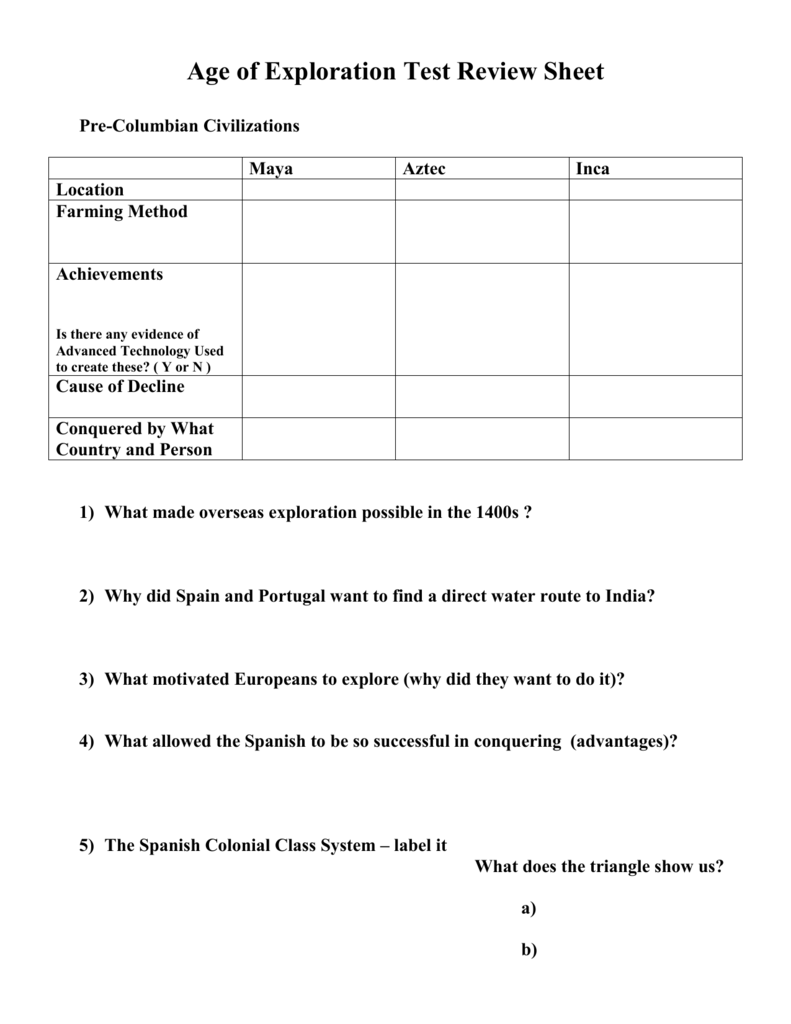 Age of Exploration Test Review Sheet
Pre-Columbian Civilizations
Maya
Aztec
Inca
Location
Farming Method
Achievements
Is there any evidence of
Advanced Technology Used
to create these? ( Y or N )
Cause of Decline
Conquered by What
Country and Person
1) What made overseas exploration possible in the 1400s ?
2) Why did Spain and Portugal want to find a direct water route to India?
3) What motivated Europeans to explore (why did they want to do it)?
4) What allowed the Spanish to be so successful in conquering (advantages)?
5) The Spanish Colonial Class System – label it
What does the triangle show us?
a)
b)
6) Describe the Encomienda System in as much detail as possible.
7) The major economic theory during the Age of Exploration was mercantilism.
a) Define mercantilism
b) Explain the two ways to implement this system
1)
2)
In order to make mercantilism successful, a country needed possession of ____________
8) Mercantilism, joint stock companies, banking and capitalism were part of a new
way of doing business. This change was called the _______________________
9) Describe the exchange along each leg of the Triangle Trade?
a)
b)
c)
10) Describe the Middle Passage and explain how the slave trade affected Africa
11) How did the voyages of Columbus lead to a global exchange? How has that
impacted the world even up to today?
As always, you should be studying vocabulary – it WILL show up on this test !
You should be using your notes, readings, and textbook, to help you complete this guide.