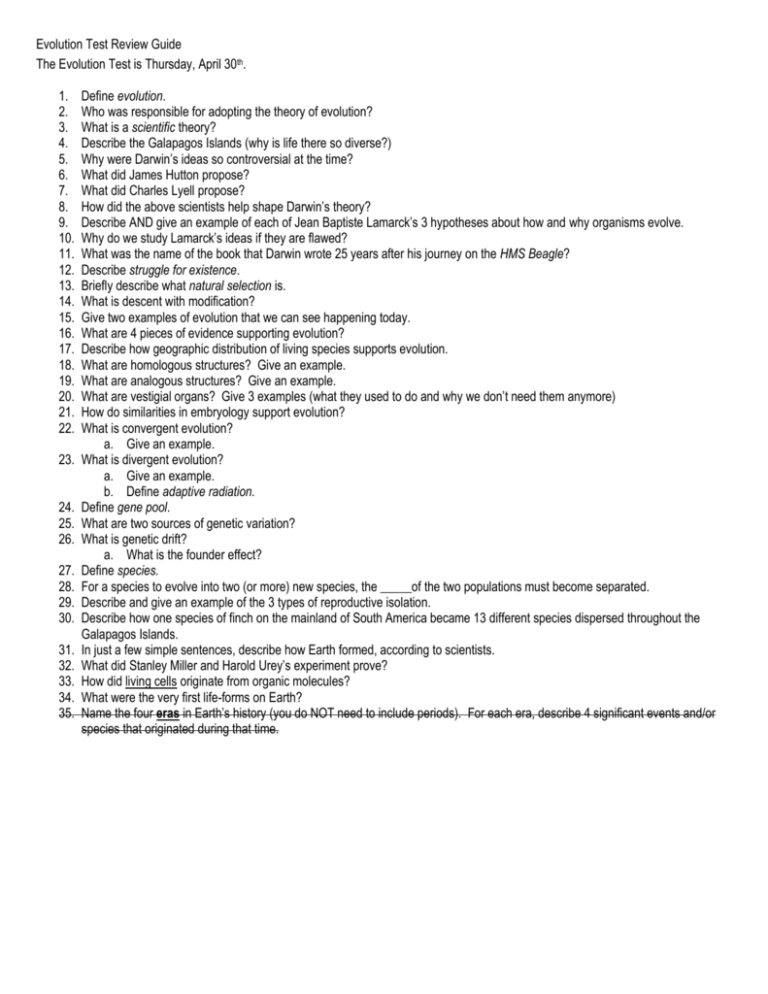 Evolution Test Review Guide
The Evolution Test is Thursday, April 30th.
1.
2.
3.
4.
5.
6.
7.
8.
9.
10.
11.
12.
13.
14.
15.
16.
17.
18.
19.
20.
21.
22.
23.
24.
25.
26.
27.
28.
29.
30.
31.
32.
33.
34.
35.
Define evolution.
Who was responsible for adopting the theory of evolution?
What is a scientific theory?
Describe the Galapagos Islands (why is life there so diverse?)
Why were Darwin's ideas so controversial at the time?
What did James Hutton propose?
What did Charles Lyell propose?
How did the above scientists help shape Darwin's theory?
Describe AND give an example of each of Jean Baptiste Lamarck's 3 hypotheses about how and why organisms evolve.
Why do we study Lamarck's ideas if they are flawed?
What was the name of the book that Darwin wrote 25 years after his journey on the HMS Beagle?
Describe struggle for existence.
Briefly describe what natural selection is.
What is descent with modification?
Give two examples of evolution that we can see happening today.
What are 4 pieces of evidence supporting evolution?
Describe how geographic distribution of living species supports evolution.
What are homologous structures? Give an example.
What are analogous structures? Give an example.
What are vestigial organs? Give 3 examples (what they used to do and why we don't need them anymore)
How do similarities in embryology support evolution?
What is convergent evolution?
a. Give an example.
What is divergent evolution?
a. Give an example.
b. Define adaptive radiation.
Define gene pool.
What are two sources of genetic variation?
What is genetic drift?
a. What is the founder effect?
Define species.
For a species to evolve into two (or more) new species, the _____of the two populations must become separated.
Describe and give an example of the 3 types of reproductive isolation.
Describe how one species of finch on the mainland of South America became 13 different species dispersed throughout the
Galapagos Islands.
In just a few simple sentences, describe how Earth formed, according to scientists.
What did Stanley Miller and Harold Urey's experiment prove?
How did living cells originate from organic molecules?
What were the very first life-forms on Earth?
Name the four eras in Earth's history (you do NOT need to include periods). For each era, describe 4 significant events and/or
species that originated during that time.