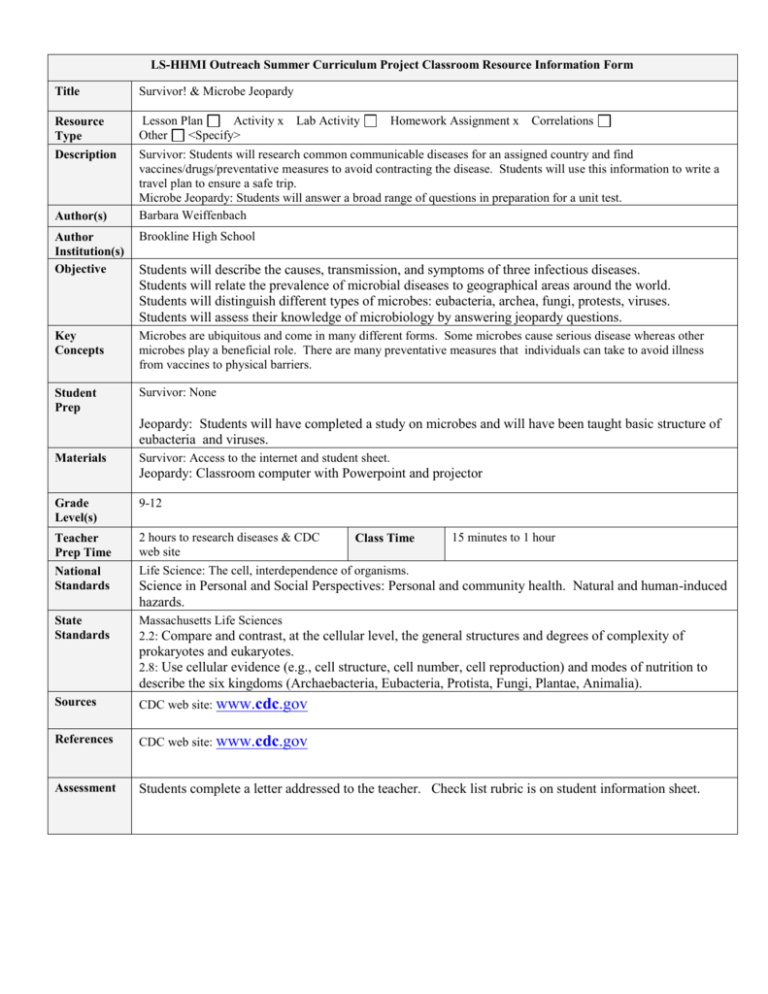 LS-HHMI Outreach Summer Curriculum Project Classroom Resource Information Form
Title
Survivor! & Microbe Jeopardy
Resource
Type
Lesson Plan
Activity x
Other
<Specify>
Description
Survivor: Students will research common communicable diseases for an assigned country and find
vaccines/drugs/preventative measures to avoid contracting the disease. Students will use this information to write a
travel plan to ensure a safe trip.
Microbe Jeopardy: Students will answer a broad range of questions in preparation for a unit test.
Barbara Weiffenbach
Author(s)
Lab Activity
Homework Assignment x
Correlations
Author
Institution(s)
Objective
Brookline High School
Key
Concepts
Microbes are ubiquitous and come in many different forms. Some microbes cause serious disease whereas other
microbes play a beneficial role. There are many preventative measures that individuals can take to avoid illness
from vaccines to physical barriers.
Student
Prep
Survivor: None
Students will describe the causes, transmission, and symptoms of three infectious diseases.
Students will relate the prevalence of microbial diseases to geographical areas around the world.
Students will distinguish different types of microbes: eubacteria, archea, fungi, protests, viruses.
Students will assess their knowledge of microbiology by answering jeopardy questions.
Jeopardy: Students will have completed a study on microbes and will have been taught basic structure of
eubacteria and viruses.
Materials
Survivor: Access to the internet and student sheet.
Jeopardy: Classroom computer with Powerpoint and projector
Grade
Level(s)
9-12
Teacher
Prep Time
2 hours to research diseases & CDC
web site
National
Standards
Life Science: The cell, interdependence of organisms.
State
Standards
Massachusetts Life Sciences
2.2: Compare and contrast, at the cellular level, the general structures and degrees of complexity of
Class Time
15 minutes to 1 hour
Science in Personal and Social Perspectives: Personal and community health. Natural and human-induced
hazards.
prokaryotes and eukaryotes.
2.8: Use cellular evidence (e.g., cell structure, cell number, cell reproduction) and modes of nutrition to
describe the six kingdoms (Archaebacteria, Eubacteria, Protista, Fungi, Plantae, Animalia).
Sources
CDC web site: www.cdc.gov
References
CDC web site: www.cdc.gov
Assessment
Students complete a letter addressed to the teacher. Check list rubric is on student information sheet.