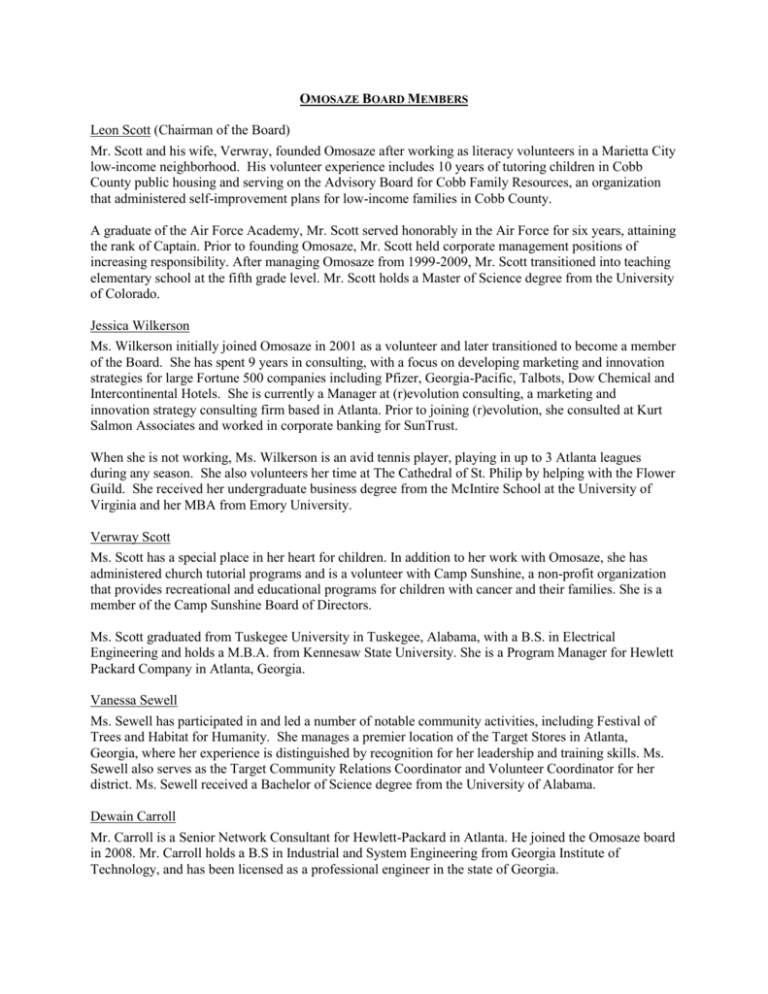 OMOSAZE BOARD MEMBERS
Leon Scott (Chairman of the Board)
Mr. Scott and his wife, Verwray, founded Omosaze after working as literacy volunteers in a Marietta City
low-income neighborhood. His volunteer experience includes 10 years of tutoring children in Cobb
County public housing and serving on the Advisory Board for Cobb Family Resources, an organization
that administered self-improvement plans for low-income families in Cobb County.
A graduate of the Air Force Academy, Mr. Scott served honorably in the Air Force for six years, attaining
the rank of Captain. Prior to founding Omosaze, Mr. Scott held corporate management positions of
increasing responsibility. After managing Omosaze from 1999-2009, Mr. Scott transitioned into teaching
elementary school at the fifth grade level. Mr. Scott holds a Master of Science degree from the University
of Colorado.
Jessica Wilkerson
Ms. Wilkerson initially joined Omosaze in 2001 as a volunteer and later transitioned to become a member
of the Board. She has spent 9 years in consulting, with a focus on developing marketing and innovation
strategies for large Fortune 500 companies including Pfizer, Georgia-Pacific, Talbots, Dow Chemical and
Intercontinental Hotels. She is currently a Manager at (r)evolution consulting, a marketing and
innovation strategy consulting firm based in Atlanta. Prior to joining (r)evolution, she consulted at Kurt
Salmon Associates and worked in corporate banking for SunTrust.
When she is not working, Ms. Wilkerson is an avid tennis player, playing in up to 3 Atlanta leagues
during any season. She also volunteers her time at The Cathedral of St. Philip by helping with the Flower
Guild. She received her undergraduate business degree from the McIntire School at the University of
Virginia and her MBA from Emory University.
Verwray Scott
Ms. Scott has a special place in her heart for children. In addition to her work with Omosaze, she has
administered church tutorial programs and is a volunteer with Camp Sunshine, a non-profit organization
that provides recreational and educational programs for children with cancer and their families. She is a
member of the Camp Sunshine Board of Directors.
Ms. Scott graduated from Tuskegee University in Tuskegee, Alabama, with a B.S. in Electrical
Engineering and holds a M.B.A. from Kennesaw State University. She is a Program Manager for Hewlett
Packard Company in Atlanta, Georgia.
Vanessa Sewell
Ms. Sewell has participated in and led a number of notable community activities, including Festival of
Trees and Habitat for Humanity. She manages a premier location of the Target Stores in Atlanta,
Georgia, where her experience is distinguished by recognition for her leadership and training skills. Ms.
Sewell also serves as the Target Community Relations Coordinator and Volunteer Coordinator for her
district. Ms. Sewell received a Bachelor of Science degree from the University of Alabama.
Dewain Carroll
Mr. Carroll is a Senior Network Consultant for Hewlett-Packard in Atlanta. He joined the Omosaze board
in 2008. Mr. Carroll holds a B.S in Industrial and System Engineering from Georgia Institute of
Technology, and has been licensed as a professional engineer in the state of Georgia.
Arnelle Barnett
Ms. Barnett is the Director of Marketing for Stonebranch, Inc., a developer of enterprise systems
management software for the U.S. and European markets. She has held similar positions with OHC, LLC
(dba Optimus Solutions and Canvas Systems) and City Press Publishing. Ms. Barnett is a high-caliber
marketing and event management professional with more than 10 years experience in developing and
leading marketing operations. Her expertise includes strategic business planning, training, development,
and personnel management, and her professional focus is on pursuing opportunities that contribute to a
company's profitability, organization, growth, and efficiency. Ms. Barnett holds a B.A. in Business
Administration with a concentration in Marketing from the University of Kentucky.
Ms. Barnett joined the Omosaze board in 2008. She also serves on the Advisory Board and as Marketing
Chair for the Make a Wish Foundation's Evening in Las Vegas, as a member of the Board for Friends of
Centennial Park, as the Public Relations Chair for the American Red Cross's Rhapsody in Red
fundraising event, and as Captain of the American Heart Association's Heart of the Season fundraising
initiative.
Nikki Canady Penda
Ms. Penda is the Director of HR Services for UCB, Inc., a multi-national biopharmaceutical company
based in Belgium. She is responsible for managing benefits, payroll, and HR information systems related
to the company's US-based employees. Ms. Penda has held previous benefits and consulting positions
with Aon Consulting, Genuine Parts Company, Northern Trust Retirement Consulting, The Hunter
Group, and Hewitt Associates.
Ms. Penda holds a B.A. in Economics and English from Amherst College and has obtained an
International Certified Employee Benefits Specialist (CEBS) designation from the Wharton School at the
University of Pennsylvania.
A passion for reading led Ms. Penda to begin volunteering with Omosaze in 2001, and she joined the
Omosaze board in 2008.
Tiffany Pollock
Ms. Pollock is the Principal at Dunleith Elementary School, a Reading Saturday partner since 2002.
Previously, she served as Assistant Principal at Marietta Middle School and Dunleith Elementary School.
Ms. Pollock moved into an administrative role after nine years as a teacher of children at varying levels of
skill, including special needs and gifted students. She has served in an administrative capacity for eight
years. Ms. Pollock is certified to teach early childhood education, elementary education, and special
education in South Carolina and Georgia. She is also certified in leadership in Georgia.
Ms. Pollock has received numerous awards, including multiple Teacher of the Year awards. In 2000, she
received the Top Teacher award from the Ledger-Enquirer, and in 2002, she received the Middle School
Teacher of the Year award from the Atlanta Journal-Constitution. In 2001-2002, Ms. Pollock was
recognized as Regular Education Teacher of the Year by the Council for Exceptional Children.
Ms. Pollock is completing her doctoral (Ed.D.) studies in Educational Leadership with Nova Southeastern
University. She holds an Education Leadership Certification and Educational Specialist degree in
Elementary Education from Troy State University as well as a Masters in Elementary Education and a
Bachelor of Science degree in Special Education from Lander University. Ms. Pollock is a member of the
Association for Supervision and Curriculum Development.
Chris Lightner (Treasurer)
Mr. Lightner joined the Omosaze board in 2009. He is a Patent Attorney at Alston & Bird, a firm based in
Atlanta. He is also a volunteer attorney for the Pro Bono Partnership of Atlanta and a member of several
Intellectual Property committees associated with the Georgia and Atlanta Bar Associations. Prior to
joining Alston & Bird, Mr. Lightner worked as a Systems and Mechanical Test Engineer for Boeing.
Mr. Lightner holds a J.D. from the University of North Carolina School of Law, an M.B.A. in
Technology Management from the University of Phoenix, and a B.S. in Mechanical Engineering from
Tennessee Technological University.
EX-OFFICIO BOARD MEMBERS
Christine Sloane
A member of the Junior League of Cobb-Marietta, Ms. Sloane joined the Omosaze board in an ex-officio
capacity in 2010. An avid volunteer, she is also serving on the board of the Junior League of CobbMarietta for a second term and volunteering with Communities in Schools, her children's school and
Marietta First United Methodist Church. She holds a BSEd in English from the University of Georgia.
In her free time, Ms. Sloane enjoys traveling, spending time outdoors and relaxing with her husband and
two young boys.