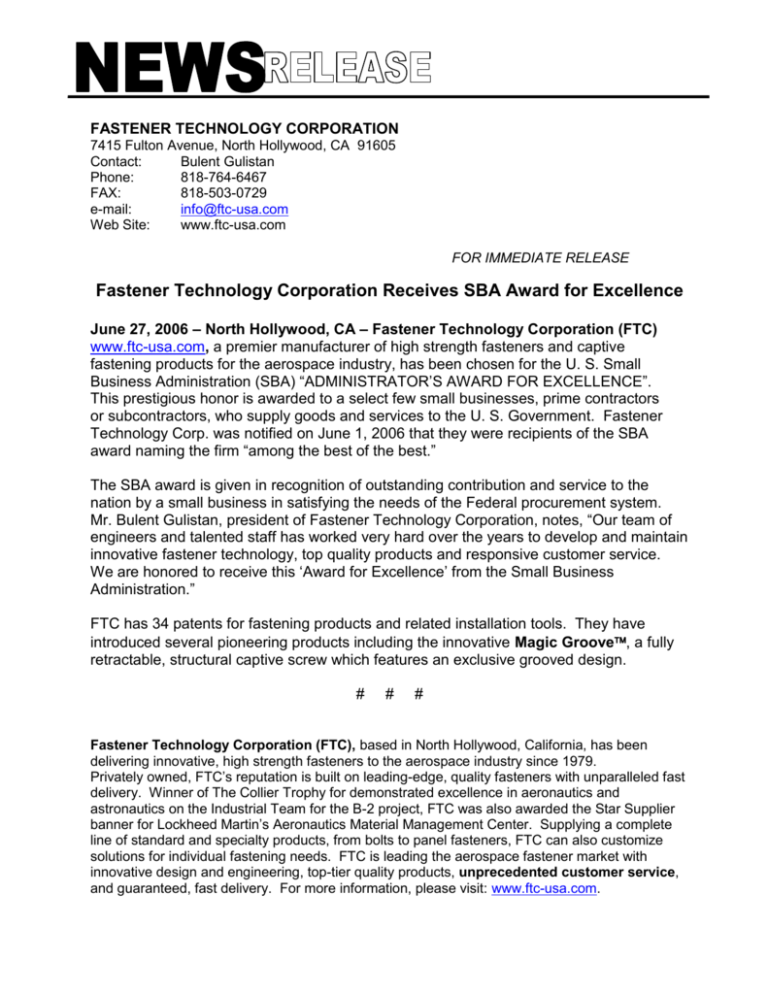 FASTENER TECHNOLOGY CORPORATION
7415 Fulton Avenue, North Hollywood, CA 91605
Contact:
Bulent Gulistan
Phone:
818-764-6467
FAX:
818-503-0729
e-mail:
info@ftc-usa.com
Web Site:
www.ftc-usa.com
FOR IMMEDIATE RELEASE
Fastener Technology Corporation Receives SBA Award for Excellence
June 27, 2006 – North Hollywood, CA – Fastener Technology Corporation (FTC)
www.ftc-usa.com, a premier manufacturer of high strength fasteners and captive
fastening products for the aerospace industry, has been chosen for the U. S. Small
Business Administration (SBA) "ADMINISTRATOR'S AWARD FOR EXCELLENCE".
This prestigious honor is awarded to a select few small businesses, prime contractors
or subcontractors, who supply goods and services to the U. S. Government. Fastener
Technology Corp. was notified on June 1, 2006 that they were recipients of the SBA
award naming the firm "among the best of the best."
The SBA award is given in recognition of outstanding contribution and service to the
nation by a small business in satisfying the needs of the Federal procurement system.
Mr. Bulent Gulistan, president of Fastener Technology Corporation, notes, "Our team of
engineers and talented staff has worked very hard over the years to develop and maintain
innovative fastener technology, top quality products and responsive customer service.
We are honored to receive this 'Award for Excellence' from the Small Business
Administration."
FTC has 34 patents for fastening products and related installation tools. They have
introduced several pioneering products including the innovative Magic Groove, a fully
retractable, structural captive screw which features an exclusive grooved design.
#
#
#
Fastener Technology Corporation (FTC), based in North Hollywood, California, has been
delivering innovative, high strength fasteners to the aerospace industry since 1979.
Privately owned, FTC's reputation is built on leading-edge, quality fasteners with unparalleled fast
delivery. Winner of The Collier Trophy for demonstrated excellence in aeronautics and
astronautics on the Industrial Team for the B-2 project, FTC was also awarded the Star Supplier
banner for Lockheed Martin's Aeronautics Material Management Center. Supplying a complete
line of standard and specialty products, from bolts to panel fasteners, FTC can also customize
solutions for individual fastening needs. FTC is leading the aerospace fastener market with
innovative design and engineering, top-tier quality products, unprecedented customer service,
and guaranteed, fast delivery. For more information, please visit: www.ftc-usa.com.