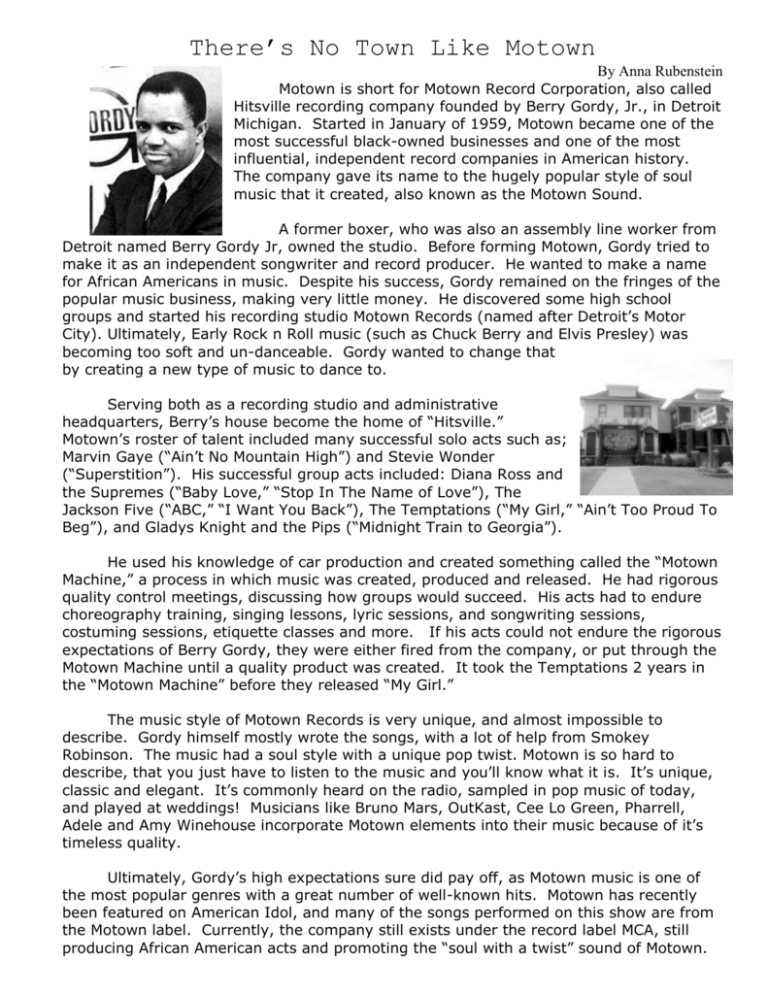 There's No Town Like Motown
By Anna Rubenstein
Motown is short for Motown Record Corporation, also called
Hitsville recording company founded by Berry Gordy, Jr., in Detroit
Michigan. Started in January of 1959, Motown became one of the
most successful black-owned businesses and one of the most
influential, independent record companies in American history.
The company gave its name to the hugely popular style of soul
music that it created, also known as the Motown Sound.
A former boxer, who was also an assembly line worker from
Detroit named Berry Gordy Jr, owned the studio. Before forming Motown, Gordy tried to
make it as an independent songwriter and record producer. He wanted to make a name
for African Americans in music. Despite his success, Gordy remained on the fringes of the
popular music business, making very little money. He discovered some high school
groups and started his recording studio Motown Records (named after Detroit's Motor
City). Ultimately, Early Rock n Roll music (such as Chuck Berry and Elvis Presley) was
becoming too soft and un-danceable. Gordy wanted to change that
by creating a new type of music to dance to.
Serving both as a recording studio and administrative
headquarters, Berry's house become the home of "Hitsville."
Motown's roster of talent included many successful solo acts such as;
Marvin Gaye ("Ain't No Mountain High") and Stevie Wonder
("Superstition"). His successful group acts included: Diana Ross and
the Supremes ("Baby Love," "Stop In The Name of Love"), The
Jackson Five ("ABC," "I Want You Back"), The Temptations ("My Girl," "Ain't Too Proud To
Beg"), and Gladys Knight and the Pips ("Midnight Train to Georgia").
He used his knowledge of car production and created something called the "Motown
Machine," a process in which music was created, produced and released. He had rigorous
quality control meetings, discussing how groups would succeed. His acts had to endure
choreography training, singing lessons, lyric sessions, and songwriting sessions,
costuming sessions, etiquette classes and more. If his acts could not endure the rigorous
expectations of Berry Gordy, they were either fired from the company, or put through the
Motown Machine until a quality product was created. It took the Temptations 2 years in
the "Motown Machine" before they released "My Girl."
The music style of Motown Records is very unique, and almost impossible to
describe. Gordy himself mostly wrote the songs, with a lot of help from Smokey
Robinson. The music had a soul style with a unique pop twist. Motown is so hard to
describe, that you just have to listen to the music and you'll know what it is. It's unique,
classic and elegant. It's commonly heard on the radio, sampled in pop music of today,
and played at weddings! Musicians like Bruno Mars, OutKast, Cee Lo Green, Pharrell,
Adele and Amy Winehouse incorporate Motown elements into their music because of it's
timeless quality.
Ultimately, Gordy's high expectations sure did pay off, as Motown music is one of
the most popular genres with a great number of well-known hits. Motown has recently
been featured on American Idol, and many of the songs performed on this show are from
the Motown label. Currently, the company still exists under the record label MCA, still
producing African American acts and promoting the "soul with a twist" sound of Motown.