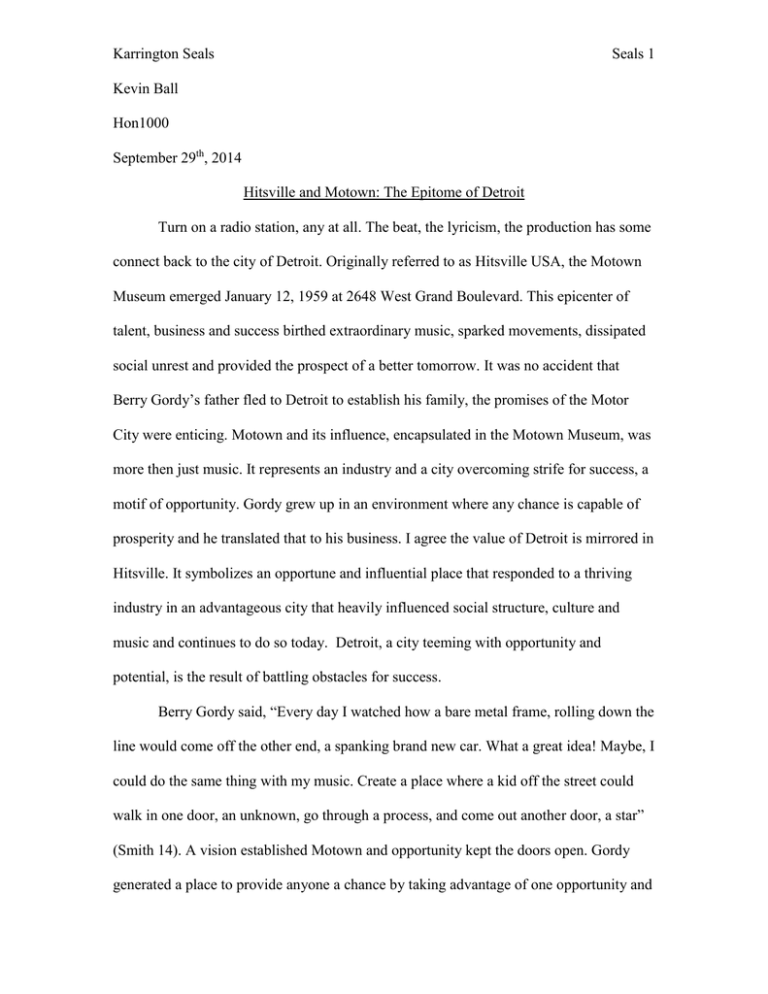 Karrington Seals
Seals 1
Kevin Ball
Hon1000
September 29th, 2014
Hitsville and Motown: The Epitome of Detroit
Turn on a radio station, any at all. The beat, the lyricism, the production has some
connect back to the city of Detroit. Originally referred to as Hitsville USA, the Motown
Museum emerged January 12, 1959 at 2648 West Grand Boulevard. This epicenter of
talent, business and success birthed extraordinary music, sparked movements, dissipated
social unrest and provided the prospect of a better tomorrow. It was no accident that
Berry Gordy's father fled to Detroit to establish his family, the promises of the Motor
City were enticing. Motown and its influence, encapsulated in the Motown Museum, was
more then just music. It represents an industry and a city overcoming strife for success, a
motif of opportunity. Gordy grew up in an environment where any chance is capable of
prosperity and he translated that to his business. I agree the value of Detroit is mirrored in
Hitsville. It symbolizes an opportune and influential place that responded to a thriving
industry in an advantageous city that heavily influenced social structure, culture and
music and continues to do so today. Detroit, a city teeming with opportunity and
potential, is the result of battling obstacles for success.
Berry Gordy said, "Every day I watched how a bare metal frame, rolling down the
line would come off the other end, a spanking brand new car. What a great idea! Maybe, I
could do the same thing with my music. Create a place where a kid off the street could
walk in one door, an unknown, go through a process, and come out another door, a star"
(Smith 14). A vision established Motown and opportunity kept the doors open. Gordy
generated a place to provide anyone a chance by taking advantage of one opportunity and
Karrington Seals
Seals 2
Kevin Ball
Hon1000
September 29th, 2014
putting forth an effort. He grew up around a mindset of entrepreneurship, "tough
discipline and emphasis on hard work" (Posner 7); both his parents owned businesses,
multiple actually. The Gordy's idea of hard work and merit is not foreign to Detroiters.
The city is a place of obstacles and attracts the hardest working people to contribute to its
society in response. Berry Gordy did not build up the most successful African-American
owned company in America (Motown Museum) overnight, nor did he forgo any barriers
while doing so. Like Detroit, he faced a segregated society in the music industry. And
although the disconnect was discernible, both the city and the industry offered so much
and almost begged to be tampered with. The city's culture shaped Motown and in turn,
Motown became the culture. Detroit is a land of opportunity in a sense: its Northern
location made it attractive to former slaves, its seductively booming auto industry enticed
people from all over and today, the current restructuring of the city is provoking a slow
but noticeable migration back to the city; Motown pulled on the sense of opportunity so
many years ago and used it to create names for its artists. Seemingly unknowns became
known because of the simple chance Hitsville offered. Opportunity spawned opportunity
both in the city and for Hitsville and Berry Gordy.
"Motown's relationship to Detroit offers a provocative example of a cultural
formation, since the "artistic form" is popular music and the "social location" is an
industrial city with a strong black middle class and a long history of racism. Exploring
Motown's formation in Detroit reveals how the development of a strong black urban
community created unique opportunities for the development of an independent black
Karrington Seals
Seals 3
Kevin Ball
Hon1000
September 29th, 2014
commercial culture, and how this independent commercial culture then participated in the
larger struggle for racial equality" (Smith 9). Motown goes beyond music. It was a means
of communication during the Civil Rights era, a plea for understanding and awareness of
the happenings in the world, and a starting place for easing race relations between Blacks
and Whites. Yes, Motown generated extraordinary music, but it also spearheaded
movements and prompted a self-check for the city. Marvin Gaye's What's Going On
album and Aretha Franklin's song "Respect" acts as prime examples. Motown artists
began to venture toward making music that was more socially and politically relevant.
Motown existed in a time of conflict, racism and social unrest –the Detroit Race Riots,
Vietnam War and Jim Crow to specify a few– and used its power to disseminate and
evoke change. Dr. Martin Luther King Jr. and Diana Ross were signed to the same label;
one made timeless music and the other generated a spoken-word recording entitled The
Great March to Freedom (Smith 21). Motown endured what the city went through as far
as racially pertaining situations. Artists were denied bookings because of the race of their
artists and Detroiters were denied jobs for the same reason. There was correspondence
between what happened in the real world and what happen in the Hitsville world.
"You may like today's pop stars, and I will not deny that they have great talent,
but they in no way compare to the flood of great artists that at one time poured out of the
Hitsville USA studio. The irony of this is that today's music companies use the formula
sounds, routines, and other conventions that Motown practically invented" (Taylor 3)
Karrington Seals
Seals 4
Kevin Ball
Hon1000
September 29th, 2014
"Blurred Lines" –which peaked at number 1 in 14 countries and led the Billboard Hot
100 for 12 weeks–sampled Marvin Gaye's "Got to Give it Up": one of the most popular
songs of 2014 was influenced by a song from 1977, a Motown hit. Music is undoubtedly
a large part of society today, and has always been in Detroit. The influence of Motown on
music continues to be relevant today, especially in the city where it originated.
Motown not only used its music to entertain the masses, but to make a difference
in the world. Detroit, a notoriously problem-ridden city, had the gem of Motown, which
represented all the good the city had to offer. Both the city of Detroit and Motown took
advantage of the immense opportunity they possessed. Music had no color and Motown
supported this notion by not appealing to a specific type of person but people in general
and Detroit is the result of the melting pot. Motown is the identity of the city and the city
is Motown.