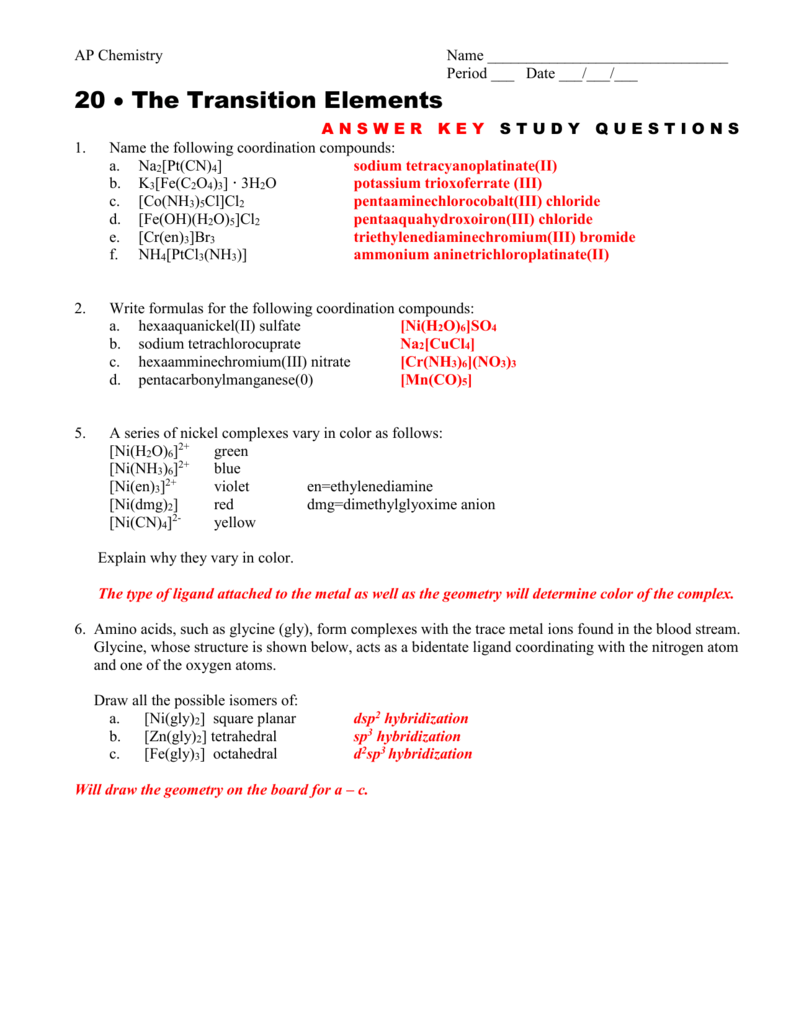 AP Chemistry
Name _______________________________
Period ___ Date ___/___/___
20  The Transition Elements
1.
ANSWER KEY STUDY QUESTIONS
Name the following coordination compounds:
a. Na2[Pt(CN)4]
sodium tetracyanoplatinate(II)
b. K3[Fe(C2O4)3] · 3H2O
potassium trioxoferrate (III)
c. [Co(NH3)5Cl]Cl2
pentaaminechlorocobalt(III) chloride
d. [Fe(OH)(H2O)5]Cl2
pentaaquahydroxoiron(III) chloride
e. [Cr(en)3]Br3
triethylenediaminechromium(III) bromide
f. NH4[PtCl3(NH3)]
ammonium aninetrichloroplatinate(II)
2.
Write formulas for the following coordination compounds:
a. hexaaquanickel(II) sulfate
[Ni(H2O)6]SO4
b. sodium tetrachlorocuprate
Na2[CuCl4]
c. hexaamminechromium(III) nitrate
[Cr(NH3)6](NO3)3
d. pentacarbonylmanganese(0)
[Mn(CO)5]
5.
A series of nickel complexes vary in color as follows:
[Ni(H2O)6]2+
green
[Ni(NH3)6]2+
blue
2+
[Ni(en)3]
violet
en=ethylenediamine
[Ni(dmg)2]
red
dmg=dimethylglyoxime anion
2[Ni(CN)4]
yellow
Explain why they vary in color.
The type of ligand attached to the metal as well as the geometry will determine color of the complex.
6. Amino acids, such as glycine (gly), form complexes with the trace metal ions found in the blood stream.
Glycine, whose structure is shown below, acts as a bidentate ligand coordinating with the nitrogen atom
and one of the oxygen atoms.
Draw all the possible isomers of:
a.
[Ni(gly)2] square planar
b. [Zn(gly)2] tetrahedral
c.
[Fe(gly)3] octahedral
dsp2 hybridization
sp3 hybridization
d2sp3 hybridization
Will draw the geometry on the board for a – c.