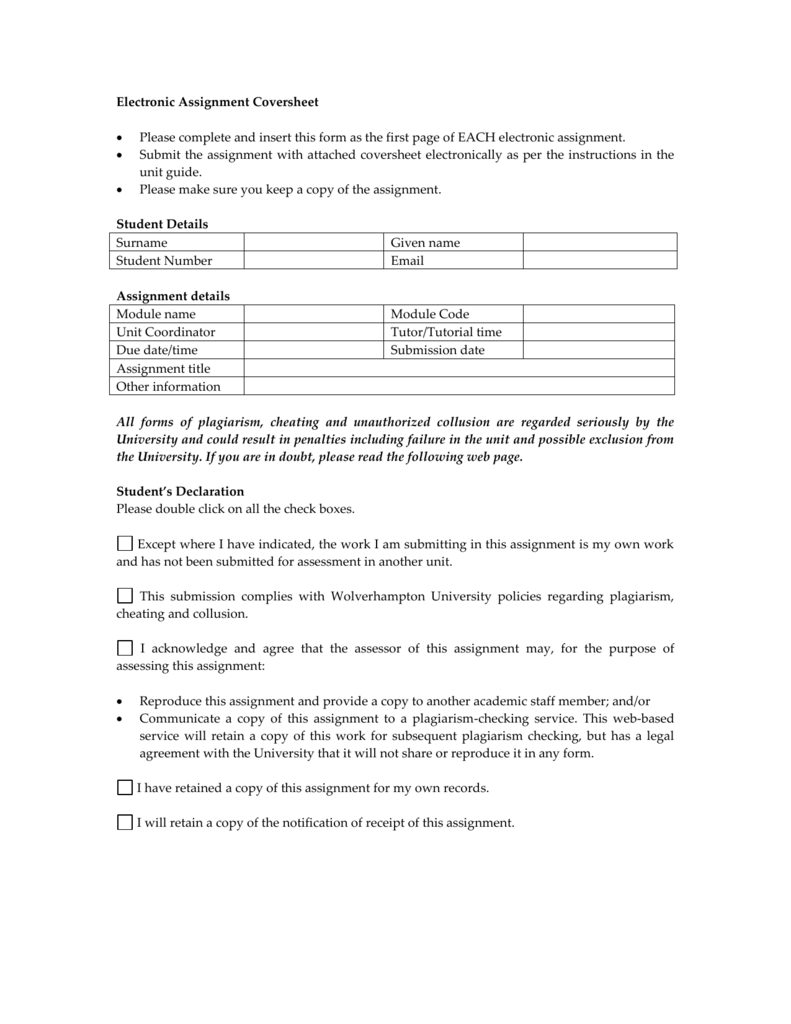 Electronic Assignment Coversheet



Please complete and insert this form as the first page of EACH electronic assignment.
Submit the assignment with attached coversheet electronically as per the instructions in the
unit guide.
Please make sure you keep a copy of the assignment.
Student Details
Surname
Student Number
Assignment details
Module name
Unit Coordinator
Due date/time
Assignment title
Other information
Given name
Email
Module Code
Tutor/Tutorial time
Submission date
All forms of plagiarism, cheating and unauthorized collusion are regarded seriously by the
University and could result in penalties including failure in the unit and possible exclusion from
the University. If you are in doubt, please read the following web page.
Student's Declaration
Please double click on all the check boxes.
Except where I have indicated, the work I am submitting in this assignment is my own work
and has not been submitted for assessment in another unit.
This submission complies with Wolverhampton University policies regarding plagiarism,
cheating and collusion.
I acknowledge and agree that the assessor of this assignment may, for the purpose of
assessing this assignment:


Reproduce this assignment and provide a copy to another academic staff member; and/or
Communicate a copy of this assignment to a plagiarism-checking service. This web-based
service will retain a copy of this work for subsequent plagiarism checking, but has a legal
agreement with the University that it will not share or reproduce it in any form.
I have retained a copy of this assignment for my own records.
I will retain a copy of the notification of receipt of this assignment.