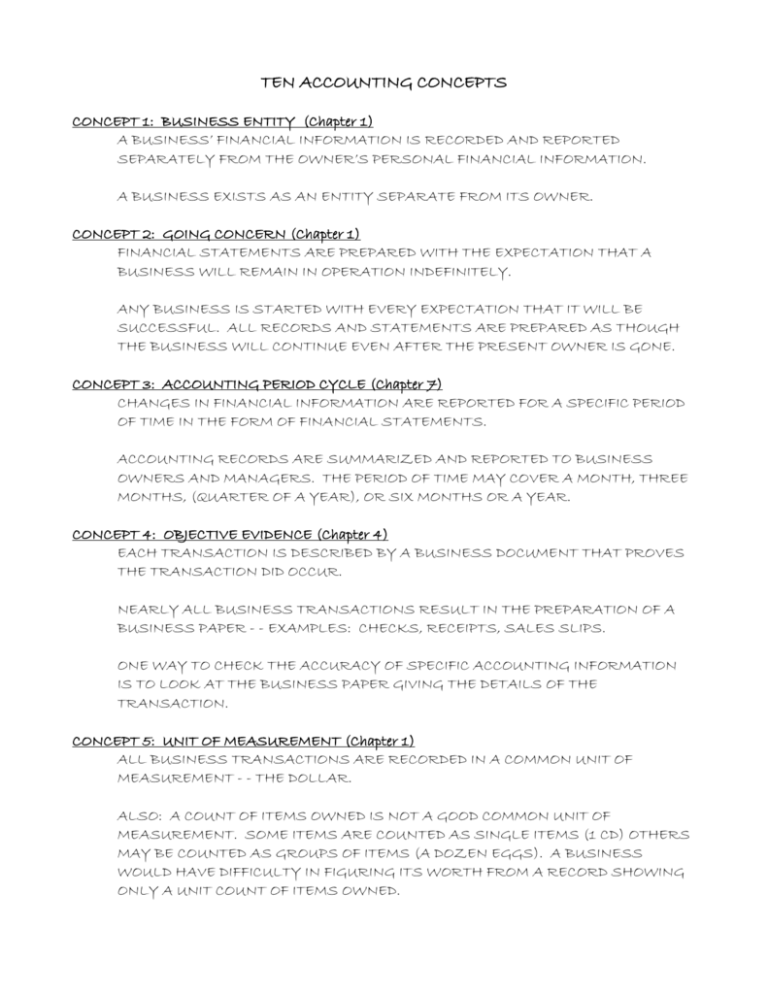 TEN ACCOUNTING CONCEPTS
CONCEPT 1: BUSINESS ENTITY (Chapter 1)
A BUSINESS' FINANCIAL INFORMATION IS RECORDED AND REPORTED
SEPARATELY FROM THE OWNER'S PERSONAL FINANCIAL INFORMATION.
A BUSINESS EXISTS AS AN ENTITY SEPARATE FROM ITS OWNER.
CONCEPT 2: GOING CONCERN (Chapter 1)
FINANCIAL STATEMENTS ARE PREPARED WITH THE EXPECTATION THAT A
BUSINESS WILL REMAIN IN OPERATION INDEFINITELY.
ANY BUSINESS IS STARTED WITH EVERY EXPECTATION THAT IT WILL BE
SUCCESSFUL. ALL RECORDS AND STATEMENTS ARE PREPARED AS THOUGH
THE BUSINESS WILL CONTINUE EVEN AFTER THE PRESENT OWNER IS GONE.
CONCEPT 3: ACCOUNTING PERIOD CYCLE (Chapter 7)
CHANGES IN FINANCIAL INFORMATION ARE REPORTED FOR A SPECIFIC PERIOD
OF TIME IN THE FORM OF FINANCIAL STATEMENTS.
ACCOUNTING RECORDS ARE SUMMARIZED AND REPORTED TO BUSINESS
OWNERS AND MANAGERS. THE PERIOD OF TIME MAY COVER A MONTH, THREE
MONTHS, (QUARTER OF A YEAR), OR SIX MONTHS OR A YEAR.
CONCEPT 4: OBJECTIVE EVIDENCE (Chapter 4)
EACH TRANSACTION IS DESCRIBED BY A BUSINESS DOCUMENT THAT PROVES
THE TRANSACTION DID OCCUR.
NEARLY ALL BUSINESS TRANSACTIONS RESULT IN THE PREPARATION OF A
BUSINESS PAPER - - EXAMPLES: CHECKS, RECEIPTS, SALES SLIPS.
ONE WAY TO CHECK THE ACCURACY OF SPECIFIC ACCOUNTING INFORMATION
IS TO LOOK AT THE BUSINESS PAPER GIVING THE DETAILS OF THE
TRANSACTION.
CONCEPT 5: UNIT OF MEASUREMENT (Chapter 1)
ALL BUSINESS TRANSACTIONS ARE RECORDED IN A COMMON UNIT OF
MEASUREMENT - - THE DOLLAR.
ALSO: A COUNT OF ITEMS OWNED IS NOT A GOOD COMMON UNIT OF
MEASUREMENT. SOME ITEMS ARE COUNTED AS SINGLE ITEMS (1 CD) OTHERS
MAY BE COUNTED AS GROUPS OF ITEMS (A DOZEN EGGS). A BUSINESS
WOULD HAVE DIFFICULTY IN FIGURING ITS WORTH FROM A RECORD SHOWING
ONLY A UNIT COUNT OF ITEMS OWNED.
CONCEPT 6: REALIZATION OF REVENUE (Chapter 1)
REVENUE FROM BUSINESS TRANSACTIONS IS RECORDED AT THE TIME GOODS
OR SERVICES ARE SOLD.
WHEN BUSINESSES SELL GOODS OR SERVICES ON ONE DATE AND RECEIVE
PAYMENT FROM THE CUSTOMER ON A LATER DATE, THE STORE RECORDS THE
SALE ON THE DATE IT WAS SOLD, NOT THE DATE THEY RECEIVE PAYMENT.
CONCEPT 7: MATCHING EXPENSES WITH REVENUE (Chapter 7)
REVENUE FROM BUSINESS ACTIVITIES AND EXPENSES ASSOCIATED WITH
EARNING THAT REVENUE ARE RECORDED IN THE SAME ACCOUNTING PERIOD.
FINANCIAL STATEMENTS MUST SHOW HOW MUCH WAS EARNED AND HOW
MUCH IT COST TO EARN THE REVENUE DURING THE SAME ACCOUNTING
PERIOD.
CONCEPT 8: HISTORICAL COST (Chapter 10)
THE ACTUAL AMOUNT PAID OR RECEIVED IS THE AMOUNT RECORDED IN
ACCOUNTING RECORDS.
ACCOUNTING PRACTICE REQUIRES THAT ALL THINGS BE RECORDED AT THE
HISTORICAL COST THAT IS KNOWN.
CONCEPT 9: ADEQUATE DISCLOSURE (Chapter 8)
FINANCIAL STATEMENTS SHOULD CONTAIN ALL INFORMATION NECESSARY
FOR A READER TO UNDERSTAND A BUSINESS' FINANCIAL CONDITION.
MANY PERSONS SUCH AS OWNERS, MANAGERS, BANKERS, AND OTHER
EXECUTIVES NEED A BUSINESS' FINANCIAL INFORMATION. ALL FINANCIAL
INFORMATION MUST BE REPORTED IF GOOD BUSINESS DECISIONS ARE TO BE
MADE.
CONCEPT 10: CONSISTENT REPORTING (Chapter 7)
IN THE PREPARATION OF FINANCIAL STATEMENTS, THE SAME ACCOUNTING
CONCEPTS ARE APPLIED IN THE SAME WAY IN EACH ACCOUNTING PERIOD.
INFORMATION FROM ONE YEAR IS OFTEN COMPARED TO SIMILAR
INFORMATION FOR THE PREVIOUS YEAR. IF ACCOUNTING INFORMATION IS
RECORDED AND REPORTED DIFFERENTLY FROM ONE YEAR TO THE NEXT, THE
INFORMATION CANNOT BE COMPARED.