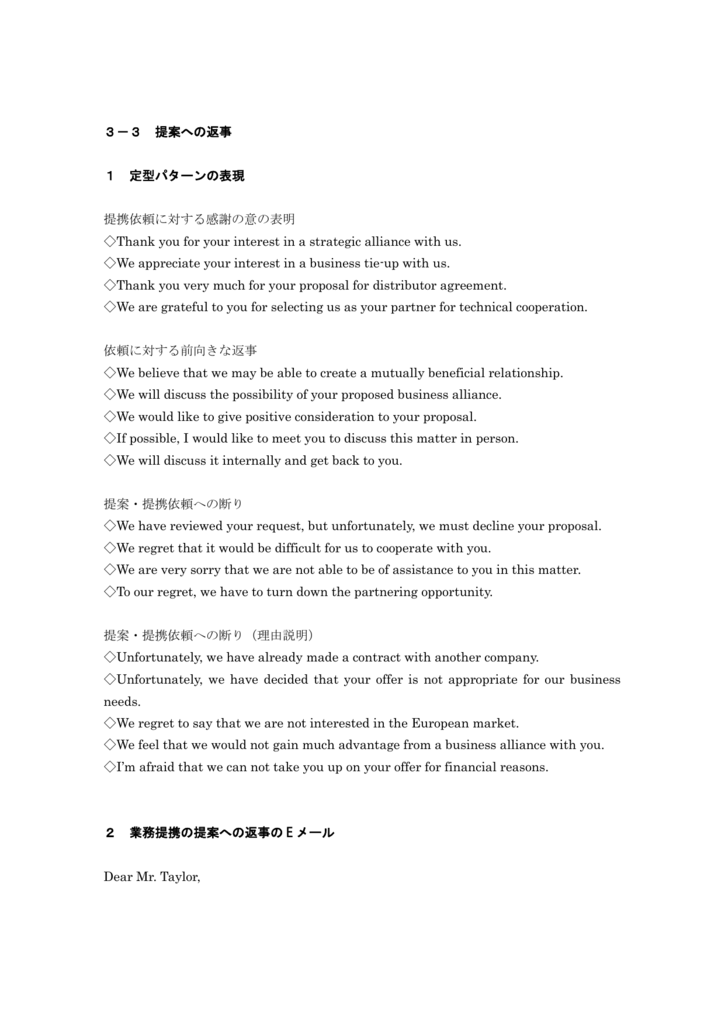 3-3 提案への返事
1 定型パターンの表現
提携依頼に対する感謝の意の表明
◇Thank you for your interest in a strategic alliance with us.
◇We appreciate your interest in a business tie-up with us.
◇Thank you very much for your proposal for distributor agreement.
◇We are grateful to you for selecting us as your partner for technical cooperation.
依頼に対する前向きな返事
◇We believe that we may be able to create a mutually beneficial relationship.
◇We will discuss the possibility of your proposed business alliance.
◇We would like to give positive consideration to your proposal.
◇If possible, I would like to meet you to discuss this matter in person.
◇We will discuss it internally and get back to you.
提案・提携依頼への断り
◇We have reviewed your request, but unfortunately, we must decline your proposal.
◇We regret that it would be difficult for us to cooperate with you.
◇We are very sorry that we are not able to be of assistance to you in this matter.
◇To our regret, we have to turn down the partnering opportunity.
提案・提携依頼への断り(理由説明)
◇Unfortunately, we have already made a contract with another company.
◇Unfortunately, we have decided that your offer is not appropriate for our business
needs.
◇We regret to say that we are not interested in the European market.
◇We feel that we would not gain much advantage from a business alliance with you.
◇I'm afraid that we can not take you up on your offer for financial reasons.
2 業務提携の提案への返事の E メール
Dear Mr. Taylor,
Thank you for sending your proposal concerning a business alliance with us.
We have gone over it and it is currently under discussion internally whether we will
accept your offer. We will get back to you as soon as we reach a decision.
We hope to be able to establish a business relationship with you.
Sincerely,
Alex Parsons
言い換え表現
1.We are discussing whether we should agree to a business tie-up with you.
2.We will be in touch with you when we reach a conclusion.
3.We hope we can do business together.
発展表現
1.We appreciate your interest in building a business partnership with us.
2.We will discuss this issue at our board meeting.
3.We will contact you at a later date regarding your proposal.
単語に注目
1.Bill established himself in the art world.
2.The corrective action plan should be established immediately.
3.Our company was established in London in 1986.