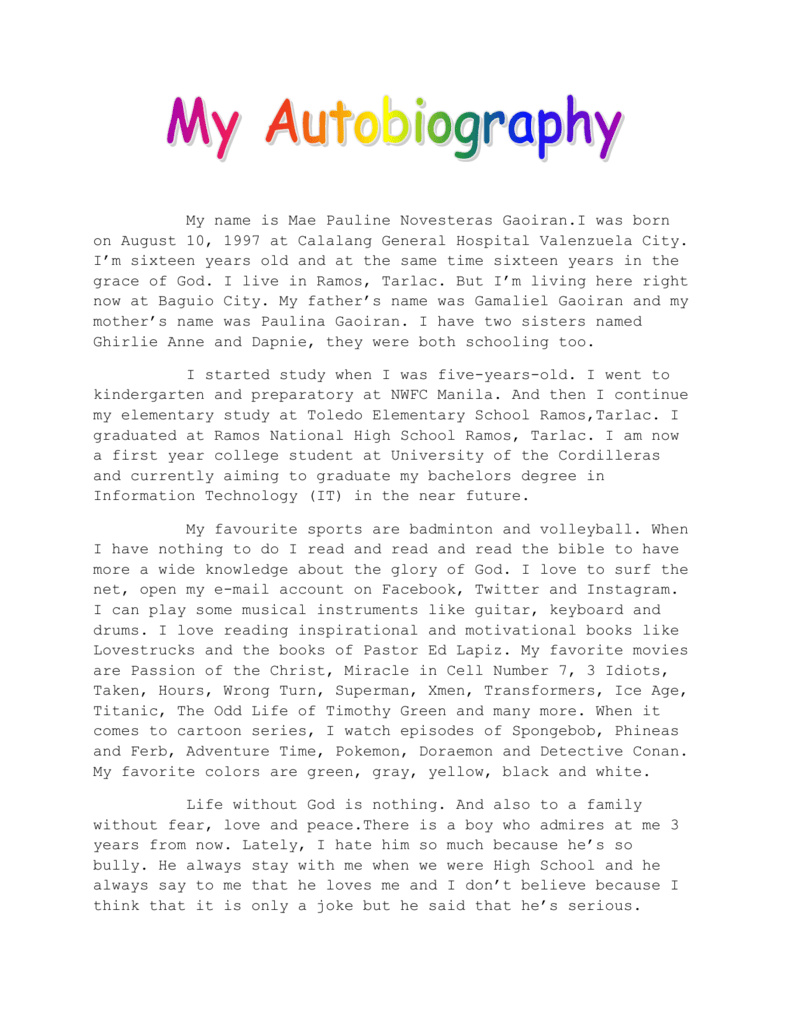 My name is Mae Pauline Novesteras Gaoiran.I was born
on August 10, 1997 at Calalang General Hospital Valenzuela City.
I'm sixteen years old and at the same time sixteen years in the
grace of God. I live in Ramos, Tarlac. But I'm living here right
now at Baguio City. My father's name was Gamaliel Gaoiran and my
mother's name was Paulina Gaoiran. I have two sisters named
Ghirlie Anne and Dapnie, they were both schooling too.
I started study when I was five-years-old. I went to
kindergarten and preparatory at NWFC Manila. And then I continue
my elementary study at Toledo Elementary School Ramos,Tarlac. I
graduated at Ramos National High School Ramos, Tarlac. I am now
a first year college student at University of the Cordilleras
and currently aiming to graduate my bachelors degree in
Information Technology (IT) in the near future.
My favourite sports are badminton and volleyball. When
I have nothing to do I read and read and read the bible to have
more a wide knowledge about the glory of God. I love to surf the
net, open my e-mail account on Facebook, Twitter and Instagram.
I can play some musical instruments like guitar, keyboard and
drums. I love reading inspirational and motivational books like
Lovestrucks and the books of Pastor Ed Lapiz. My favorite movies
are Passion of the Christ, Miracle in Cell Number 7, 3 Idiots,
Taken, Hours, Wrong Turn, Superman, Xmen, Transformers, Ice Age,
Titanic, The Odd Life of Timothy Green and many more. When it
comes to cartoon series, I watch episodes of Spongebob, Phineas
and Ferb, Adventure Time, Pokemon, Doraemon and Detective Conan.
My favorite colors are green, gray, yellow, black and white.
Life without God is nothing. And also to a family
without fear, love and peace.There is a boy who admires at me 3
years from now. Lately, I hate him so much because he's so
bully. He always stay with me when we were High School and he
always say to me that he loves me and I don't believe because I
think that it is only a joke but he said that he's serious.
Until such time I totally fell in love with him too. And now my
parents, my grandmother and grandfather know him already because
he went and visit me in our house. His name was Kenn Alfer
Boglosa. I'm so very thankful that God gave me life with His
beautiful plan. That even when sometimes I face difficult times
but He give me strength, when I'm on pain He heals me. I am the
girl who feareth the Lord. Actually, I worked on our church as a
worship leader. I don't ignore that God put me on that position
because I know that God will give extravagant blessings to me
and also to my family. I used to be an inspiration my past
experiences that's why I can overcome my problems not to be
harm. There is one thing that I want to say. Jesus never gives a
problem without a solution that you can't handle, because God
loves you so much even when you don't love Him. And finally, I
can do all things through Christ who give me strength.